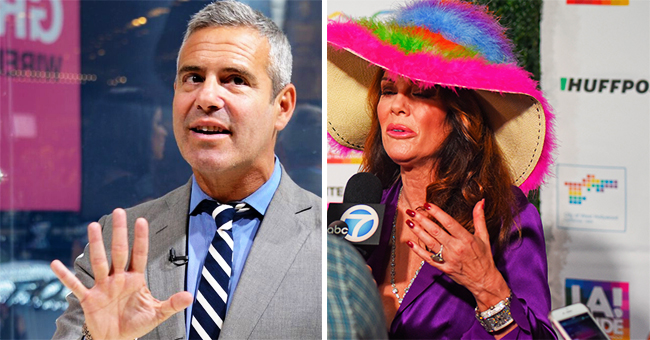 Andy Cohen Responds to Fan Who Shamed Him for Not Paying Tribute to Lisa Vanderpump's Late Mom Online
"Watch What Happens Live" Host Andy Cohen slams back at fan who shames him for not publicly paying tribute to Lisa Vanderpump's late mum. Lisa's mum passed away at the age of 84, and the "RHOBH" Housewife is devastated.
It's never advised to tackle the famous Andy Cohen on social media as he is ever ready to pay you back in your coin.
The 51-year-old was in a heated exchange with fans of the "Real Housewives" enterprise after they shamed him for not paying his condolences to housewife, Lisa Vanderpum, on the loss of her mother.
It began when a fan with the username Cathy attacked the host in a tweet that has since been deleted. As reported by PEOPLE, she wrote:
"Meanwhile @Andy is too busy tweeting about his world, and not a mention about LVP losing her mom Monday. Shame on you, Andy."
In a swift response to defend himself, Andy explained to the fan that he has reached out to Lisa privately and thanked the fan in a sarcastic way for being so concerned about his condolences. He tweeted:
Another fan came for Andy again accusing him of not mentioning the death of Lisa's mother on "Watch What Happens Live" since he did the same for other housewives.
However, trust Andy always to have the right answer as he responded with a tweet that said:
Lisa's mother passed away on Monday, June 17, in England, at the age of 84. This comes after Lisa's brother, Mark, died as a result of an alleged drug overdose.
A source told Us Weekly, that the "Real Housewives of Beverly Hills" star is shocked and devastated at the news of her mother's passing, and wants to process her grief privately.
"She requested privacy at this time while she prepares for her trip back home to England to deal with the funeral, the anonymous source said."
Things are particularly hard for Lisa as she still trying to heal from her brother's demise. She sought help while filming season nine of "RHOBH" by turning to therapy and antidepressants.
While speaking to Daily Mail about her work with The Trevor Project, Lisa dropped the bomb that she would not continue on the reality television show after its ninth season.
Lisa has had a hard time on the show with the other housewives harassing her for leaking negative news about them to the press.
When asked by the interviewer if she felt like continuing with the show after all that she faced, Lisa replied saying:
"I think they've made it pretty impossible for me to go back frankly. So ... no."
Please fill in your e-mail so we can share with you our top stories!