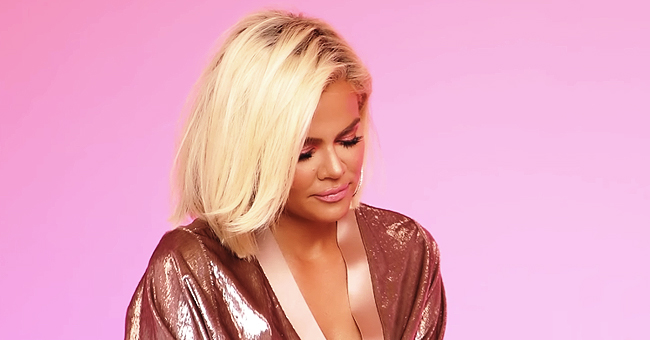 Youtube/Kylie Jenner
Khloé Kardashian Reveals She Had Pregnancy Scare before Tristan-Jordyn Scandal
Khloé Kardashian thought she might be pregnant shortly before learning Tristan Thompson had hooked up with Jordyn Woods.
Khloé Kardashian has revealed that shortly before the scandal involving her ex-partner and sister Kylie Jenner's best friend Jordyn Woods broke, she was concerned about her health.
The reality star had been experiencing disturbing symptoms and confided her suspicions to her sister, Kylie Jenner.
"I get really bad migraines but they've been increasing more and more. And I don't know if my migraines and nausea are caused by the same thing, I'm not really sure." Khloé Kardashian
KHLOÉ KARDASHIAN'S SUSPICIONS
Khloé found herself suffering from recurring nausea and crippling headaches that evolved into full-blown migraines.
The mother of a then-ten-month-old baby, Khloé was afraid those symptoms might indicate a second pregnancy.
Tristan already had a son from a previous relationship with Jordan Craig, Prince Thompson.
KHLOÉ KARDASHIAN'S PREGNANCY SCARE
Khloé's sister Kylie convinced her to take a pregnancy test, which set the reality star's mind at ease.
"I'm happy that I'm not pregnant because I didn't want to be, but with that being said, now I'm like, 'Why the f— am I nauseous all the time?' I almost wish I was so I could say that's why I'm nauseous," she said.
KHLOÉ KARDASHIAN FEARS FOR HER HEALTH
When her symptoms worsened and she found herself vomiting blood, Khloé consulted her doctor who scheduled an MRI in Los Angeles.
"I'm supposed to go to Cleveland tomorrow to see Tristan, but the way I'm feeling right now, I don't know if I can be on a flight like that. I've been throwing up blood. It's so intense. I'm blind in my left eye," she said.
AND THEN THE SCANDAL BROKE
Fortunately, the MRI revealed that all was well with Khloé's brain, and she could not have imagined that her heart was about to be broken.
The news that Tristan had been seen hooking up with her friend Jordyn Woods was splashed over every tabloid, and posted on social media for all to see.
"I feel like I'm so heartbroken. Right now, I don't feel much of anything. I'm in shock. This is a debilitating blow to my soul. It's so humiliating, it's hard. There are some days you just want to cry," she said.
Perhaps Khloé's nausea had been a premonition of what was to come, or her woman's intuition warning that those she loved were about to betray her.
KHLOÉ KARDASHIAN SENT HER LOVE TO TRISTAN THOMPSON'S SON
Khloé Kardashian and Tristan Thompson's romantic relationship is over. but they are still devoted parents to their adorable daughter True.
Although True is Khloé's first child, Tristan already had a son from a previous relationship with Jordan Craig, Prince Thompson.
Prince has recently turned 2, and the reality star added her congratulations on social media, as did the rest of the Kardashian clan.
After all, little Prince is True's big brother, and Khloé knows that the most important thing in the world is having loving, supportive siblings.
Please fill in your e-mail so we can share with you our top stories!