Videos of the Obamas over the Years Show That Some Things Never Change for This Family
Here are some videos of the Obama family's most remarkable moments that prove some things never show signs of change, and they still share typical family jokes and chitchat. 
On the campaign trail in 2007, the Obamas made their entrance to the national spotlight. They have charmed their supporters as the first family ever since.
Malia and Sasha were only ten and seven years of age, respectively, when Barack Obama was inaugurated as the 44th President of the United States. Michelle Obama then faced the balancing act of raising their girls with a typical childhood in an extraordinary setting.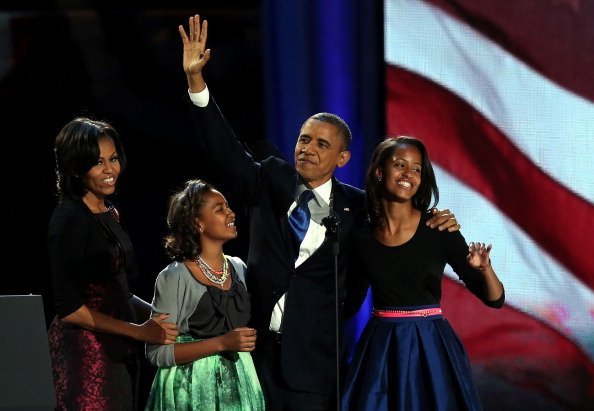 During Barack's eight years in the White House, Sasha and Malia grew up before America's eyes. The beloved family shared numerous extraordinary and interesting experiences. 
The videos below demonstrate these experiences and furthermore features the close relationships that Barack, Michelle, Malia, and Sasha have with each other.
A RARE GROUP INTERVIEW
The Obamas sat down for a group interview with Access Hollywood in 2008 which occurred during one of Barack's presidential campaign stops in Butte, Montana. In this adorable clip, the family's bond is exceptionally apparent. 
PRESENTING THE NEWEST MEMBER OF THEIR FAMILY
This 2009 clip shows the family introducing their latest Portuguese Water Dog, Bo, to members of the media gathered at the White House.
VISITING KENNEDY SPACE CENTER
In this 2011 NASA video, the Obamas can be seen exploring the center together and meeting astronauts and other NASA staffers.
"BEHIND YOU"
In this 2012 clip, Sasha wants to guarantee that her father turns around to greet the supporters situated at the opposite side of the stage, so she told him, "Behind you!" The crowd erupted in cheers and applause when Barack turned around.
A TYPICAL AMERICAN FAMILY
In 2013, an ABC News "inaugural cam" captured the lighthearted spirit of the first family during Barack's second inaugural parade. The video shows the family joked around and giggled. 
VOLUNTEERING AT A FOOD BANK
In this 2013 video, the Obama family can be seen passing out food and interacting with the food bank's guests. 
CELEBRATING "SMALL BUSINESS SATURDAY"
This 2015 video shows Barack, Sasha, and Malia heading to several Washington D.C. businesses to celebrate "Small Business Saturday."
THE FAREWELL SPEECH
Before the end of his eight-year presidency in January 2017, Barack wound up passionate in his farewell speech as he reflected on how much his family means to him.
KICKING OFF THE HOLIDAY SEASON
In this 2018 video, the Obamas can be seen coming together in front of an audience to commence the holiday season at the National Christmas Tree Lighting ceremony.
In spite of the fact that much has changed for Barack, Michelle, Malia, and Sasha after some time, in general, these videos of the family throughout the years show that some things have likewise stayed precisely the same.