Lyssa Chapman Reveals 'God Was Crying' after Beth's Death Amid Record Rainfall in Hawaii
Lyssa Chapman, the bereaved stepdaughter of Beth Chapman, took to Instagram to reveal that a record Hawaii rainfall that happened was God shedding tears as Beth passed on.
The famous reality star and bail bondswoman, Beth Chapman passed away just this week and has since had her close relations taking to social media platforms to pay tribute to her.
One of such was from Lyssa via her Instagram profile. She shared shots of weather reports in Hawaii showing that there was a record rainfall that started Tuesday, June 26, the day before Beth's demise and didn't stop until the next morning after she passed.
Lyssa sweetly captioned the photo alongside a teary face emoji,
"Record rainfall last night. God was crying."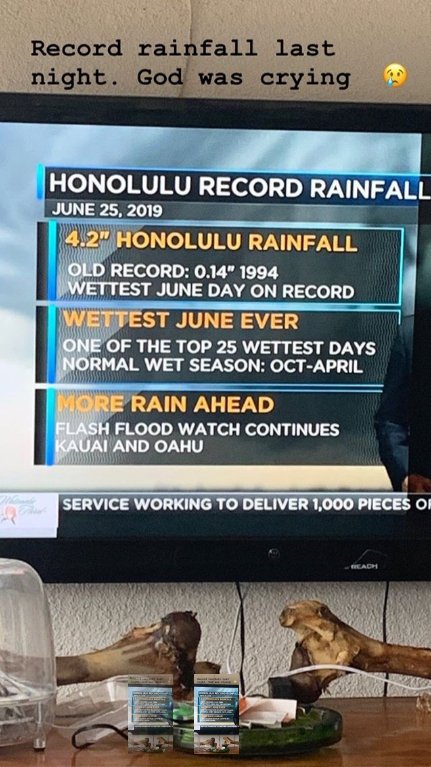 Indeed, Hawaii had one of the most torrential rainfalls it has ever had this week. Reports have it that it has also been the wettest June on record, and as it happens, it happened the night of June 26 and continued into the early hours of June 27, the day Beth passed away.
The rain was quite different from what is typically observed in Honolulu around June, this time of the year. KITV reported that the city received some 4.2 inches of rain on Tuesday and that it beat the longstanding record set since 1994 with just 0.14 inches of rain.
Aside from that, the day also became one of the Top 25 wettest ever recorded in Honolulu and the only one that has happened this month. It is indeed enough reason for Lyssa who is still in mourning to decide that God had indeed been crying as if to mark her lovely stepmother's untimely demise.
Before her death, everyone recognized Beth as a loving, cheerful, and a doting mother and wife. She was known for tenaciously supporting her husband of 13 years, Duane "Dog" Chapman as well as being an inspiration to her fans.
She died from complications of throat cancer which she first revealed two years back in 2017. Although she had refused chemotherapy, the bubbly star seemed like she was doing excellently well until she reportedly had a "choking incident" at her Hawaii home on June 22.
The 51-year-old passed away on June 27, 2019, and her doting husband, Duane, has disclosed that she spent her last hours worried sick about her large family.
An emotional Duane said,
"'I love you' and 'Are you guys all okay? Don't worry,' but she never accepted it."
May her soul rest in peace.