Crew Gaines Appears to Beg Mother Joanna to Allow Him to Eat Rocks despite Her Disapproval
On Wednesday, former Fixer Upper star Joanna Gaines took to her Instagram Story to share a hilarious incident involving her youngest child. The little boy wanted to eat rocks and not just play with them.
Joanna Gaines, 41, shared a number of videos revealing how content her son Crew Gaines, 1, was to play with anything. The clips show the boy playing with rocks but wanting to do more.
Crew had videos of him taken while sitting outside with his mother. While surrounded by small stones the child seemed to not be able to decide whether to play with them or put them into his mouth.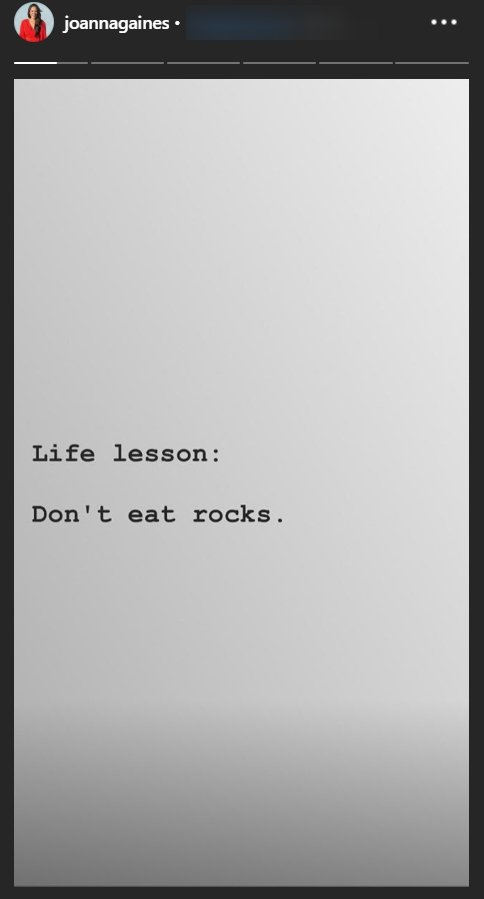 Fortunately, he seems to hesitate when thinking about eating the rocks. The footage had a disclaimer at the beginning that said: "Life lesson: Don't eat rocks."
Her son was seen struggling with the idea of eating the stones but choosing to throw them onto a ledge instead. On top of one clip, Joanna wrote: "He wants to so bad though," noting how tempted the child was.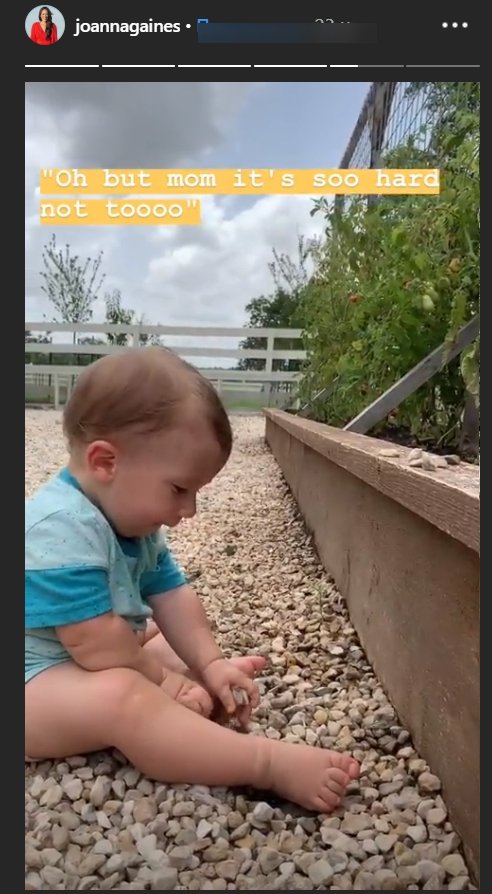 On another one, she added: "I told him playing with rocks is more fun than eating them …" In yet, another one she teased her son writing what he was thinking while hovering a stone dangerously close to his mouth.
She joked: "Oh but mom it's soo hard not tooooo." The curious little guy was clearly just doing what all babies and toddlers do as they hilariously find their way.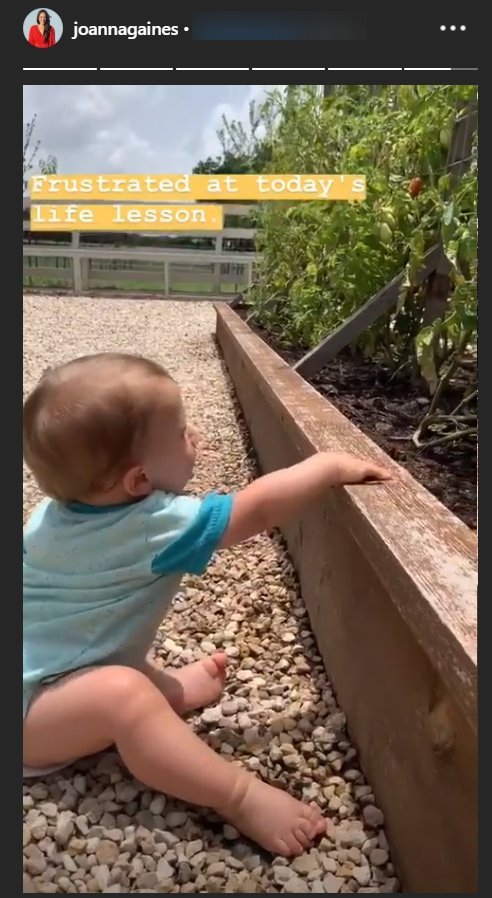 Last Friday, Joanna and her husband Chip Gaines, 44, celebrated the toddler's first birthday. Crew's mother took to Instagram again to share a number of images in celebration of the boy's milestone.
The first photo in the series showed the couple's older children pressed against a hospital door while Joanna was inside. Their other children are Emmie Kay, 9, Duke, 10, Ella Rose, 12, and Drake, 14.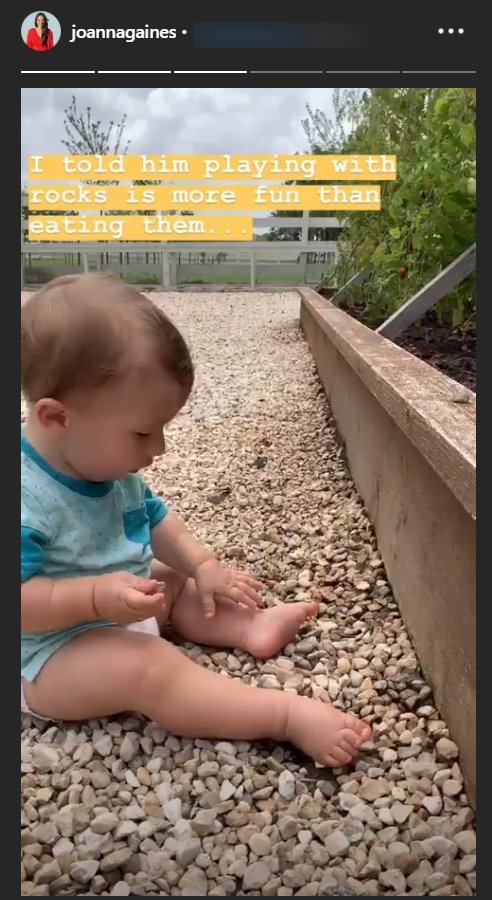 Joanna also shared two pictures from inside the delivery room. A few other images showed some of her children cradling Crew when he was a little baby.
The last photo in the series shows Chip smiling proudly as carried Crew in a carrier. With a red heart emoji she captioned the post: "One year ago. What a gift you are to all of us sweet boy."
And then there were 5.. The Gaines crew is now 1 stronger! 10 beautiful toes and 10 beautiful fingers all accounted for, and big momma is doing great! #blessedBeyondBelief

— Chip Gaines (@chipgaines) June 23, 2018
Baby Crew was born late in the evening on, June 21, 2018. His father made the announcement two days later tweeting: "And then there were 5.. The Gaines crew is now 1 stronger! 10 beautiful toes and 10 beautiful fingers all accounted for, and big momma is doing great! #blessedBeyondBelief."