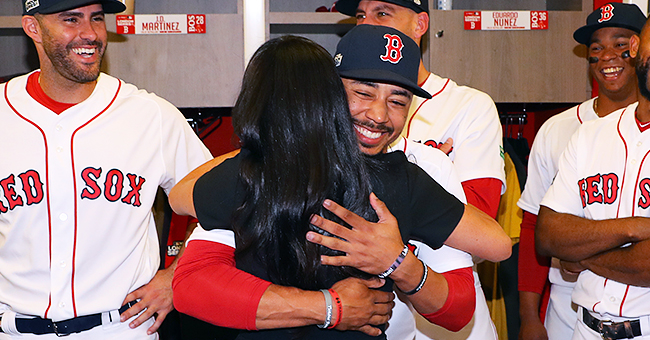 Getty images
Here's How Red Sox Star Mookie Betts and Meghan Markle Are Distant Relatives
Meghan Markle recently made an appearance at a Red Sox game where she met Mookie Betts who is reportedly her distant relative.
Pete Abraham, a journalist who works for the Boston Globe, took to Twitter to share that he once wrote about how Markle and Mookie Betts are relatives, albeit distant. He pridefully explained that the pair recently met and that Mookie Betts had discussed the story with the now Duchess of Sussex.
"I HAD NO IDEA WE WERE RELATED…" – MOOKIE BETTS
Abraham shared a photo of Markle and Betts hugging as her husband of one year watched on. The beautiful couple wore matching all-black ensemble, which was a sharp contrast to the baseball players', who were fully geared up for their game.
Alongside the photo and a link to his previous report, Abraham tweeted that Markle and Betts finally met and that the sports star had told the former entertainer about the exciting discovery.
The chance meeting came when Prince Harry and Meghan Markle paid Mookie Betts and his fellow Red Sox teammates a surprise visit during the weekend. The visit came just before their game, and the couple received a warm welcome as well as numerous congratulatory gifts on the birth of their child, Archie.
It was then an excited Mookie Betts, the outfielder for Red Sox, got a chance to tell Markle the incredible tale of how he is her distant cousin. A few months ago, the sports star discovered that he was distantly related to the Duchess because they share ancestors from the same part of Alabama thanks to The Boston Globe.
Back then, he had expressed great surprise at the discovery disclosing that he had only watched the former actress tie the knot but never even imagined that they were relatives.
The article, a piece by Pete Abraham, revealed that a genealogist Jim McNiff, who had only taken up the research as a leisurely hobby, used a series of family trees published by the Globe two years ago. McNiff made the fantastic discovery that Betts and Markle's ancestry links back to about 150 years ago.
WHEN BETTS FINALLY MET MARKLE
At the time, Betts confirmed that his relatives settled in Alabama, his native state, and even delightfully expressed longing to meet and discuss the intriguing subject with the Duchess.
Luckily, Betts got his chance on Saturday, but it remains uncertain if the pair discussed their family history like Abraham mentioned in his tweet. It must have been a pleasurable visit for Betts who was pictured getting a warm hug from the new mother.
Please fill in your e-mail so we can share with you our top stories!