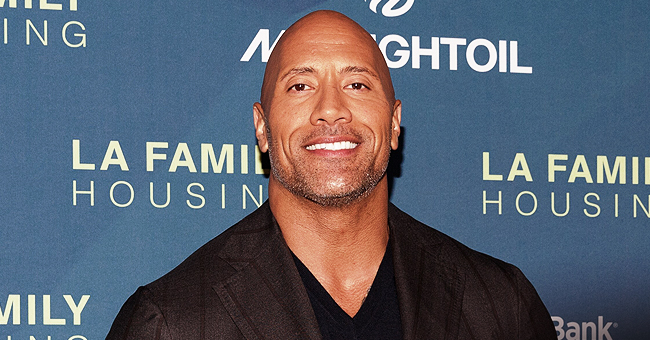 GettyImages
Dwayne Johnson Shares Hilarious yet Adorable Moment with Daughter Jasmine in Recent Post
Dwayne "The Rock" Johnson might have a hard exterior, but when it comes to his children, the actor is not shy of showing off his softer side. Proof of that is one of his recent Instagram pics alongside daughter Jazzy, as he shares one of the girls' favorite activities with fans.
Dwayne Johnson is a proud father of three beautiful girls: Simone Alexandra, 17, whom he shares with ex-wife Dany Garcia; Jasmine "Jazzy" Lia, 3, and Tiana Gia, 1, from his longtime relationship with girlfriend Lauren Hashian.
It's Jazzy, the middle child, who usually steals her dad's attention and gets featured on his Instagram account thanks to her shenanigans
CHERISHING EVERY MOMENT
One of Johnson's recent posts alongside the little girl, shows him sitting with Jazzy on his lap while he pours some water from a bottle into a cup. Jazzy is seen reaching out for the cup with a calm expression in her face.
"I know how this dance goes with my lil' Jazzy who clings to me like a spider monkey 24/7," Johnson started to explain the picture on his caption. "' Daddy, I'm thirsty, can I have some of your water?' 'Of course you can baby."
And continued:
"I pour it, she takes the water, looks at me, and slowly dumps it on the towel. I look angry. She smiles. I smile. She laughs hard. I laugh harder. She laughs even harder. Repeat until there's no more water. Then she runs off, and I'm left with an empty water bottle. One of the many reasons I cherish my off days."
FANS' REACTIONS
The sweet father-daughter moment melted hearts among Johnson's fans, and many filled his comment section gushing about his fantastic parenting skills.
"Every man in this world can learn from you. Keep posting this stuff to motivate the rest of us to be better dads," wrote one user.
Another added,
"Beautiful! Loving father/daughter moment! You totally rock, ROCK!"
And a third one added,
"Aawww blessings... She does what it takes to laugh and smile with you #reasonswhy."
BONDING TIME WITH THE GIRLS
Last May, Dwyane shared another special moment with fans by posting a pic alongside Jazzy and Tiana on his birthday.
The girls baked him an apple cake with sprinklers, according to his post, and even though his eldest daughter, Simone, was missing in the celebration, Johnson said that "two outta three of a good thing ain't ever bad, so I'll take it."
A few weeks later, it was Simone's turn to shine when Johnson shared a photo from her high school graduation day.
"And then your babies graduate. Very proud of my first daughter graduating high school, kickin' ass and is now NYU bound. I love you, and one day you'll stop pulling away from my beastly arms & kisses," he captioned the post.
FOR THE REST OF HIS LIFE
Johnson's love for his children is one of his best attributes in the eyes of fans, and while he keeps posting his special moments with the girls, he's leading by example to many other men out there.
"Can't guarantee I'll love and protect all my daughters for the rest of their lives, but I can guarantee I will for the rest of mine," he wrote on a holiday post from last year, and that sentence seems to resume what kind of father The Rock is.
Please fill in your e-mail so we can share with you our top stories!