Kobe Bryant & Wife Vanessa Share Very First Photo of Baby Capri Kobe
Kobe Bryant and his wife Vanessa are finally giving the world a full look at their adorable new daughter, baby Capri Kobe and the precious infant is a sight to behold.
Exactly two weeks after welcoming their fourth child, Kobe and Vanessa have decided to bless our timelines with her angelic beauty.
Both parents took to Instagram with a photo of baby Capri, who has been nicknamed "Koko," swaddled in a pastel pink blanket and placed against a soft white-and-pink background as she slept peacefully. The newborn also sported a matching floral headband over her dark hair.
"Our little princess Capri Kobe Bryant 'KoKo' 6/20/19," Kobe captioned the post while adding a love emoji.
Vanessa, whose Instagram account is set to private, also shared the same image with the caption: "Here's our sweet baby girl! Capri Kobe Bryant," according to PEOPLE.
'She wanted a boy so he could be like Mama's boy forever. We'll see if I can deliver...'
Baby Capri joins the couple's other daughters, Natalia Diamante, 16; Gianna Maria-Onore, 13; and two-year-old Bianka Bella.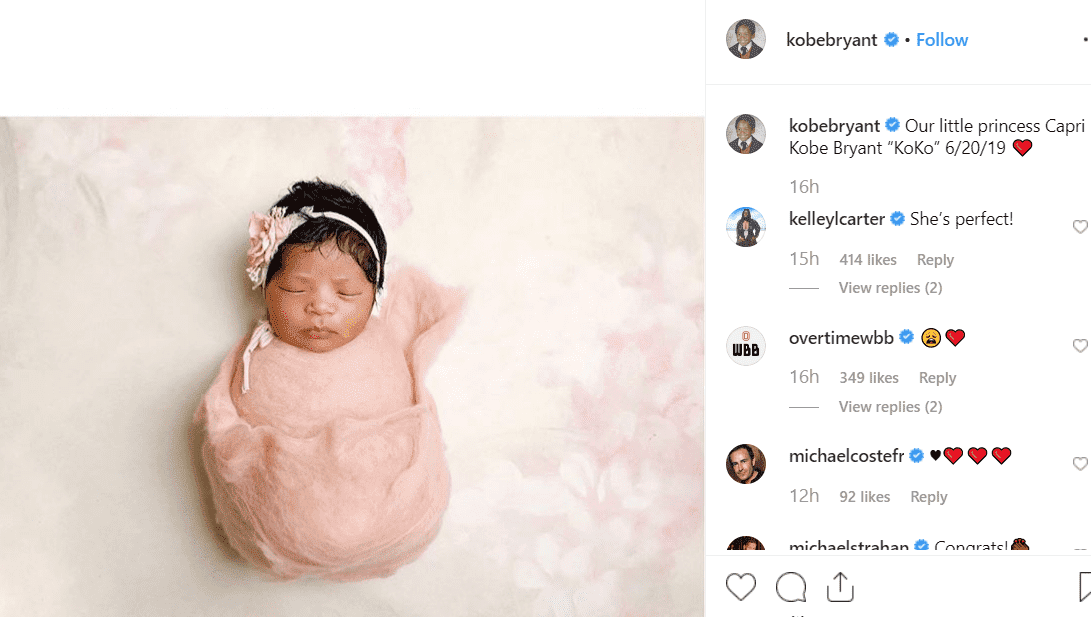 Kobe, 40, first announced in January that he and Vanessa were expecting their fourth child. The retired basketball star said they were "beyond excited" to add another #mambacita to the family while Vanessa noted that their girls would have another sister to play with:
"Kobe and I are so happy to add another baby blessing to our family! Bianka will have a new baby sibling to play with and Natalia and Gianna are super excited to welcome another little baby sister to love."
The 40-year-old former Shooting Guard told Extra in 2017 that Vanessa was eager to add a baby boy to the family, but he wasn't as keen.
"I love having girls! I hear boys are just walking tornadoes," he said. "We'll see. I think Vanessa wants a boy more than I do."
In March, before baby Capri made her grand entrance, Kobe went on to reveal why his wife wanted a boy so much during another interview with the outlet:
"I think she wants a boy more than I do. I love having girls. I'm super super excited about [welcoming another baby girl]; she is as well but she wanted a boy so he could be like Mama's boy forever. We'll see if I can deliver; I don't know."
Time will tell if Kobe and Vanessa will continue trying for a boy, but in the meantime, the Bryant clan seems to be content with doting on their latest addition, baby Capri.