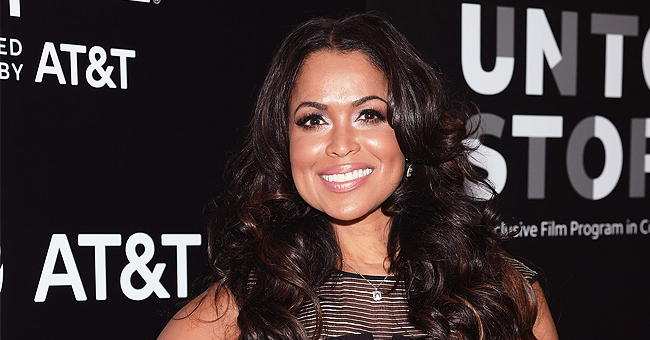 Getty Images
Tracey Edmonds Shares Romantic 4th of July Photo with Deion Sanders After Engagement News

Tracey Edmonds shares cute pictures of herself and her longtime love and fiancé, Deion Sanders relaxing at a lake on the 4th of July just four months after announcing their engagement.
Four months after popular football star Deion Sanders proposes to his girlfriend, Tracey Edmonds, she posted a picture of them lounging at the lakeside on her Instagram Page.
"Happy 4th Fam!!! Sending LOVE and GOOD VIBES from "Lake Prime" out here in Canton, Texas with my Boo @deionsanders!! ✌?❤️."
The pair who have been together for eight years recently decided it was time to move their relationship to the next level when Deion Sanders proposed to Tracey four months ago.
The retired American football and basketball player who had previously been married to Carolyn Chambers, and then Pilar Sanders, was finally able to breathe a sigh of relief as his divorce with his second wife, Pilar Sanders, sailed through after many battles.
Tracey and Deion began dating shortly after in 2012, and have been together since then. In an interview with Deion Sanders, when asked why it took eight long years to pop the question?
"Well, kids play a major role, I didn't believe in long-distance marriages, number one. Number two, her kids graduate – her youngest son – graduates this year. My son, who lives with me, my other two live with their mother. He's a sophomore now, so he has two more years."
"So just thinking all that through, working all that through and making sure we do the right thing, because I don't believe in long distance, so there's gonna have to be sacrifices made on both sides. And often, one is not willing to make sacrifices, but one must grow," he added.
In his previous marriages, Deion Sanders fathered five beautiful children.
NO MORE BIG WEDDINGS - HOPEFULLY
Although both Tracey and Deion have been previously married, (Tracey to Kenneth "Babyface" Edmonds), Deion says he would prefer to have a low-key wedding with only himself, his fiancé and his Pastor present. He however later added that he wasn't sure Tracey would like that, but he would love it.
In the earlier months of their engagement, Deion took to Instagram to go lovey-dovey with a sweet message while showing off his new fiancé.
"You made my yesterday memorable, my today unforgettable and my tomorrow Manageable regardless of what I face because of your presence. You're a real woman baby a grown woman. The 1st time is saw u I knew u were it," Deion captioned the post.
Please fill in your e-mail so we can share with you our top stories!