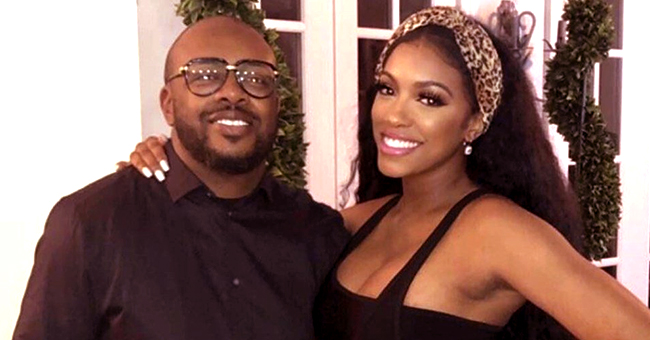 Twitter/GlobbalConnect
Porsha Williams Sparks Rumors after July 4th Video of Baby Pilar in Daddy McKinley's Arms

Porsha Williams sparked reconciliation rumors after seemingly revealing in a clip that she and her child's father, Dennis McKinley were together during the 4th of July.
Barely two weeks since Porsha Williams and her fiancé, Dennis McKinley reportedly split, a sliver of hope emerged in the form of a video taken during the recent holiday. While it's not certain, it appears Dennis was with Porsha and their daughter, Pilar Jehna on the 4th of July.
THERE NO CONFIRMATION OF A BREAK-UP TO BEGIN WITH
None of the parties ever spoke about their break-up. The last time the reality star opened up concerning their relationship was during the American Black Film Festival on June 13, when Porsha hinted at going through some things.
"Not that there's anything I'm trying to hide or run away from, but if you love someone and you make a mistake or he makes a mistake or whatever's going on, you gotta make sure that y'all are good at the end of the day," she said.
She also insisted her priority was to protect her family and that she continues to be grateful for it despite the ups and downs.
"It appears Porsha has softened up on Dennis after unfollowing him on social media when news of the alleged cheating broke."
THE REASON FOR THE ALLEGED SPLIT WAS ANOTHER WOMAN
The break-up reportedly stemmed from a cheating incident involving Dennis and a woman named Sincerely Ward. It was YouTube blogger Tasha K who divulged the information. Dennis has since denied this and the woman linked to him insisted she never met him.
PORSHA SPARKS RECONCILIATION RUMORS
Meanwhile, it appears Porsha has softened up on Dennis after unfollowing him on social media when news of the alleged cheating broke. She recently shared a clip on Instagram revealing the body of a man holding her daughter. The tattooed arm shown in the clip appeared to resemble that of Dennis' leading fans to believe they were back on.
Prior to that post, Porsha posted a cryptic message that read, "And then God stepped in" which she captioned with a heart and hands in prayer. Fans were already hopeful then that she was referring to her relationship getting a second chance.
If Porsha and Dennis indeed made up, it is the best thing for their daughter who's only three months old. She will need both her parents in these early years and if the recent video is an indication, it looks like Porsha and Dennis are open to working things out for the sake of PJ.
Please fill in your e-mail so we can share with you our top stories!