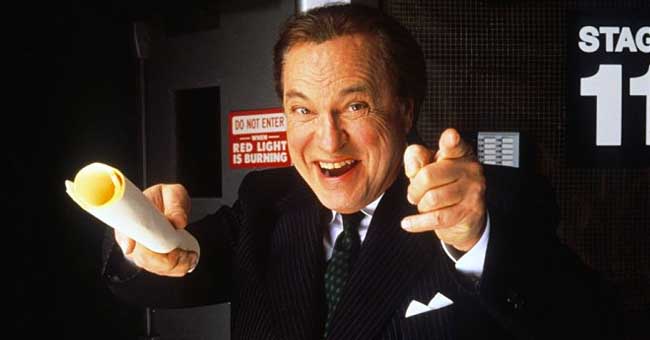 twitter.com/THR
Rip Torn of 'Men in Black' and 'The Larry Sanders Show' Has Died at 88
Elmore Rual "Rip" Torn Jr., the actor best known for playing Chief Zed in "Men In Black" and Artie the producer on HBO's "The Larry Sanders Show," has died aged 88.
Torn passed away on Tuesday, July 9 surrounded by family at his Lakeville, Connecticut home, publicist Rick Miramontez confirmed to CNN.
Born in Texas on February 6, 1931, Torn moved to New York in the 1950s to study at the legendary Actors Studio in New York, per BBC. His seven-decade career cut across film, television, and theater, amassing nearly 200 credits to his name.
Still To Come: So far, in July, Hollywood has lost other famous figures
Besides "Men In Black" and "The Larry Sanders Show," Torn also put on an impressive performance playing Marsh Turner in the 1983 drama "Cross Creek" for which he earned his only Academy Award nomination.
In 1960, Torn was nominated for a Tony Award for his role as the frightening Tom Finley Jr. in Tennessee Williams' "Sweet Bird of Youth." He would later reprise the role in the 1962 film and 1989 TV film of the same name.
Torn's only Emmy award win was in 1996 for Best Supporting Actor for portraying Artie on "The Larry Sanders Show."
His other film credits included "The Beastmaster," "Extreme Prejudice," "The Man Who Fell to Earth," in which he starred alongside late singer David Bowie, and "Dodgeball: A True Underdog Story."
Torn's character in "Dodgeball," Patches O'Houlihan, remains famous for his memorable growl:
"If you can dodge a wrench, you can dodge a ball!"
Besides his acting talent, Torn was also known for his volatile nature and got into quite a few altercations during his lifetime. He reportedly attacked his "Maidstone" co-star Norman Mailer while the cameras were rolling and in 2010, confessed to breaking into a Connecticut bank while drunk and carrying a loaded gun.
Hollywood has been paying tribute to Torn since news broke of his death. The actor's "Men In Black" co-star Will Smith shared a throwback picture of them to Instagram, writing "R.I.P Rip."
Family Guy creator Seth MacFarlane also paid tribute to Torn while reminiscing on his roles in "The Larry Sanders Show" and the 1991 comedy "Defending Your Life."
"Rip Torn always made me laugh. Artie and Bob Diamond were two utterly unforgettable characters."
Alec Baldwin, who once worked with Torn, described him as a "deeply committed, phenomenal actor" and a "wonderful madman."
So far, in July, Hollywood has lost other famous figures, including former Disney child star Cameron Boyce who passed away untimely at 20 on July 6 and "Emmerdale" star Freddie Jones who died at 91 on the same day as Torn.
Torn, who was married thrice, is survived by his third wife, actress Amy Wright, six children from all three marriages, four grandchildren, and sister Patricia Alexander.
Please fill in your e-mail so we can share with you our top stories!