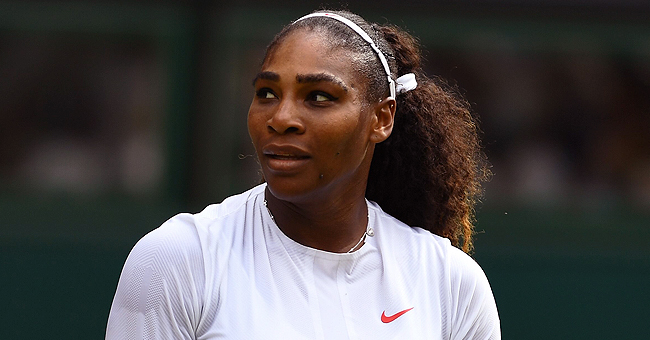 Getty Images
Serena Williams Went to Therapy in Quest for 'Peace' after 2018 US Open Outburst
Serena opens up about the aftermath of her US Open outburst and how it drove her to seek therapy to find peace. She also reveals her realizations, the letter of apology she wrote to Naomi Osaka, and how that encouraged her to move on from the incident.
Many will never forget Serena Williams' famous outburst during the 2018 US Open. The tennis superstar became the object of ridicule after the incident which saw her hurling a racket to the ground and accusing officials of lying. She now reveals it prompted her to seek therapy in order to find peace.
SERENA HAD HIGH HOPES OF WINNING THE US OPEN IN 2018
It was the US Open's women's finals. The match was between Serena and Naomi Osaka. The 37-year-old athlete had just returned from a year-long hiatus after giving birth to her daughter, Alexis Olympia Ohanian, and a win at the US Open would have been a sweet comeback. It would have been her 24th Grand Slam win too.
BUT THAT'S NOT WHAT HAPPENED
But things didn't pan out the way Serena envisioned it and she eventually lost to her 20-year-old opponent. But not without controversy. In fact, Naomi's win was overshadowed by the scene that erupted before her victory.
The scene put Serena in a bad light with memes later painting a picture of an athlete throwing a tantrum in the court. She was fined $17,000 for the incident. Meanwhile, Naomi's trophy ceremony lacked the luster she deserved in the midst of the drama.
SERENA STRUGGLED WITH THE AFTERMATH OF HER OUTBURST
Almost a year later, Serena now admits, she struggled in coming to terms with what happened. In her August cover story for Harper's Bazaar where she pens an open letter, she confesses seeking therapy in response to the backlash she received and the loss she felt she didn't deserve.
"Every night, as I would try to go to sleep, unresolved questions ran through my mind in a never-ending loop: How can you take a game away from me in the final of a Grand Slam?" she wrote. She was referring to the officials who she accused of stealing a point from her due to the violation she was given. She further questioned if the incident would have played out the same way if she was not a woman.
Serena revealed she was hurt. "Cut deeply" was how she described it.
"I felt defeated and disrespected by a sport that I love—one that I had dedicated my life to and that my family truly changed, not because we were welcomed, but because we wouldn't stop winning."
"I tried to compare it to other setbacks I'd had in my life and career, and for some reason I couldn't shake the feeling that this was about so much more than just me," she added.
SHE POINTED A FINGER AT HERSELF
She also acknowledged how the incident took away something from Naomi too and couldn't help but feel partly responsible.
"My heart broke," she wrote. "I started to think again, "What could I have done better? Was I wrong to stand up?"
The same questions haunted her for days until she eventually sought help from a therapist. Serena recounts,
"Days passed, and I still couldn't find peace. I started seeing a therapist. I was searching for answers, and although I felt like I was making progress, I still wasn't ready to pick up a racket."
SHE LEARNED WHAT SHE NEEDED TO DO
She would soon realize through the course of her therapy that the best way to move on was to right the wrongs. She began by writing a letter of apology to Naomi which she shared in her Harper's Bazaar feature.
"I am truly sorry. I thought I was doing the right thing in sticking up for myself," she wrote. "But I had no idea the media would pit us against each other. I would love the chance to live that moment over again."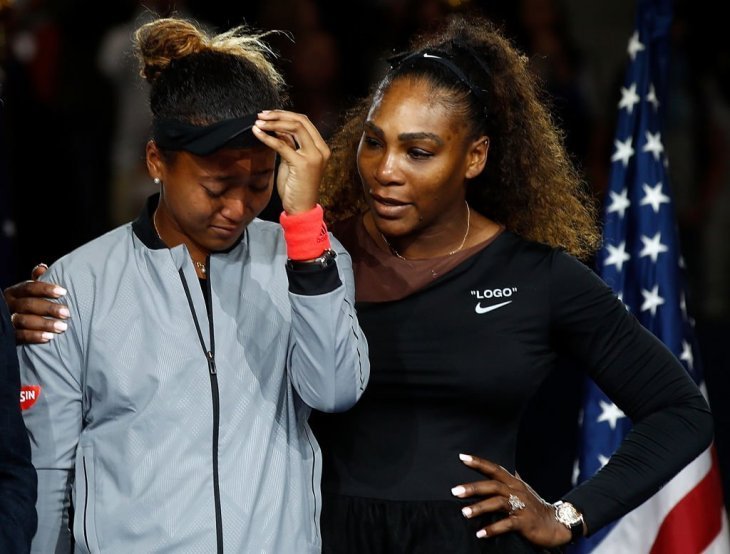 Serena showing her support for a tearful Naomi Osaka who expressed her sadness at defeating her idol at the US Open. | Source: Getty
THEN FOUND PEACE AFTER NAOMI REPLIED TO HER APOLOGY
Serena disclosed that she teared up after receiving a reply from Naomi who lauded the tennis pro for fighting for what she believed in. "No one has stood up for themselves the way you have and you need to continue trailblazing," Naomi encouraged.
At that point, Serena realized why she had a difficult time accepting what happened at the US Open. It was because of how it affected Naomi's win.
"I had felt that it was my fault and that I should have kept my mouth closed. But now, seeing her text putting everything in perspective, I realized she was right."
SHE RESOLVES TO STAY THE COURSE
It took a while for Serena to pick up the racket again but she eventually did with the resolve to continue passionately voicing out her opinions especially in the face of injustice. She is indeed a trailblazer who values her voice as a woman and who won't allow anyone to silence her.
Please fill in your e-mail so we can share with you our top stories!