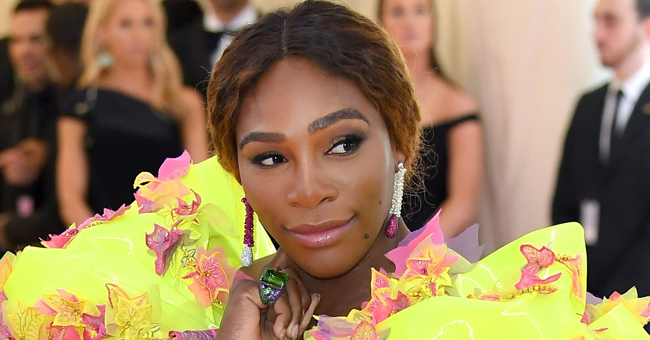 GettyImages
Watch Serena Williams Cool down on an Exercise Bike While Carrying Baby Olympia

Serena Williams took her toddler for a ride on an exercise bike at Wimbledon's gym.
Tennis star Serena Williams is devoted to her daughter Olympia, and even in the midst of a tournament, her baby is foremost on her mind.
The champ, who is now in the Wimbledon semifinals, shared a recent video clip showing her snatching mommy-and-me time with Olympia in between matches.
SERENA WILLIAMS COOLS DOWN WITH OLYMPIA
After beating Alison Riske in the singles quarterfinals, Serena relaxed at the gym with Olympia with a bike ride.
In the clip, the champ can be seen peddling away with Olympia on her hip, and snatching a sweet kiss at her daughter every now and then.
TWO VICTORIES IN ONE DAY FOR SERENA WILLIAMS
IIt was a challenging day for Serena, who played two demanding matches. First qualifying for the women's semifinal, then later the same day beating Raquel Atawo and Fabrice Martin.alongside her mixed doubles partner Andy Murray.
SERENA WILLIAMS IS GOING FOR GOLD WITH OLYMPIA BY HER SIDE
Serena is aiming to win her eighth Wimbledon singles title, and her 24th Grand Slam, but whatever her professional ambitions, her little daughter is always by her side.
WHERE SERENA WILLIAMS GOES, OLYMPIA GOES
Serena is never parted from her 22-month-old baby girl, and Olympia travels with mom wherever she goes.
Olympia is Serena's first child with husband Alexis Ohanian, and it would be interesting to see if she takes after Reddit-founder dad, or her tennis champion mom.
Olympia has already been seen playing with a tennis racket and its never too soon to start training a champion, and Serena and Venus Williams' dad proved to the world.
Will his little granddaughter grow up to outdo her mother and her aunt?
SERENA WILLIAMS OPENED HER HEART ON HARPERS BAZAAR
The August issue of Harpers Bazaar has a dazzling, gold-clad Serena Williams on the cover, and a touching essay by the champ that proves her worth goes beyond her physical prowess on the tennis courts.
Serena addresses the controversial incident which took place during the 2018 U.S. Open finals, in which she faced Naomi Osaka with touching candour.
The champion revealed that after the incident in which she had a showdown with an umpire who accused her of cheating, that she had to seek therapy to deal with her anger at feeling discriminated against as a woman.
Serena revealed that she came to terms with her own behavior only after reaching out to Naomi and apologizing, and giving her full credit for her well deserved victory.
Please fill in your e-mail so we can share with you our top stories!