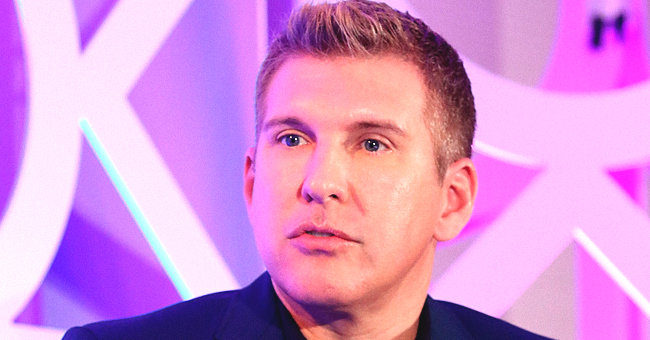 Getty images
Complicated Relationship of Todd Chrisley and His Estranged Son Kyle

Todd Chrisley is best known for his reality show, "Chrisley Knows Best" which follows the lives of every member of the Chrisley family. Here's why the American reality Star has a strained relationship with his oldest child, Kyle.
Every avid fan of the show, which airs on USA Network, knows that the real estate mogul has a particularly strained relationship with his oldest son, Kyle.
TODD AND KYLE CHRISLEY'S STRAINED RELATIONSHIP
Todd, who will soon ring in the big fifty, has enjoyed a reasonably successful celebrity life and a more significant part of his fame is a product of his reality show.
Todd does seem to have the perfect family life like it is portrayed on TV except for his relationship with Kyle. Todd has, however, never done anything to hide this and even once let on the true extent of their relationship by bluntly tweeting:
"My son Kyle is bipolar; he suffers from mental illness; he will struggle for life."
Despite all that, Todd expressed concern for Kyle choosing to stay true to his fatherly role. Kyle, on the other hand, was ready to sever all ties to Todd, who he claimed kicked him off the family's reality show.
In an interview with Daily Mail, Kyle explicitly detailed Todd's wrongdoings and even pushed that the millionaire destroyed his life. Kyle, who Todd publicly described as mentally ill, only appeared on the first season of "Chrisley Knows Best."
The 27-year-old revealed that his father's description of him as a drug addict and a dead beat father to his one child, Chloe was all a facade.
Todd and Kyle's relationship was indeed scarred and seemed irreparable, especially with Todd's claim over Chloe. The custody battle between the father-son duo only seemed to worsen their fight as Kyle explained that Todd's sole reason of keeping Chloe so close was because she is of a mixed race and that that would give his show higher ratings.
Todd continuously refuted all of Kyle's claims and expressed hopes that Kyle will find peace again, amd that he is more than willing to help him achieve that.
TODD AND KYLE CHRISLEY NOW
A 2019 report by Hollywood Life has revealed that Todd and Kyle still have a strained relationship but that the famous patriarch still, however, owns custody of Kyle's daughter, Chloe.
That can perhaps be attributed to Kyle's numerous run-ins with the law as Hollywood Life reports that authorities apprehended the former 'Chrisley Knows Best' Star in Oklahoma on drug charges.
Please fill in your e-mail so we can share with you our top stories!