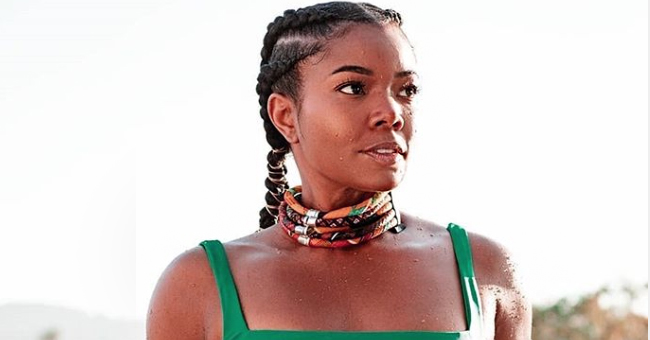 http://instagram.com/gabunion
Gabrielle Union Shares Cute Video of Baby Kaavia Laughing & Showing off Her Two Teeth

The delectable actress and mom, Gabrielle Union, recently took to her Instagram to upload a video of her 8-months-old daughter as she laughs.
The African American on-screen diva stops at nothing to show off her priceless jewel to the world, who she calls "Shady baby." She posted a clip of baby Kaavia; the little princess showed off her pair of white teeth as she seemed to have something cracking her up.
"Shady baby" has amassed quite several fans due to her hilarious and admirable expressions. The more she grows, the more her fans admire her. The infectious laughter from the 8-month-old caused an array of comments on Gabrielle's page.
While fans referred to her laugh as "cute" and "adorable," they also asked the actress to make a Shady Baby Doll. A user wrote:
"She is simply beautiful, just like Mom. So much cuteness, we love you and think you'd love to have a baby doll named Baby Thando…those little teeth beyond Adorable, I love me some Shady Baby."
"You need to create a " Shady Baby" doll quickly, similar to the Cabbage Patch baby; I would love it. I can look at this all day! She is so amazingly beautiful."
The TV star cannot keep calm especially since she had her first and only child, Kaavia James Union Wade via surrogacy in November 2018, with her sports star husband, Dwayne Wade.
Dwayne has three other children, 5-year-old Xavier, 12-year-old Zion and 13-year-old Zaire from past relationships, but has shown his constant support for his beau and their little princess.
The duo exchanged vows in 2014, and have since acted as a support system for each other in the course of conceiving a baby together. The actress shared her story in her 2017 memoir; she claimed to have been through several numbers of miscarriages, and that her body suffered a lot during her trial of getting pregnant for years.
Gabrielle even revealed that she went through IVF a countless number of times. Gabrielle addressed the issue of infertility in women, and how women plagued by this problem react when asked if they want children. According to her:
"...people feel very entitled to know, "Do you want kids?" A lot of people, especially people that have fertility issues just say "no"' because that's a lot easier than being honest about whatever is actually going on…"
Now that she has had her daughter, the mother of one expressed that she will raise her child with appropriate morals and that she will not be "judge-y" no matter the situation around her baby.
The basketball star also has as much love for his daughter as his wife does. Following the red carpet appearance at the Nickelodeon Kids' Sports Choice 2019, Dwayne shared his thoughts on his baby's personality.
He also revealed that back in the car, Kaavia's mom bribed her with her favorite- puffs to stay quiet during the show. Gabrielle is having the time of her life in raising her girl, and she stops at nothing to flaunt her little fiddle's beauty to the world.
Please fill in your e-mail so we can share with you our top stories!