Khloé Kardashian Shares Cute Photo of a Smiling True in Pink Pajamas
Khloé Kardashian and estranged boyfriend Tristan Thompson's daughter, True, is growing up way too fast and looking cuter with each passing day. The 1-year-old is not shy in front of the cameras, and recently showed off her adorable pajamas to her mom's fans.
True Thompson might be just 15-months-old, but she already knows how to give the camera her best smile and pose, as shown in a new photo shared by Khloé on Instagram.
In the shot, the toddler is donning a set of pink pajamas with printed bunnies as she stands against a wall with a sweet smile on her face. Her curly hair was tied up in a tiny bun, and she accessorized with a simple silver bracelet.
"My baby bunny," Khloé captioned the post, adding a bunny emoji for emphasis.
REACTIONS FROM SOCIAL MEDIA
Fans, family, and friends of the "Revenge Body" star took over the comment section gushing about True.
Aunt Kim Kardashian wrote, "One of my favorite human beings on this planet," while aunt Kourtney added, "Angel bunny."
"The Real" co-host Adrienne Bailon chimed in to say, "Ummmmm I can't take how cute she is," and a fan added:
 "They are all beautiful, but this one here is going to be that baby. Mark my words because she is so cute."
The post, which has earned over 4 million likes at the moment, came just a few days after Khloé had to clear the air about her expending habits and why she likes to spoil her daughter despite people's negative opinions.
HER MONEY, HER CHOICE
The 35-year-old shared a clip of True having fun by herself on her new shimmering pink Bentley car, which has a white fur carpet and speakers to play the girl's favorite music.
And while most fans cheered on the new-mom for making sure her daughter is happy, one user took an issue with Khloé allegedly expending so much money and flaunting it on social media for the world to see.
"Another Kardashian in a Bentley. You guys are so oblivious to how your excessive spending looks to the outside world. I really loved your family's story and now just can't bare [sic] to watch as you spend all this money on worthless materialism. It's so sad," the enraged fan wrote.
Despite the disrespecting tone of the comment, Khloé chose to give the fan a rational response:
"Ummm you know this is not a real Bentley? It's a toy," she wrote. "No reason to be sad over a baby in a toy car. Either way, I'm sorry you feel that way, but I hope you have a great weekend! Focus on things that make you happy! Smile."
LIFE IS ALL ABOUT BALANCE
After getting a reply, the user seemed to calm down a bit and told Khloé that she has to realize her and her sisters have a lot of influence and advise her saying that there is always room to improve as people.
Thanking the fan for the message, which Khloé said she could understand better, she moved on to say that she doesn't "believe that all we do is spend money on worthless materialism," but either way, she doesn't have to prove anything.
"What I can say is that I'm able to look myself in the mirror and sleep at night. I'm able to do that because I know I'm a good person and life is all about balance," Kardashian added.
And continued:
"Yes, I do choose to spoil my daughter. I want to spoil her with love as well [as] with material items. She will also be raised with values, responsibilities, chores, respect, self-love."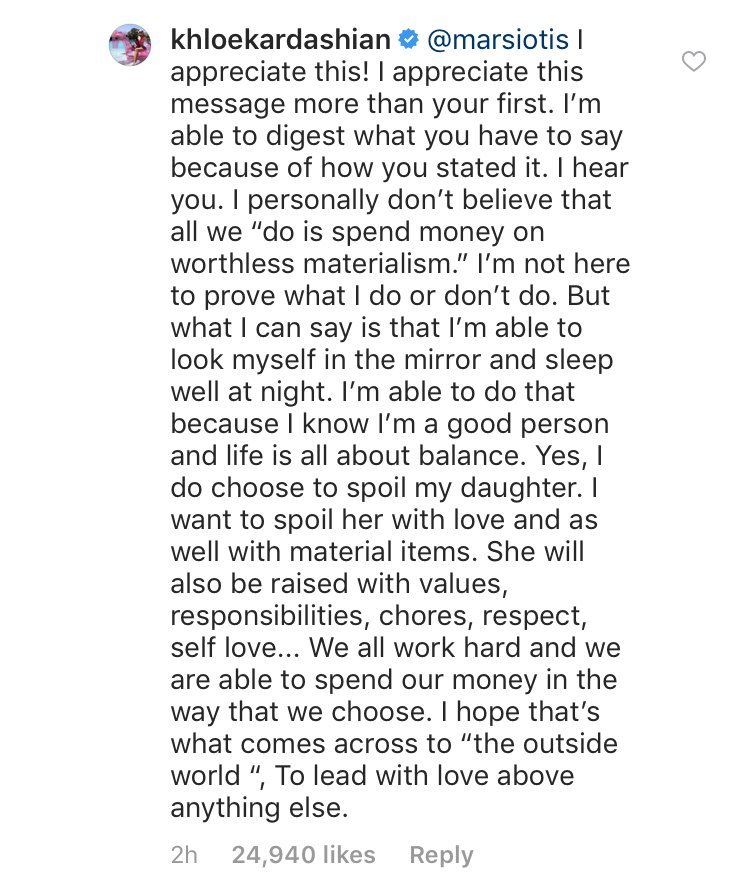 Kardashian concluded her response by stating that all of her family works hard for what they have, and she hopes that's what comes across "to the outside world."