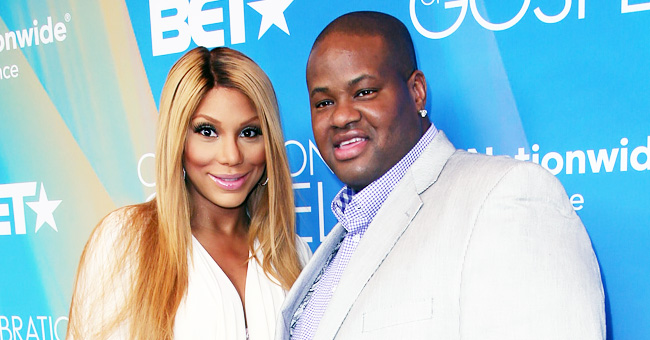 Getty Images
Tamar Braxton Shares Video of Son Logan Looking like His Dad While Playing with Toys

Tamar Braxton's six-year-old son Logan looks more and more like his dad Vincent Herbert.
Tamar Braxton posted a cute video of her son, Logan Herbert, gushing over a playdate with Ryan from "Ryan's World" and fans were amazed by his resemblance to his father.
.
"Is anyone else kid OBSESSED with this Ryan's World!! …Well as a parent who takes her coin seriously…. i will be starting my own Logan's Toys or some using all of his old toys cause…" Tamar Braxton
LOGAN IS OBSESSED WITH RYAN - TAMAR COMPLAINS
In the video, Logan, 6, is excitedly talking about competing for a playdate with the famous Ryan because he had convinced his mom to buy him a golden egg.
Unfortunately, Tamar explained, the playdate competition was now over, Logan had not won, and she'd spent $174 on the notorious egg.
"Ryan ToysReview" is a children's YouTube channel featuring 8-year-old Ryan Kaji
COMMENTS AND CRITICISM FLOOD TAMAR'S POST
While some like Kandi Burruss commiserated with Tamar and revealed that their kids are obsessed too, others' comments were particularly harsh.
"Tamar why the hell would you do this, why wouldn't you try to teach and inform Logan this little boy is overhyped and all he does is make money from playing with toys?"
"That little boy is rich off of other kids watching him play with toys."
"You rather help that boy continue to make over $40 million a year from YouTube than be honest or refuse to feed into this child's misplaced desires, don't give me a spill about attempting to make the child happy."
RYAN'S WORLD RAKES IT IN
"Ryan ToysReview" is a children's YouTube channel featuring 8-year-old Ryan Kaji his mother, father, and twin sisters Emma and Kate. The channel releases a new video every day has 1.8 billion views as of July 2019, which makes Ryan a very rich little boy...and a lot of parents poorer by spending money on the toys he promotes.
TAMAR BRAXTON TALKS SENSE TO LOGAN
Of course, Tamar tries to talk sense into Logan on the video, pointing out that he lives in LA, just like Ryan...and that he had very little chance of winning anyway.
But of course, like every other boy in the world, Logan believes in the impossible and is determined that his dream will come true.
Maybe Tamar could reach out to Ryan's mom - one celebrity to another - and arrange a playdate? Just saying...
LOGAN HANGS OUT WITH HIS DAD AND GRANDPA
Whatever beef Tamar Braxton may have with estranged husband Vincent Herbert, the two are devoted parents to their adorable 6-year-.old-son Logan.
Recently the singer posted a sweet photo on Instagram of her own father Michael Braxton, with here soon to be ex-husband and her son to celebrate Father's Day.
No matter what happens between couples, family is family, and Tamar has often praised Vincent as a great dad to their son Logan.
Please fill in your e-mail so we can share with you our top stories!