Joseline Hernandez & Daughter Bonnie Bella Show off Their Summer Braids in New Pic
Joseline Hernandez shared an adorable photo on Instagram of herself and daughter, Bonnie Bella twinning in new braided hairstyles.
Joseline Hernandez shared an adorable photo on Instagram that shows her twinning with daughter Bonnie Bella.
The two, whom she labeled as "African Princesses" in the caption, sported the same summer hairstyle, and fans loved it, giving the snap over 100,000 likes.
JOSELINE HERNANDEZ AND HER PRINCESS BONNIE BELLA
The single mom had her hair and Bonnie Bella's done in traditional braids, and the style suited both mother and daughter.
Joseline finished off the look with a pair of dramatic cat's eye sunglasses rimmed with rhinestones for that movie star glamor. 
FANS LOVED JOSELINE AND BONNIE BELLA'S NEW LOOK
Compliments on the mother and daughter's new hairstyles showered in from the fans who couldn't stop praising Bonnie Bella's beauty.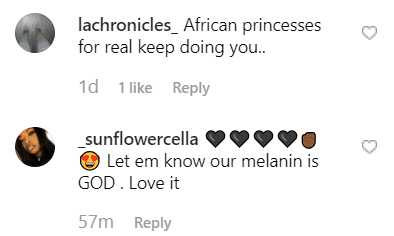 The rapper accused the Puerto Rican Princess of being an unfit mother.
BONNIE BELLA - MOMMY'S GIRL
The praise is a welcome change for Joseline who has been the target of unkind comments since she gave birth to Bonnie Bella, and has often been criticized for her mothering skills.
"I remember before you were born I had backlash from anyone that could talk. Now, look at you," Joseline lashed back at the trolls.
JOSELINE HERNANDEZ ON BEING A MOTHER
The reality star has confessed that becoming a mother to 2-year-old Bonnie Bella has changed her, taught her that she could be more than she had ever imagined, and made her life choices clear.
Joseline showed some bitterness, especially regarding the fact that even though she was left to bear and raise Bonnie Bella on her own, she now has to contend with ex's Stevie J's custody claims.
"Now everyone wants a piece of you! No one was there for you or Mommy! But we made it! Tell them like I tell them: You all #Mines," she wrote.
Joseline shares Bonnie Bella with Stevie J, who has fathered another 5 children on 4 different women and is now married to Faith Evans. 
JOSELINE HERNANDEZ AND STEVIE J - CUSTODY WAR?
Joseline Hernandez and Stevie J are battling over custody of their daughter Bonnie Bella, 2, after the rapper accused the Puerto Rican Princess of being an unfit mother.
Meantime, Joseline accuses Stevie J of being an absent father, and that his child support is actually being paid by his wife, Faith Evans.
The two have been trading accusations and countersuits, and it looks like the battle will be bitter and protracted, with Stevie J not only asking for custody but also for child support for the daughter who has never been in his care.