North West Sparks Debate after Wearing Nose Ring at Great Grandma MJ's Birthday Bash
Kim Kardashian's daughter North West is a confirmed fashionista, but her choices seem always to leave social media users divided. Her latest fashion accessory – a fake nose ring – is having the same effect.
The Kardashian-Jenner clan came out in their numbers over the weekend to celebrate the 85th birthday of Kris Jenner's mother, Mary Jo "MJ" Campbell.
As is typical with the reality TV royal family, there were lots of pictures and videos from the event, but one, in particular, has sparked a debate on social media.
Kim, 38, took to Instagram Stories with a photo of her six-year-old daughter rocking a nose ring as she posed with cousins Penelope, 7, and True, 1, and aunts Kourtney and Khloe.
The KKW Beauty mogul made sure to clarify that North's nose ring was "fake," but that has not stopped the mixed reactions trailing her daughter's latest fashion piece.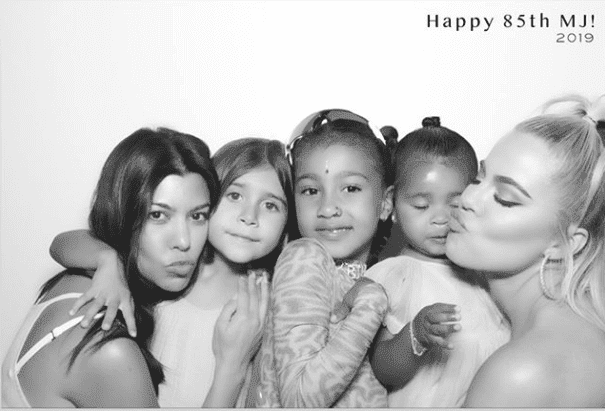 The Shade Room reposted Kim's picture and in the comment section were those who saw nothing wrong in her daughter wearing a nose ring.
"Indian kids have nose rings young and hers is fake. This one I don't see an issue with" ~@biglexplaya
"North is always a mood!!" ~@ezbreezybutiful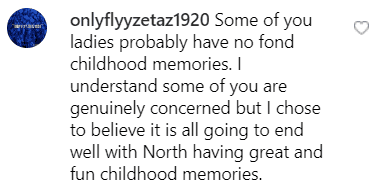 "There are children in that culture who have real nose piercings. I think y'all just don't like that it's North cause she's associated with Kim... and I understand lol" ~@denisesundae

Majority in the comments, however, seemed to think a nose ring is inappropriate for North's age. "Damn, can she grow up first?" one Instagram user observed, while another echoed:
"She's too grown for her age!!! First the belly shirts then actually wearing her mom heels outside!! Wearing makeup now this? Let her be a kid!!!!"

"They're creating a monster," a third user wrote. "Let her be a kid, fake or not don't introduce."
By now, Kim may be used to getting backlash over her daughter's fashion and style decisions.

Last Christmas, when North posed for photos wearing red lipstick, internet users had a lot to say as they did in March when Kim shared a video of North sporting dark lipstick at her father Kanye West's church service.
Meanwhile, Kim has confirmed that her first-born has a flair for fashion, beauty, and style. From playing around with make-up to walking the runway last October and landing a solo magazine cover in February, North continues to prove her mother right.
And since she's a Kardashian, the chances are high that little North will do whatever (and wear whatever) she wants to irrespective of public opinion. Kim and her husband Kanye West are also parents to daughter Chicago, 1; and sons Saint, 3, and Psalm, two months.