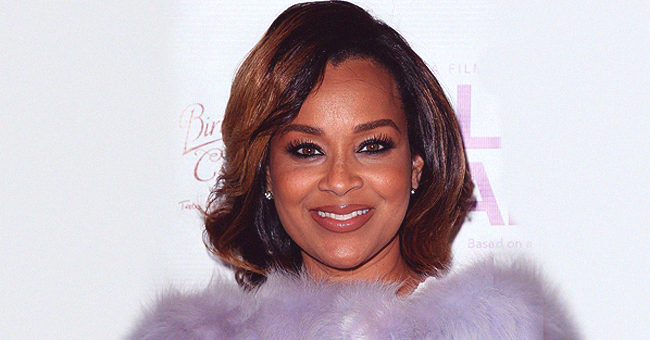 GettyImages
LisaRaye Is on Grandma Duty, Takes 'Lil Cowgirl' Granddaughter to Rodeo
LisaRaye McCoy looks stunning in new pics from her day at a Rodeo expo alongside her granddaughter, Bella Rae. The actress has been busy these days, and she recently revealed she has a new project on the works that her fans will love.
LisaRaye is always happy and glowing whenever she's around her 2-year-old granddaughter, Bella Rae.
The actress recently took the girl along to one of her favorite places: the Rodeo, and they were dressed up for the occasion. In pics shared by McCoy on Instagram, she's seen wearing a white shirt, ripped white shorts, boots, pink sunglasses, and a hat.
Little Bella was almost matching with grandma. She wore a white dress, denim vest and metallic pink boots for the perfect cowgirl outfit.
"Bill Pickett 35th Annual Rodeo. Use to compete in the barrel racing. Now I'm just watching w/my favorite lil cowgirl @babybellarae, my #LifeRocks #bpir35years #BlackCowgirls #BlackCowboys," LisaRaye captioned the slideshow of photos.
FANS' REACTIONS
Fans of the "Single Ladies" star took over the comment section gushing about Bella and her cuteness.
"Omg she is so beautiful, I just love her curls, natural," wrote one user.
Another added, "I love how you take your grandbaby everywhere you go. It's the cutest thing!"
And a third one said:
"Adorable absolutely #love that #rodeo. Wish they would travel the U.S. glad you and cutie had a good time @thereallraye1."
BOOKED AND BUSY
Although LisaRaye is often spending quality time with her daughter and granddaughter, the 51-year-old is currently busy on various projects, as she revealed after a fan recently asked her if she was retired from acting.
In response, McCoy listed all of her current projects and also revealed she's been working on something that she can't wait to share with the world. She said:
"No, I just have some other interest I been working in that's coming soon. However just this month alone I have Tails, my new show Murder in the Thirst, [and] Comedy Central's Southside on July 24th. So, I'm busy but got something I'm presenting to the world real soon."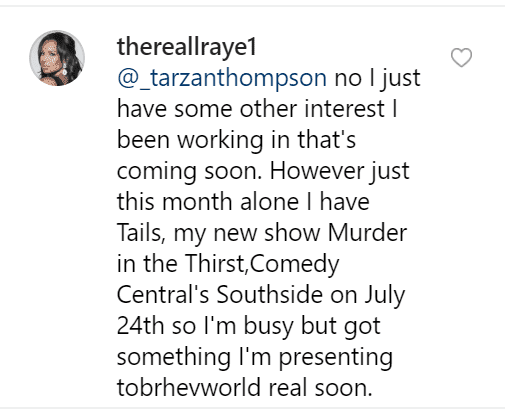 Lisa's reply to a fan. | Source: Instagram/thereallraye1
Lisa's secret project is speculated to be a not-so-secret-anymore reality show in WeTV alongside her friend Vivica A. Fox.
REPAIRING AN OLD FRIENDSHIP
When asked about the rumors on the red carpet at the BET Awards, LisaRaye confirmed the news to Hip Hollywood.
Vivica and Lisa had a major falling out a few years ago in the heels of LisaRaye's divorce from former Turks & Caicos Premier Michael Misick. McCoy claimed at the time that Fox shared her most intimate secrets with Misick after their split and deemed it a big betrayal.
Now, the veteran actresses have repaired their relationship, and Lisa wants to set an example with their reality show.
"It's important to show the community that when you are friends, and you fall out, it's important to bridge that gap and how you do that," she explained. "Real friends get back together. Real mature women they bury the hatchet."
Lisa also confirmed that although the reality is still in the works, she and Vivica are planning on bringing some of their famous friend on board.
"You know we got Black Hollywood on lockdown between the both of us," she said. "So we are going to bring a lot of looky loo's, so you'll have to stay tuned."
Please fill in your e-mail so we can share with you our top stories!