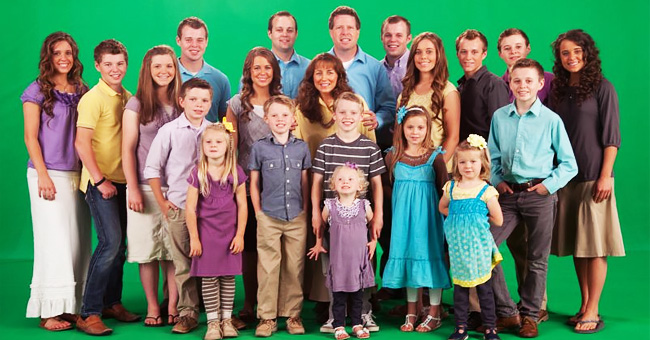 Facebook.com/duggarfamilyofficial
The Duggar Family: How They Rose to Fame
Jim Bob Duggar and his wife Michelle is most famously known for the reality TV show featuring their children and extended family, "19 Kids & Counting".
The Duggar family are American Christian fundamentalists and rose to fame when TLC offered them the opportunity to be reality TV stars.
The show initially aired as "17 Kids & Counting" on TLC in 2008, but was renamed as the couple welcomed more children.
THE RISE OF THE DUGGAR FAMILY
The Duggar parents, Jim Bob and Michelle, rule their family with an iron fist. The couple tied the knot in 1984, and they weren't always as religious as they are today.
They met when Michelle (nee Ruark) converted to the Independent Baptist Church when she was 17 years old. Jim Bob was 19 at the time.
According to Fame 10, sources from Michelle's past said she used to party with boys on the football team, while old neighbors said she would mow while wearing a bikini.
The couple waited a few years after getting married before having children, and Michelle's first pregnancy resulted in a miscarriage.
They believed that Michelle miscarried due to the birth control she was using. After the miscarriage, Jim Bob and Michelle decided to have as many children as God blessed them with.
In 2004, when they had already welcomed 14 children, Discovery aired a special on the Duggar family, titled "14 Children and Pregnant Again!"
16, 17, 18, 19 KIDS AND COUNTING
Over the years, Discovery aired other specials – "16 Children and Moving In," "Raising 16 Children," "On the Road with 16 Children" – before TLC offered them a contract.
As reported by Nicki Swift, "17 Kids and Counting" was filmed in 2007 and aired the following year. Their eldest son, Josh, married and left home just two days after the show premiered.
When Michelle and Jim Bob welcomed their 18th child, Jordyn-Grace Duggar, the show was renamed to "18 Kids and Counting."
In 2009, the couple welcomed Josie-Brooklyn Duggar, and subsequently, the name changed again, this time to "19 Kids & Counting."
Jim Bob and Michelle was expecting their 20th child in 2011. They later announced that Michelle had miscarried and that they had named their unborn baby Jubilee Shalom.
THE END OF "19 KIDS AND COUNTING"
TLC canceled the Duggars' contract after their eldest son confessed to sexually molesting five young girls, including some of his sisters.
Instead, the network offered a spin-off to the eldest Duggar daughters – Jessa and Jill – to keep the Duggar legacy going with "Counting On."
The Duggars currently live in Tontitown, Arkansas, with their 11 children. The other children have since moved out of the house and have begun families of their own.
Please fill in your e-mail so we can share with you our top stories!