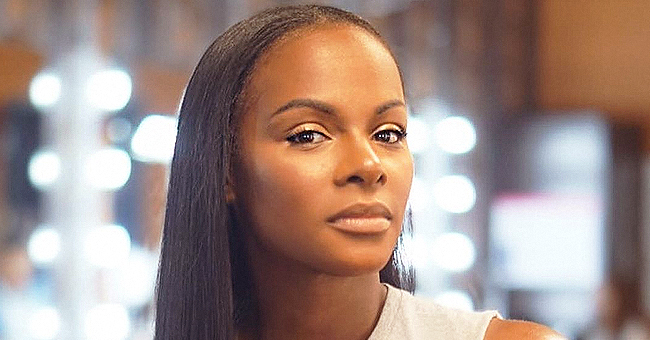 Instagram/tikasumpter
Tika Sumpter Shares Adorable Photo of Daughter Posing in Lion Cutout Board
Tika Sumpter's daughter, Ella Loren, is growing up fast. The adorable 2-year-old recently melted hearts while channeling her inner lioness in a pic shared by her mom on Instagram, and fans' can't get enough of her cuteness.
It seems like the Lion King fever has reached Tika Sumpter's family.
The "Nobody's Fool" star recently took to Instagram to share a cute photo of her daughter Ella Loren posing in a lion cutout board. The toddler put her head on the lion's mouth and seemed to be roaring while looking to something off-camera.
"I hope you roared like a lion today. Ella did. #mama" Sumpter captioned her post.
FANS GUSHING ABOUT ELLA
Fans were quick to fill the comment section gushing about how grown Ella looks and how beautiful she is.
"Omg, can she be anymore gorgeous!" wrote one user.
Another added,
"She is so cute omg. Looks like her daddy on this picture."
And a third one pointed out,
"Awwwwwwww she's tooooo cute!!!!! She looks like she is sweet as pie. Time is sure flying, I still remember when she was a tiny bean."
KEEPING THE SECRET
Tika welcomed Ella Loren on October 2016 with her fiancé and former "The Haves & Have Nots" co-star Nicholas James.
However, the 38-year-old managed to keep her pregnancy a secret until two months before giving birth, and afterward, she maintained Nicholas' identity away from the public's knowledge for almost a year.
Her reason, she told Fit Pregnancy And Baby at the time, is that she's a self-titled "mama bear" that couldn't bear the thought of having to deal with trolls and haters on social media messing with her little family.
She explained:
"I didn't want to hear, 'Who's the dad? Are you with the dad?' Social media can be harsh, and I'm a mama bear, protective of my family. So that's why I waited to tell people, including some friends. My friends weren't mad at me. They said, 'You did it the way you wanted to do it. You're an inspiration.'"
Tika wasn't wrong about social media, as she and Nicholas have faced harsh criticism for being an interracial couple.
So, when talking to Madame Noire last year; she addressed the haters saying, "Don't come after my dude like that," adding that from her point of view, "love is love for everybody."
RAISING A STRONG WOMAN
Sumpter, who is set to appear on ABC's new "Grow-ish" spinoff, "mixed-ish," confessed to WWD last year that she went through a rough time after welcoming her daughter almost three years ago.
"When I had Ella, I was in this weird position of, 'OK, are people going to accept me, after I become a mom? Are they still going to love me?" she said. "What I've learned is Ella has made me want more for myself — take care of me first and then make sure she's OK."
Sumpter, who describes herself as a "hard worker" that doesn't need all the glory, wants to raise her little girl with that same mentality.
She said:
"There's so much I want to teach my daughter, including humility, grace, forgiveness, and understanding. I want her to know her worth and that it's okay to walk into a room and say, 'Yes, I'm smart and amazing, and I have ideas.' I want to teach her how to be a boss."
And as for Nicholas, Tika has never been more in love.
"I wish every child could experience the love you show Ella. We are so lucky," she wrote to the actor on a Father's Day post. "I know my father is looking down and smiling at you. I love you so much. Happy Father's Day!"
Tika and Nicholas have been engaged for almost three years now, but it seems like their busy schedules have gotten in the way of their wedding.
Please fill in your e-mail so we can share with you our top stories!