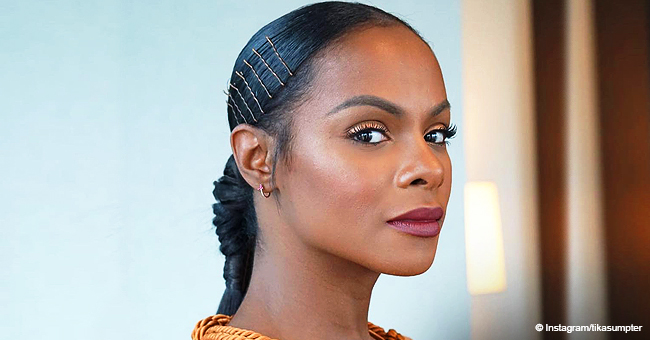 Tika Sumpter Shares Emotional Message with Photo of Daughter Ella Eating Ice Cream Adorably
Tika Sumpter's daughter, Ella Loren, is quite the stunner in a new pic shared by the actress on Instagram. Sumpter took the chance to reflect on how much being a mom has changed her life, melting hearts with her sincere words.
The "Nobody's Fool" actress is known for being a protective "mama bear" —as she once titled herself — and after welcoming her daughter into the world in October 2016, Tika made sure to protect the girl's identity, keeping her face off social for almost two entire years, until she changed her mind last year.
Now, little Ella has started to be featured on her mother's Instagram more and more, and the most recent pic of the girl left fans in awe, not only for her cuteness but also for the message that accompanied it.
In the shot, Ella is wearing a pink top while eating ice cream. Her curly blonde locks are tied in a high ponytail, and she seems focused on the sweet treat on her hand.
Sumpter, clearly absorbed by the lovely pic, captioned it:
"Ella has changed my universe. She is my sunshine and my whole heart. Material things are fun for a moment, but nothing can replace people, love, laughter, the work (on the inside) and squeezing everything out of this lifetime for others and yourself. Love you."
Fans were quick to take over the comment section to gush about Ella too.
"Cherish and enjoy EVERY second, they grow so fast," one user advised Tika.
Another added, "She's adorable. Love her golden hair."
And a third one agreed, "She's adorable!! Love is the greatest gift on earth."
TIKA'S FIANCÉ
Just a few months ago, Sumpter delighted fans with a rare pic featuring Ella and her father—Tika's fiancé Nicholas James— washing some dishes like a pro-team.
The couple met on the set of "The Have & Have Nots," and although they've been dating for a while and got engaged two years ago, there doesn't seem to be a wedding coming soon.
However, Sumpter revealed in an interview with Fit Pregnancy And Baby before her daughter was born, that her love for Nicholas didn't depend on a ring.
"I've been with my boyfriend for more than a year and a half," she said at the time. "Our relationship is not dependent on a ring. I love him to death, and he loves me to death, and that's all that matters to me."
PROTECTING HER FAMILY
Sumpter has proven she can be fierce when it comes to defending her loved ones.
She and Nicholas have received some backlash for being in an interracial relationship, and talking to Madame Noire last year; she addressed the haters saying, "Don't come after my dude like that," adding that from her point of view, "love is love for everybody."
The "Sonic" star also explained that it surprises her how, brown women, in particular, come after her for falling in love with James, and suggested that people who criticize her relationship are not happy with their own lives.
She sent them a message saying:
"Look within your own lives maybe you're just not that happy, and I'm sorry about that."
Tika also warned her detractors saying that she's "a nice girl," but she's "going to say something back" at least once.
Please fill in your e-mail so we can share with you our top stories!