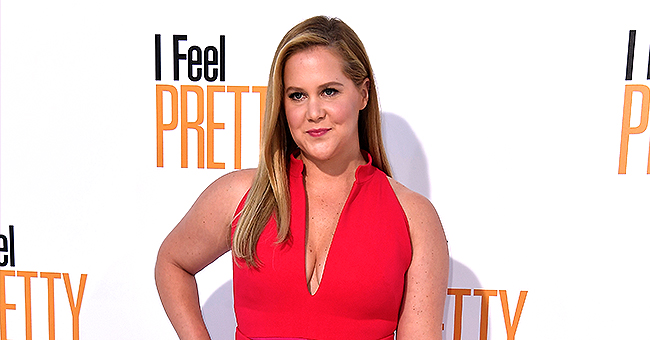 Getty Images
Amy Schumer Shares Post-Pregnancy Body-Positive Message with a Swimsuit Photo

Amy Schumer is not only shamelessly flaunting her natural post-baby body, but she's enjoying all the softness that comes with it. She responded to a fan who commended her in a post about showing it off.
Schumer, 38, is the proud mother of a nearly three-month-old baby boy named Gene Attell, born on May 5. Throughout her pregnancy and immediately after delivery, the comedian has not been one to shy away from the camera.
In fact, Schumer opted to share a bath suit photo of herself as she walked on the beach alongside husband Chris Fischer, who was carrying little Gene. Their dog trailed behind. The post and the comment is found below.
In the first photo, the actress wore a black one-piece and sunglasses as she carried a blue towel. Fischer was decked out in black swimming trunks. The second photo showed Schumer in a beach wheelchair with her husband pushing from behind.
In the comments, Schumer's response to one fan was an eye-opener and comfort for many women. "So beautifull [sic] a normal womans body you look great!!" the person said.
Schumer responded: "I am loving my warm soft post baby body. Grateful to be feeling so strong again!" The comment has so far gained over 3,000 likes at the time of writing.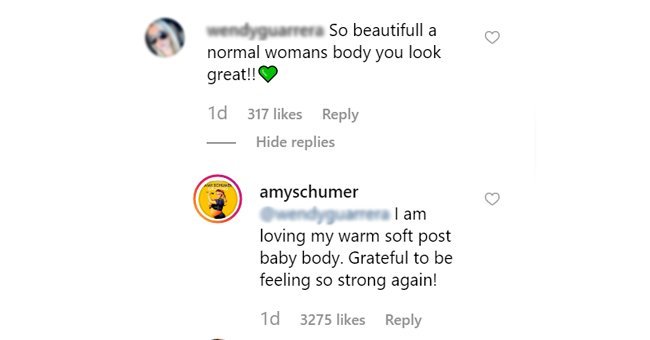 Photo: Instagram/ Amy Schumer
That's because the struggle for most women to accept their body after giving birth is typically a huge struggle, especially so if they gained a lot of weight.
Schumer's caption for the photo was plainer. "We're good," she wrote simply. The couple's genuine smiles in both pictures were enough to let us know that the family is doing well, and we're happy to see it.
According to Pop Culture, the "Snatched" star went through her own challenges, including a case of hyperemesis gravidarum (mild morning sickness) throughout her entire pregnancy.
Fortunately, she found some relief in the comfortable "hospital underwear" that she wore while in labor. Five weeks after giving birth, the actress was still rocking the large undies as she nursed her precious son.
She shared a photo of herself laying down with Gene, who was apparently napping, as she wore the piece. "5 weeks. Hospital underwear for life!" she joked in the caption.
In another shot, the bold comedian took a walk outside and pushed her dog in a stroller while she wore nothing but a black bra and the large hospital underwear.
Earlier this month, Schumer updated fans with more inside looks of her family life, this time including her sibling and niece in the post. Her sister Caramele and her daughter posed with baby Gene in one photo.
"Cuz life," Schumer captioned the shot, which showed as Caremele's daughter leaned over in her mother's arms to be closer to Gene. The two looked absolutely adorable. Schumer certainly has a beautiful family.
Please fill in your e-mail so we can share with you our top stories!