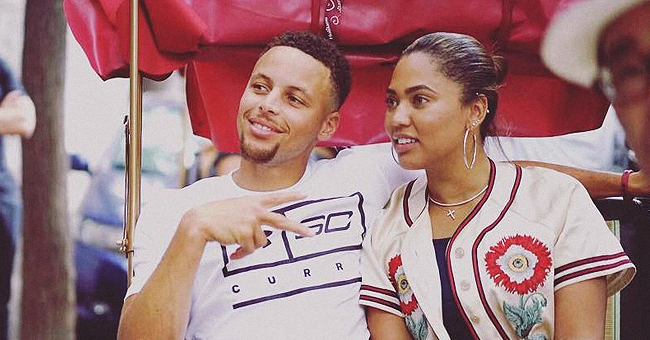 Instagram/ayeshacurry
See Steph and Ayesha Curry's Touching Tributes on 8th Wedding Anniversary

Steph and Ayesha Curry recently marked their eighth wedding anniversary. The pair took to social media to share a heartfelt tribute, and fans can't get enough!
On July 30, the famous couple celebrated eight sweet years of marriage. Never the ones to shy away from the media, the adorable pair took to their respective Instagrams to share loving messages about each other.
iT ALL STARTED FROM HIGH SCHOOL
Steph and Ayesha's first encounter happened while they were teenagers. They reportedly met in a church youth group in Charlotte when they were 15 and 14 years old, respectively.
They, however, parted ways but the two reunited when Ayesha was pursuing her acting career and Stephen was visiting for an awards show. Soon after this, they started dating and have remained inseparable ever since.
They tied the knot in 2011, and their family now includes their three beautiful children: a son, Canon, and daughters Riley and Ryan. Thanks to their successful careers, the pair has risen to become one of Hollywood's most famous power couple.
STEPH'S MESSAGE TO WIFE
It is no wonder that the entire internet seems to be celebrating their anniversary with them! Steph, a famous NBA star, shared an animated picture of himself and Ayesha via Instagram.
It features the pair dressed in a laid back manner, with Ayesha looking makeup-free. The pair clink cups while they sweetly smiled at the camera which was being held by Steph.
Steph also penned down a sweet message which referred to the GIF as well as their long-lasting union. It reads:
"This wasn't today, but this was the vibe to celebrate eight years of officially doing life together. Growing strong through all the ups and downs. Life is all about perspective, and my perspective is clear! That @ayeshacurry....that's my baby right there....love you and thank you for being my Proverbs 31:10-11 everyday!"
So far, his hours-old post has amassed well over a million likes, but Ayesha isn't to be left out of the prideful display.
AYESHA'S MESSAGE TO STEPH
The cookbook author also shared a heartfelt message of her own on Instagram. It accompanied a gorgeous selfie picture of herself and Steph! The closeup shot is so incredible with their bright, beautiful eyes and Ayesha's dazzling ring grabbing attention.
Ayesha went deeper with her message than Steph's as she fondly recalled sharing the past years with him.
"My baby, my love, my life. What can I say. This is us 8 years married in, loving each other for 11 and we somehow still find reasons and things that we love about each other every day," she wrote.
She finished off the lengthy message explaining that spending each day with Steph "is the ultimate blessing."
"I love you forever and always constantly giving the ultimate glory to God. Here's to 8!" she concluded.
How adorable is that!? It almost seems like a battle for who is more in love! Well, no one's complaining. Their affectionate displays quickly gained attention, and they seem to have left netizens reeling from the cuteness overload. They are indeed one couple everyone wants to stand the test of time.
Please fill in your e-mail so we can share with you our top stories!