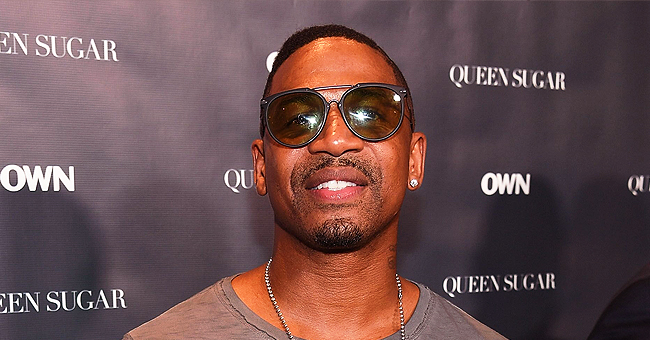 Getty images
Stevie J Shares '1st' Pic of Daughters Eva & Bonnie Bella 'in over a Year'
Stevie J. posts first photo of daughters Bonnie Bella and Eva together in over a year.
Things seem to be looking up for Stevie J. with regards to his custody battle over the daughter he shares with Joseline Hernandez, Bonnie Bella.
Stevie J. who has been suing Joseline, accusing her of custodial interference, and had begged the Judge to intervene so he could see his daughter. It seems that his wish has been granted.
EVA AND BONNIE BELLA TOGETHER AGAIN
Bonnie Bella obviously has been spending time with her father, since he posted a photo of the 2-year-old with his 9-year-old by Mimi Faust, Eva.
In the photo, the two little girls stand side by side, with Eva grinning widely, while Bonnie Bella looks a little bewildered by all the fuss.
"Prayer of the righteous availeth much" Eva set her alarm for 6am to take her sister Bonnie to school, it rang for 17 minutes before I came and woke her up.. Had to drive an hour she's my lil trooper??1st photo in over a year for these girls and I'm grateful to God they had a chance to share this precious moment. #DaJordans#EvaAndBonnie" Stevie J. captioned the post
FANS REACT TO PHOTO OF THE SISTERS
Comments showered in and praised both Stevie J. and Joseline for allowing the two sisters the opportunity to get to know each other.
"Wow beautiful never thought I'd see these 2 beautiful sisters together. So happy for them sister love ?"
"Amen to both parents for loving her enough to be parents."
"I must say stevie even tho I know you a HOT MESS!!? IN more ways then 1 I'm glad your teaching them to love on each other❤️"
"@joseline and @mimifaust and @hitmansteviej_1keep this going this is a beautiful sight ????"
Stevie J. and his wife Faith Evans have a close friendship with Eva's mother Mimi Faust, and the 9-year-old spends a lot of time with the Jordan family.
Stevie J. filed to have Joseline held in contempt of court for breaching the custody agreement
STEVIE J.'S LEGAL WAR WITH JOSELINE HERNANDEZ
The battle over custody of Bonnie Bella started when Joseline accused Stevie J. on social media of being a "dead beat" dad and claimed that her boyfriend DJ Ballistic was being her daughter's real "daddy."
The rapper responded by accusing Joseline of not allowing him to see Bonnie Bella and of being a "bad mother." The next step was a flurry of lawsuits and countersuits that has the fans dizzy.
HAS AN AGREEMENT BEEN REACHED?
The recent posting of the photo of Bonnie Bella with her sister indicates that some form of an agreement, or at the very least, an accommodation concerning the custody of the two-year-old had been reached between the parts.
Sadly, when love goes sour, the children are invariably the ones who suffer the most.
Let's hope that Joseline and Stevie J. can make peace, if not for their own sake, for their beautiful little girl.
STEVIE J ASKS JUDGE TO THROW JOSELINE IN JAIL
Things heated up in the legal battle between Stevie J. and his ex Joseline Hernandez over their daughter Bonnie Bella.
Stevie J. filed to have Joseline held in contempt of court for breaching the custody agreement and not allowing him liberal visitation with their child.
The rapper claimed that he had traveled to Florida 5 times to see his daughter, and had been denied access to Bonnie Bella by Joseline Hernandez.
He claimed that she "prohibited regular visitation and parenting time" in the five times Stevie traveled to Florida to see his daughter. If he can prove his allegation, Joseline may indeed have to adapt to orange as her new black.
Please fill in your e-mail so we can share with you our top stories!