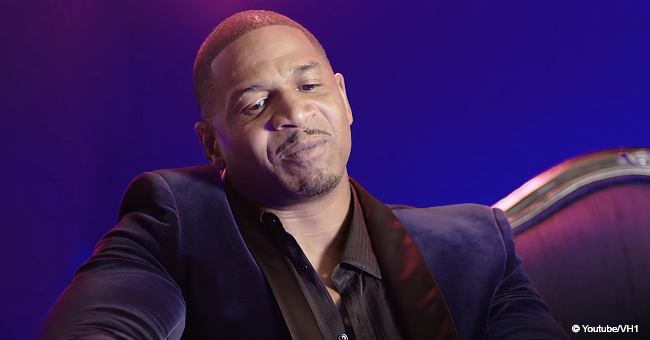 Stevie J Slammed yet Again for Posting Photos of His Daughters and Excluding Bonnie Bella
Stevie J is under fire, once again, for being a deadbeat dad to Bonnie Bella, his daughter with Joseline Hernandez.
The music producer recently took all of his daughters out —excluding Bonnie, who is in Miami with her mom—for a fun-filled day at the Museum of Illusions in Los Angeles.
Stevie took to Instagram to share a carousel of pics of his girls, Eva,9, whom he shares with ex Mimi Faust, Sade, 23, his eldest daughter, and Savannah, 20.
Eva, who is a familiar face to "Love & Hip Hop: Atlanta" fans, wore a gray t-shirt, dark jeans, a leather jacket, and white sneakers. Savannah looked gorgeous in a see-through black shirt and checkered pants, while Sade added color to the group with a yellow jacket and black pants.
"Thank you God for blessing me with these dolls. Bonnie we'll see you in 2 weeks #Dajordans," Stevie captioned the post.
FANS' REACTIONS
However, because it's known that Stevie has neglected Bonnie Bella for almost a year, fans were quick to take over his comment section to criticize him for excluding the 2-year-old from his life.
Even though Stevie is regularly sharing pics of Bella, fans believe actions speak louder than social media posts.
"So how is it ok for you take all your daughter out but not Bella. You wanna say that your this great father but forget his other daughter," wrote one fan.
Another added, "According to @joseline u ain't seen @bonniebellahernandez in a minute. Stop capping five. U a deadbeat cuz Faith pay ur child support."
And a third one chimed in to say, "Lmao Instagram daddy #deadbeat."
JOSELINE IS NOT HAVING IT
Stevie seems to be planning a visit to Bonnie Bella, but Joseline Hernandez doesn't seem thrilled about it, as she hopped in on his comment section to say,
"Bonnie Bella don't know who you are."
The former couple started dating in 2012, while Stevie was still wit Faust. Then, after chronicling their tumultuous love triangle on "Love & Hip Hop: Atlanta," Joseline got pregnant in 2016, a few months after ending things with Stevie for good.
In 2017, the pair settled their child support and custody battle in court. Joseline got primary physical custody, while Stevie got joint legal custody of the girl and was ordered to pay $1,000 a month for child support.
SHADY COMMENTS FROM ALL SIDES
Stevie married R&B singer Faith Evans in July 2018, and ever since, he has not visited Bella in Miami.
Last month, Joseline made some headlines after slamming Stevie in a discussion that had nothing to do with her.
Ty Young, Mimi Faust's girlfriend, posted a picture with little Eva, to which Stevie commented: "Y'all should adopt."
Young was quick to slam him, replying:
"So you mad because you left your family years ago and now your baby mama #4 and daughter are loved??!! Be mad if I'm mistreating your daughter not mad because she's loved and getting the attention she needs as a child."
She also called Stevie an "Instagram daddy" and mentioned how he only spends time with his kids when he has to film for a reality TV show.
Never one to miss a chance to shade her baby's daddy, Joseline also joined the comment section, adding:
"And not to mention, he has not seen Bonnie Bella for 1 year. Faith Evans pays her child support. And he did not buy anything or call Bonnie Bella for her birthday. But maybe one day he will change."
Now that Stevie mentioned he'd visit Bonnie Bella in two weeks, fans are expecting to see if he's true to his word or if he'll prove Joseline has been right all along.
Please fill in your e-mail so we can share with you our top stories!