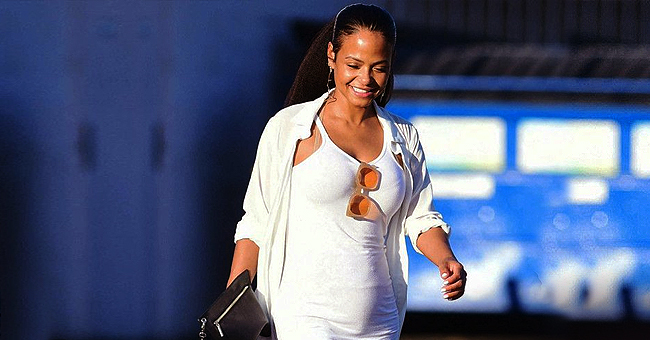 Twitter/InsidePublic
Christina Milian Is All Smiles in Los Angeles Days after Her Pregnancy Announcement
Christina Milian has been flaunting that special glow just days after announcing her pregnancy.
Christina Milian has never been happier and it shows. The singer announced that she is pregnant for the second time and that the baby-daddy is French pop-star Mark Pokora.
Days after the big announcement, Christina was seen flaunting that preggy glow out and about in Los Angeles.
CHRISTINA MILIAN FLAUNTS CUTE BABY BUMP
Christina was snapped in LA in a white tank top that accentuated her little baby bump, over olive-green tights, and a loose white shirt.
The singer had her dark tresses swept back into a high ponytail and wore silver dangling earrings. In the photos, Christina can be seen tenderly cradling her baby bump with a protective hand.
CHRISTINA MILIAN'S SWEET ANNOUNCEMENT
Christina announced her pregnancy by posting a photo of herself and boyfriend Matt Pokora holding a sonogram showing the tiny baby in her womb over her tummy, and sporting a huge happy grin.
"New release 2020! What a blessing! Let's do this babe @mattpokora ❤️!" she wrote.
CHRISTINA MILIAN ON HER RELATIONSHIP
Christina has recently opened up about her relationship with the French singer - who is actually Polish-born - whom she has been dating since 2017.
"He's honest and we have a really great relationship. This is different than anything I've ever experienced and I'm really happy the universe brought us together," she said.
CHRISTINA MILIAN ALREADY HAS AN 8-YEAR-OLD DAUGHTER
Christina already has an 8-year-old daughter, Violet Madison, 9, whom she shares with ex-husband singer The Dream.
Christina had always spoken openly about wanting another child, and now that she's found the right man she's making that dream come true.
"I definitely want to have another child in the future. I don't know when it would be, but I kind of feel like because I know I want two, I know that whenever it happens, I'll be ready! I'll let God handle that!" she'd said.
Christina revealed that Violet and Matt get on beautifully and that her daughter is looking forward to being a big sister.
CHRISTINA MILIAN'S BEAU MOVED TO LA TO BE WITH HER
Christina Milian announced that she is expecting her first child with her boyfriend, Matt Pokora.
Christina Milian and Matt Pokora started dating in Augst 2017. In the beginning, it was a long-distance relationship since Christina lives in LA and Matt was in Paris.
Then, in 2018, Matt left France fr LA and things got serious. Now the two are expecting their first child together. We can't wait for more news from this gorgeous couple!
Please fill in your e-mail so we can share with you our top stories!