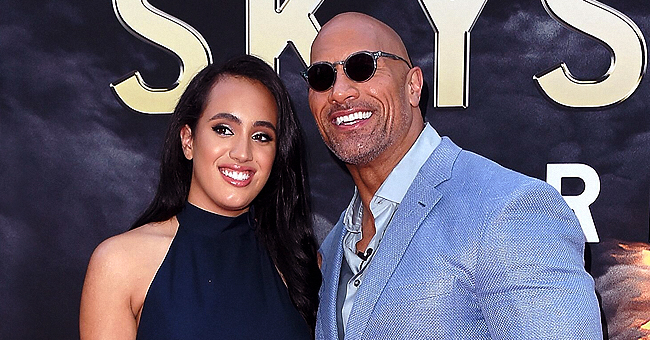 GettyImages
Dwayne 'The Rock' Johnson Is One Proud Father about His Daughter Simone, 17, Attending College
Dwayne Johnson's eldest daughter, Simone, is gearing up to start college this year and he couldn't be prouder. The "Hobbs & Shaw" actor revealed that he's not worried about Simone meeting boys because he believes she will find a "good quality person."
Simone Johnson graduated from high school last May, and now she's getting ready to dive into college at NYU this fall, as her father revealed in a recent interview while on "Live with Kelly and Ryan."
COLLEGE BOUND
When asked if Simone goes to him for advice, Dwayne said:
"Sure. The thing with my older daughter, Simone, is in a way we kind of grew up together because I had her when I was 29. At that time in my life, I was trying to figure out who I was and flying by the seat of my pants."
And continued, "We've got an awesome relationship; she's getting ready to go to college."
Dwayne said he feels "excited" about his eldest daughter leaving the nest "because she's earned it," and he assured the hosts that he's not too worried about his daughter meeting boys at college because he believes she has high standards.
"I like to think, and it's what girls do, they measure the men they meet in their life by their father," he explained. "I like to think whoever she brings home is going to be a good quality person. And if they're not… bang!"
WALKING INTO THE SPOTLIGHT
Simone, 17, is the eldest daughter of Johnson and ex-wife Dany Garcia.
Although she grew up mostly out of the spotlight, she made headlines last year when she became the first-ever Golden Globe Ambassador — a role formerly known as "Miss Golden Globe" —at the 2018 awards ceremony.
The position is traditionally given to the children of one of Hollywood's elite stars, and their role at the ceremony is to hand-out the statues and guide the winners through the stage.
As Golden Globe Ambassador, Simone partnered with a charity called GlobalGirl Media, an organization that empowers young women through visual journalism.
"I want to use this platform to use my voice, and I want to be a role model to young people everywhere," Simone told Teen Vogue of the opportunity. "What people should know about our generation is that we are very passionate about our ideas, and we're very passionate about the things that we feel need to be changed."
LIKE FATHER, LIKE DAUGHTER
Simone is now following her father's career, but not in acting.
The brunette has been training part-time at the WWE Performance Center to develop her abilities as a professional wrestler, just like Dwayne was once.
Simone recently appeared on an episode of the Swerve City Podcast alongside NXT wrestler Isaiah Scott and former Mae Young Classic competitor Aerial Monroe to discuss her training and how she deals with the expectations of being the daughter of a WWE champion.
"In terms of wrestling I knew that I always wanted to wrestle," Johnson said. "Since I was a kid since I was like nine or 10. And then I didn't think I would be able to train until I was 18, but then I got the opportunity to train at the PC once a month when I was 16."
She admits that her parents were concerned at first, maybe afraid of her damaging her body at such a young age, but eventually they decided to support her ambition.
"I don't know what changed their mind," she said. "Maybe it was just that I think they saw how passionate I was about this business, and how much I loved it."
ABOUT THE EXPECTATIONS AND COMPARISONS
When asked about her biggest fear as a wrestler, Simone admitted that not meeting the expectations she has set for herself is the biggest one.
And added:
"And just, like, not living up to the legacy. But then, when I think about that, I also feel like that's, in a way, comparing myself. So, I feel like probably just never falling into that trap of comparing myself. […] I love my parents so much. I'm so proud of everything that they've done, but I am my own person. And I just have to remind myself of that, no matter what the circumstances are."
When asked what the most important advice she has received from Dwayne is, Simone revealed: "He basically just told me what I just said, 'You are your own person.'"
Please fill in your e-mail so we can share with you our top stories!