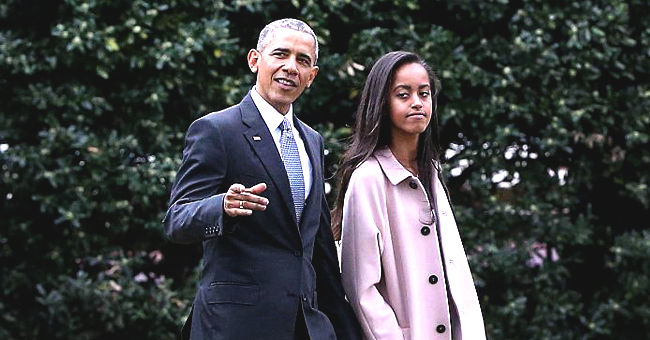 Getty images
Daily Mail: Malia Obama & Boyfriend Rory Farquharson Spotted Having Brunch in California

Malia Obama and her British boyfriend were snapped enjoying a family brunch at a luxury resort in California.
Are things getting serious between former First Daughter Malia Obama and her aristocratic British boyfriend Rory Farquharson?
The celebrity couple was snapped having brunch at a luxury resort in Ojai, California, and they were not alone...
MEETING THE FAMILY IS A BIG STEP
Joining Malia and Rory were his father Charles Farquharson, and his mother Catherine. The third guest is believed to be Rory's brother.
Sunday brunch with her beau's family definitely indicates that things are moving up to the next level for the 21-year-old Malia.
Malia and Rory first started dating in 2017, when they were students at Harvard.
MALIA AND RORY - CASUAL SUMMER LOOKS
The two sweethearts were dressed casually, with Malia wearing a shirt with a blue Hawaiian print and jeans, and Rory in a black polo and black and white striped Bermudas.
MALIA OBAMA GREETED FANS
Malia was recognized by several of the other guests of the resort who greeted her, and she responded to all well-wishers with a shy, sweet smile. The former First Daughter was not accompanied by security.
Rory's father is the chief executive of Insight Investment Management, and his mother is an accountant. There is no indication that Barack and Michelle have met Charles and Catherine yet.
Malia and Rory first started dating in 2017, when they were students at Harvard. Next year, it may be Sasha's turn to be in the romance spotlight, since she starts College in the fall and is bound to meet lots of cute freshmen.
MALIA OBAMA'S BOYFRIEND'S CONNECTION TO THE ROYAL FAMILY
The young man that Malia Obama has been dating for the last two years has ties to the British Royal family.
Rory Farquharson is the son of a British banker, Charles Farquharson, and is set on following his father's footsteps into the financial world.
Rory's uncle was a valued aide and trusted financial advisor to the Queen for many years, until 2006, when he joined the Prince of Wales' staff as Deputy Master of the Household at Clarence House.
This young man won't be intimidated by meeting President Obama!
Please fill in your e-mail so we can share with you our top stories!