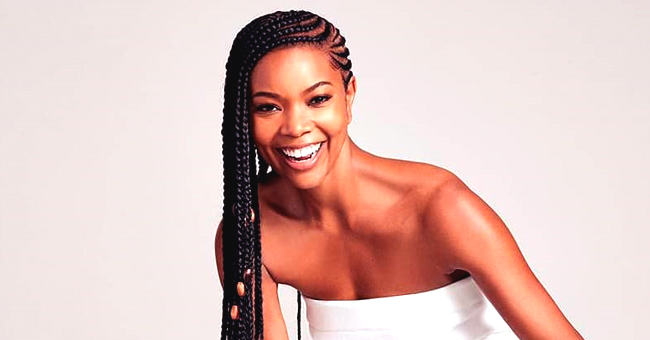 Instagram/gabunion
Gab Union's Daughter Kaavia Tries to Share a Drink with Her Dog in a New Video
Gabrielle Union left fans in stitches after sharing a video of her curious daughter, Kaavia James, trying to drink water from a dog's plate.
Kaavia James is 8-months-old and ready to explore the world, even if that can lead her down some gross — and even funnier — paths.
SHARING IS CARING
Gabby Union recently took to Instagram to share a hilarious video of her "shady baby" having a "playdate" with a lovely French bulldog.
In the clip, Kaavia is donning a skull-printed onesie while crawling on grass in the direction of the dog, as it was drinking water.
"Kaavia really is the personification of hope for a lot of people like us, who maybe didn't have a lot to be hopeful about." - Gabrielle Union.
After the pet was done, it got near Kaavia to sweetly greet her before moving on off frame. But the baby girl, copying what she saw the dog doing, went straight for the bowl with water, and if it wasn't for Gabby's quick reflects, she would have drunk from it.
"Adventures with @kaaviajames Might be time for more human playdates," Union captioned her clip, adding a string of crying-laughing emojis.
She also tagged Dwyane Wade, her husband, and Kaavia's father, on the post, and he also replied with laughing emojis.
FANS AND FRIENDS' REACTIONS
Friends and fans of the family were quick to comment on Kaavia's shenanigans.
Beyoncé's mother, Ms. Tina Lawson, said: "This is too cute! Glad you caught her."
Tennis star Coco Gauff added, "I love this," and other stars like Kimora Lee Simmons and Shonda Rhimes reacted with even more laugh emojis.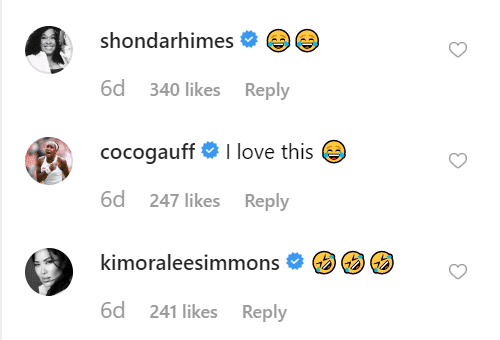 Friends comments on Gabby's Instagram video. | Source: Instagram/gabunion
An amused fan also wrote: "He said 'enjoy' lol I was like "Kaav nooo" I think she changed her mind at the end anyway when she realized she would fall in the bowl. She's so cute."
However, there was one fan that expressed worry over the video, explaining that dogs can be territorial and advising Gabby to be more careful next time.
"Seeing Kaavia approach that dog while it was drinking was uncomfortable to see. Be careful," the user wrote.
ROAD TO KAAVIA
Gabrielle Union and Dwyane Wade married in 2014, and at the time, the "Being Mary Jane" star didn't saw kids in her future.
But after becoming a step-mother to Wade's two sons, Zion and Zaire, plus his nephew Dahveon, she started to consider that motherhood. Sadly, it wasn't an easy road for the couple, as they were met with fertility struggles.
In her 2017 book, "We're Going to Need More Wine," Union revealed that she suffered eight or nine miscarriages.
"For three years, my body has been a prisoner of trying to get pregnant — I've either been about to go into an IVF cycle, in the middle of an IVF cycle, or coming out of an IVF cycle," she wrote.
Eventually, Union and Wade decided to use a surrogate to help them conceive the child they both wished so much, and that's how Kaavia James came into the world in November 2018.
THE LIGHT AT THE END OF THE TUNNEL
Although Union admitted that she wanted to "bake" her own baby, she says once she had Kaavia in her arms everything was worth it.
"Kaavia really is the personification of hope for a lot of people like us, who maybe didn't have a lot to be hopeful about," Union told Parents magazine.
And continued:
"She represents that maybe there is a light at the end. And when you take people on the low points of your journey, it's cool to let them be part of the joy. Plus, she's really cute. And has an uncanny ability for making steely eye contact!"
Little Kaavia has earned the nickname of "shady baby" thanks to her hilarious mean-mug expressions. She has built a fanbase at only 8-months and has already appeared on the cover of a magazine and starred in her first fashion campaign.
Union and Wade couldn't be happier with their little girl, and to their fans' enjoyment, they keep on sharing the adventures of their adorable "shady baby."
Please fill in your e-mail so we can share with you our top stories!