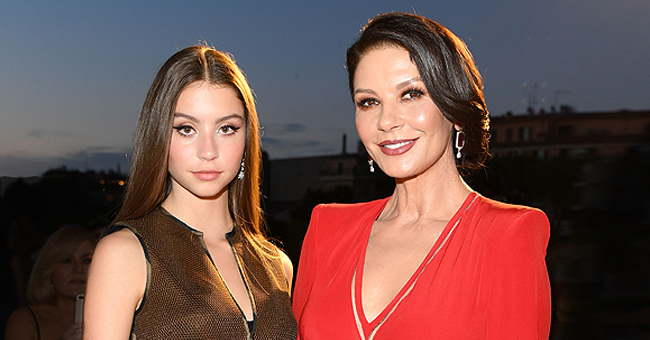 instagram.com/carys.douglas
Catherine Zeta-Jones Shares Video of Herself Spending Quality Time with Her Look-Alike Daughter Carys

Award-winning actress and mother of two, Catherine Zeta-Jones shared a video of her and her 16-year-old daughter, Carys, on her Instagram page, which showed that mother and daughter are spending a great time together.
Catherine Zeta-Jones, widely known for her quality performances in movies, got in on the act with her daughter, Carys as the pair enjoyed a moment together, culminating in a video that is fast going viral — for the right reasons.
CATHERINE AND CARYS ASK WHY
The video showed a relaxed mom and her daughter, with Catherine lying on a couch, while Carys rested on her mom's body.
The 30 seconds video began with Carys asking in a singing tune, "Why, why, do we do it that way? They Say." She then offered a response to her question by continuing with, "Why, Why?" "Tell them that it's human nature." "Why, Why?"
At this point, she and her mom, who had joined in burst out laughing. They then asked again, "Why?" before going on another round of laughter.
After a long laugh, the pair caught their breaths and again asked "Why?" before laughing out loud again, till the video's end.
The video of the happy mom and daughter enlivened many of its viewers, who commented. Many confirmed that the video made them happy, while others said it was contagious, and that it is not far from the truth.
The giggle session between the pair proved to be another sweet daughter and mother moment and was duly appreciated by all.
CATHERINE AND CARYS LOVE TWINNING
Catherine Zeta-Jones and her daughter, Carys share a closely-knit that seems unbreakable. If that is not clear enough from the video, then their appearance at the Welsh National Day Gala in New York City in March proves it.
While Catherine attended the event alongside her two children, 18-year-old Dylan, and Carys, it was her and her daughter's similar off-the-shoulder red gowns that stole the show.
The resemblance shared between mother and daughter was also evident at the event.
CARYS HAS SINGING TALENT
The video shared by Catherine showed a little of Carys' singing talent, which the world already knows she has.
On International Women's Day, Catherine posted a throwback video of Cary's singing and playing the piano at a younger age. She captioned the video with a sweet tribute to her exceptional daughter.
Catherine shares Carys and Dylan with her husband, Michael Douglas, who she has been married to since the year 2000.
Please fill in your e-mail so we can share with you our top stories!