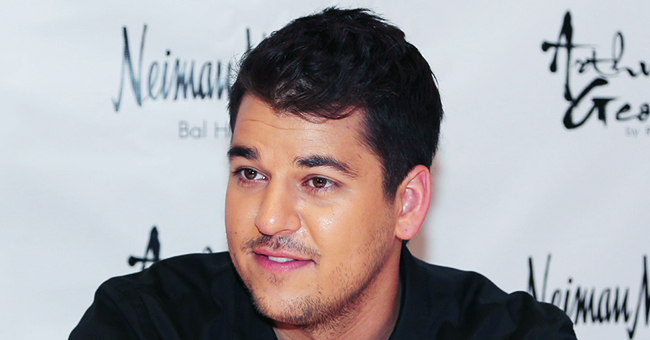 Getty Images
Rob Kardashian Shares Photo of Dream Posing with Cousin True in Cute Swimsuits

Rob Kardashian just shared the cutest pictures of his daughter and his niece as they posed poolside while enjoying the summer vacation.
Rob, 32, is the proud father of his only daughter whom he shares with Blac Chyna, Dream Kardashian. In turn, Dream is the proud bestie to her adorable cousin True.
Khloé Kardashian's daughter is just one-year-old, but she and three-year-old Dream have become inseparable in the past year. The sweet shot of them together can be found below.
Early in the week, Rob took to Instagram to share the cuteness overload that was Dream and True as they stood under a clear blue sky in their one-piece swimming suits.
"Dream and True," Rob wrote in the caption as if fans of the famous tots didn't already know who they were. Dream wore a blue floral swimsuit and pink sunglasses and grinned wide for the camera.
She had one arm resting on her little hips — talk about diva — and the other wrapped around her cousin's shoulders. True was donned in a strawberry patterned swimsuit and had on matching sandals.
Both little girls wore hats for the outing. Dream had on a more mature wide-brimmed straw hat while True rocked a white hat that tied underneath her neck.
Of course, Rob's followers couldn't get over the precious sight, with many calling it a "Dream come True" in their comment. But the fun wasn't over yet.
Rob shared another picture, this time of True only, as she sat on a grey outdoors chair wearing the same garb of the previous snapshots. Again, the happy child smiled for the photo.
"Little Lady," Rob wrote in the caption on Instagram. He shared the same photo to Twitter and added, "My little lady acts like she's 50 years old." He added crying laughing emojis and heart emojis to it.
Proving that the two girls are quite close, Khloé also shared a photo of them on Sunday as they enjoyed a snack. "Happy Sunday," she wrote underneath a picture of Dream and True each sitting in a junior dining chair.
Rob is a great parent and is big on family, but he's also had to focus on his health to ensure he's around a long time for the sake of his daughter. According to ET, the reality star recently decided to work harder on that.
A source told the outlet that Rob "has been taking his health seriously and has been working out and eating better." This follows Rob's announcement just over a month ago that he was back in the gym.
The source claimed that Rob's already "lost some weight, but has a long way to go." They also touched on his relationship with Blac Chyna. The two appear to be successfully co-parenting their daughter.
"Rob and Chyna co-parent and are in a good place, but don't communicate much," the source alleged. What we do know is that Rob shares a lot of his bonding time with his daughter to social media.
Last month, the businessman posted a photo of Dream and this time the tot wasn't the only sweet thing in the shot. Little Dream sipped on a milkshake in the shot and there were no smiles to go around.
That's only because the young girl was focusing on drinking her delicious drink. She looked down seriously as she slurped up the beverage. Her father captioned the shot with just grinning emojis and we can't even blame him. Too cute for words.
Please fill in your e-mail so we can share with you our top stories!