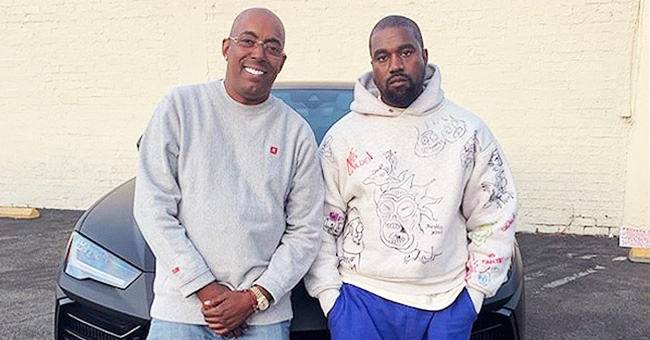 twitter.com/dubvNOW
TMZ: Kanye West Gifts Manager $300K Matte Black Lamborghini SUV
Some guys have all the luck, especially when they have Kanye West as a friend.
And what a gift...West handed Monopoly the keys to a brand new luxury 2019 Lamborghini SUV.
JOHN MONOPOLY PLAYED COY
Not that Monopoly admitted upfront that the extravagant gift came from Kanye West.
He told reporters that the Lamborghini was from a "very good guy" and brother of his with whom he goes back 30 years, but refused to reveal any names.
West's was certainly the most extravagant gift Monopoly received for his birthday
THE MAN WHO DISCOVERED KANYE WEST
But if you are a fan of West's and have been following his career from the beginning you'll know that Monopoly is the man who discovered West and was his manager for his first 3 albums.
KANYE WEST DROPS THE DIME
But West let the cat out of the bag when he posted a photo of himself and Monopoly standing in front of the car on his Instagram account.
"The face you make when you just spent $300,000 on a gift. ? Have you ever regretted spending a lot of a gift? ? #kanyewest" he captioned the photo.
AN EXTRAVAGANT GESTURE
West's was certainly the most extravagant gift Monopoly received for his birthday this year, and it set the rapper back a cool $300,000.
Now the question is...How on earth is West going to top that for next year? And is he going to be as generous to ALL his old, dear friends?
We want to be on his Happy Birthday list.
KANYE WEST - ON HIS WAY TO HIS FIRST BILLION
If Kanye West is dropping $300,000 gifts on his old friends, its because he can afford it.
According to Forbes, West's Yeezy sneaker empire is potentially worth $1 billion-
The brand's worth is expected to top $1,5 billion in 2019, and Yeezy is considered " the Lamborghini of shoes."
West's pretax income just from Yeezy should come to a cool $150 million. No wonder he gave John Monopoly a REAL Lamborghini!
Please fill in your e-mail so we can share with you our top stories!