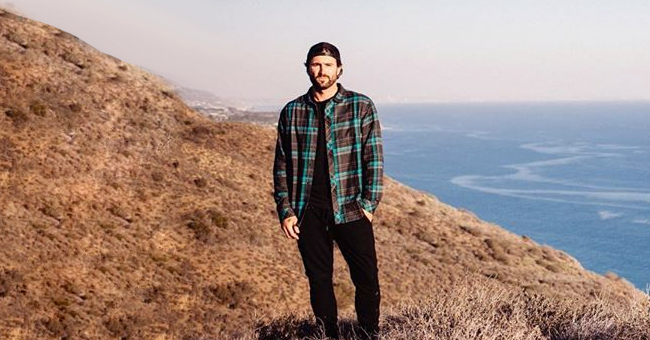 instagram.com/brodyjenner
Brody Jenner's Mom Linda Thompson Shares Message of Support Amid News of His Ex Kaitlynn Carter Kissing Miley Cyrus
Amidst the Miley Cyrus/Kaitlynn Carter scandal, the latter's ex, Brody Jenner has his famous mother coming forward to show him support.
A few days ago, American reality star, Brody Jenner, son of Caitlyn Jenner and Linda Thompson, took to Instagram to share a picture of himself atop a mountain. He wore a baggy plaid shirt, black pants and a hat.
Via his caption, the hunky TV personality subtly addressed the upturn of his once nearly perfect love life. He wrote:
"Don't let yesterday take up too much of today."
The scenic shot included an excellent background as the 35-year-old star stood atop the mountain and with his back against a stunning view of the ocean. The picture would be just like every other fresh celebrity post if not for the current matters surrounding Brody's love life right now.
LINDA THOMPSON PUBLICLY SHOWS SUPPORT FOR BRODY
His ex-wife, Kaitlynn, was recently spotted kissing former child star Miley Cyrus in public. The startling sight came very soon after Kaitlynn's one-year marriage to Brody was annulled.
The most shocking part of it, however, is the fact that even Miley Cyrus had only just parted ways with her husband of eight months, Liam Hemsworth.
The situation quickly escalated to become fodder for the media, especially with the prior knowledge of Miley's love for the risqué.
At such a time of distress, Brody needs every support he can get and his entertainer mother, Linda Thompson was more than ready to provide it.
Alongside the thousand other comments posted by fans, Thompson shared words of support to her grown son as if responding to his caption. Alongside a thumbs up and a heart emoticon, she wrote:
"Always so proud of your dignity, generosity, kindness & nobility. You are a gentleman, and I love you very much. Onward…"
So far, netizens have come out to support Brody via social media verbally. Thus recent update on his Instagram feed has amassed nearly 150,000 likes and over 3,000 comments.
It seems everyone is on Brody and Liam's sides since they look like the broken-hearted. One fan, @ac_302reho quipped:
"Hot girls all over the world are here to comfort you. Just an FYI!!!!"
While another, @maheeen_15 wrote:
"She left you for Miley?! Never saw that coming. What a bizarre situation. Well, you're much better than Miley and Liam is also much better than Kaitlyn as well."
BRODY IS NOT MOPEY LIKE MANY MAY THINK
It seems Brody is well on his way to getting over Kaitlynn and it couldn't be more welcomed. TMZ reports that the handsome entertainer was spotted "getting cozy" with model Josie Canseco, who is 22 years old.
According to reports, Brody isn't moody about the scandal at all and has long moved on with Josie. On the other hand, Miley's ex, Liam, has remained tight-lipped about it all.
Please fill in your e-mail so we can share with you our top stories!