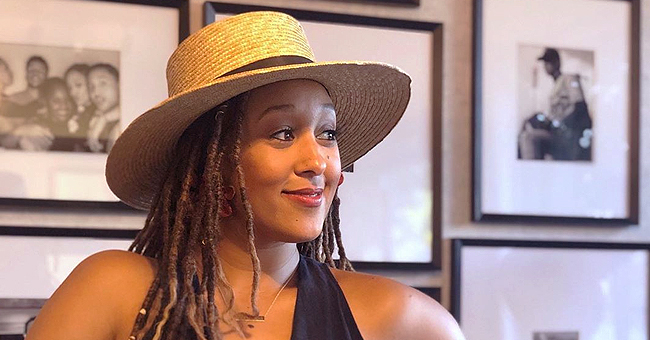 Instagram/tameramowrytwo
See Tamera Mowry's Daughter Ariah's Bright Smile during a Car Ride
Tamera Mowry's mini-me, Ariah Talea, is stealing hearts in a new photo shared by the proud mom on Instagram, as their summer vacations come to an end.
Tamera Mowry and her family are enjoying their last days of summer before school starts again, and it seems like her daughter is having a lot of fun in the meantime.
A new photo shared by the "Sister, Sister" star on Instagram shows Ariah wearing an orange animal printed dress with her hair tied in a low ponytail while laughing in the backseat of a car.
"Car rides with Miss Ariah make everything an adventure (We were parked by the way!) #myminime #summervibes," Mowry captioned the adorable post.
FANS' REACTIONS
Fans of the "The Real" co-host took over the comment section to gush about Ariah and how fast she's growing up.
"Your baby girl is getting so big. She is so beautiful, just like her mom. I've watched u and your sister growing up," wrote one loyal fan.
Another added, "She has a beautiful spirit you can see it in her smile, she is just like her mommy."
"She looks like she's grown since I've seen her! Unreal. Such a beauty...and such spunk ;)."
INSTILLING ACCOUNTABILITY ON HER KIDS
Tamera and her husband, Adam Housley, are parents of two: Ariah, 4, and Aden, 6. And according to Tamera, the family is complete as it is, and there are no plans for more kids in the future.
"I'm done having kids," she recently told Essence. "My kids are at the age right now—and I talked about this on The Real—where parenting is work."
For Tamera, 41, assigning her kids chores is not about golden stickers but instilling a strong sense of accountability.
She wants Ariah and Aden to become self-aware of the importance of taking care of themselves and their surroundings, as she applies her mother's belief that "cleanliness is next to godliness."
"You're not just changing diapers and taking really cute pictures with your baby, you know?" she explained. "I am trying to instill some really good characteristics and morals into my children's lives."
SAVING TIME WITH CHORES
For the Emmy-Award winner host, her kids needed to start cleaning up after themselves from a young age because as a working mother and wife, sometimes she needs some time for self-care or even a bit of family fun, and chores made on time facilitate that.
"I taught them at the very young age the song clean up, clean up," Mowry said. "I just got tired of cleaning up after them! After a while I was just like guys, 'I'm your mom. I'm not your maid. You have to learn how to do this yourself.'"
WELCOME TO THE HOUSLEY LIFE
Fans will have a chance to get a glimpse into Tamera's family life through her new YouTube series, "The Housley Life," which follows the family on their daily adventures, special occasions and the unpredictability that comes with having kids.
"The series is going to be tons of love, along with a little bit of chaos from our everyday life! We're all about creating and sharing memories with family and friends, while we learn about the ups and downs of life together," Tamera and Adam explained of the series.
Although there are three episodes of the series on the channel, Mowry and Housley recently shared an update explaining that they will take a break to enjoy the rest of the summer with family and friends. They will be back shortly.
Please fill in your e-mail so we can share with you our top stories!