Matt Roloff's Video with Caryn from Son Jeremy's Babyshower Raised Questions
On Sunday, former "Little People, Big World" stars Jeremy and Audrey Roloff had a family baby shower where they revealed their child's gender. However, fans noticed that one person appeared to be missing.
Matt Roloff took to Instagram over the weekend to share his son Jeremy and daughter-in-law Audrey Roloff's gender reveal. The short clip showed that his girlfriend Caryn Chandler was also present.
He captioned the post writing: 
"The big news is out!! Grandpa is going to have another new grandson. Next Farmer generation well underway ... here we go!"

A number of fans took to the comments section wanting to know where Matt's ex-wife, Amy Roloff, was. She also happens to be Jeremy's mother.
A fan wrote: "Congratulations. Why wasn't Amy included?" Another fan added: "This is the sad reality of divorce… Why do something like this and exclude Amy."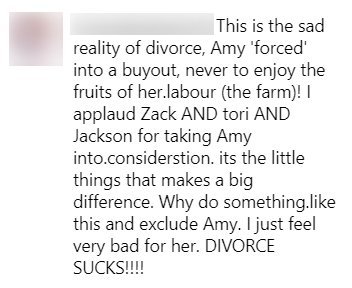 A fan noted: "Wow Matt your girlfriend sure screamed so loud.. where's GRANDMOM at??" Someone else wanted to know: "Where was Amy. This is her grandchild not Caryn."
Another fan clarified the confusion writing:
"For those of you asking where is Amy! If you watch the video right as it starts in the left hand corner you can see her taking her own pictures of the reveal."

Amy hasn't shared any response to the gender reveal. Her son and his wife announced their child's gender by sharing a different angle of the video shared by Matt.

Their clip also featured their daughter, Ember Jean, 23-months-old, eating cupcakes with blue cream and blue flowers were seen as well. Audrey captioned her post writing: "Did you guess right? We are surprised and can't wait to be a family of four."

Ember was welcomed in September of 2017. On July 1, her parents took to social media to announce that they were expecting their second child together.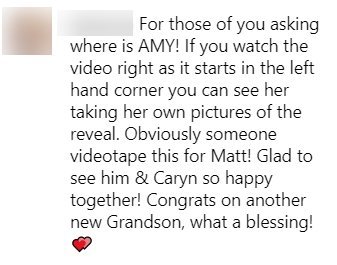 In a post featuring the family of three with ultrasound photos, Jeremy wrote: 
"We've got some exciting news. Ember Jean is going to be a big sister! We're very excited to grow our family. Thanks for following our journey and for your continual [sic] support of our family."
The gender reveal video showed the couple opening smoke bomb canisters that released blue smoke. Their family could be heard and seen screaming with joy at the revelation.
Jeremy and Audrey's second baby is due on January 8, 2020.