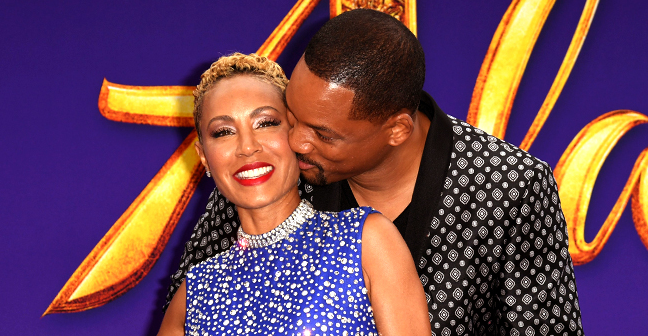 Getty Images
Jada Pinkett-Smith Shares Her Views on Conventional Marriage & the Word 'Wife'
47-year-old actress, Jada Pinkett-Smith recently disclosed what her relationship with husband, Will Smith felt like, and how the pair dealt with the 'marriage' institution.
Without a doubt, Jada's admirers are well accustomed to the details of her life.
This is because the actress is fond of revealing the hassles and beautiful moments of her career, marriage, and motherhood with fans over the years. Interestingly, she has done so once again.
In a recent
interview
with The Guardian, Jada disclosed her inability to fit-in into the 'Wife role' with her partner, Will Smith and how she has managed to navigate through it.
"I knew that I was not built for conventional marriage,"
She went ahead to
describe
the word "wife" as a "golden cage" and added:
"Swallow the Key."
Jada also mentioned that she had reservations against the conventional marriage institution before getting married, and it still affected her when she eventually did. Hence, her reason to share ordeals with the public. In her words:
"Even before I was married, I was like, 'That'll kill me.' And it damn near did! So why wouldn't you share what you've been through -"
Jada also pointed it out that although she didn't agree with the conventional marriage institution, she doesn't want people thinking that she didn't want husband, Will Smith in her life.
"Will is my life partner, and I could not ask for a better one. I adore him, I never want people to think it was Will I didn't want to marry,"
she said and noted the role of influential women who were" caged and tied" by their relationships.
JADA'S RECENT COVER STORY
Also, Jada featured in a recent cover story for PEOPLE. There, she revealed details of a 'tough time' she had with husband, Will, and her affirmations that they would sort it out "together."
Jada also stated in the cover story that she was "kind of a ride-or-die chick" and the love she shared with partner, Will, was "beyond romantic."
After talking about her relationship and family, Jada mentioned her Facebook show, Red Table Talk. Which airs on Mondays and how it has helped her "define and share her truth."
Please fill in your e-mail so we can share with you our top stories!