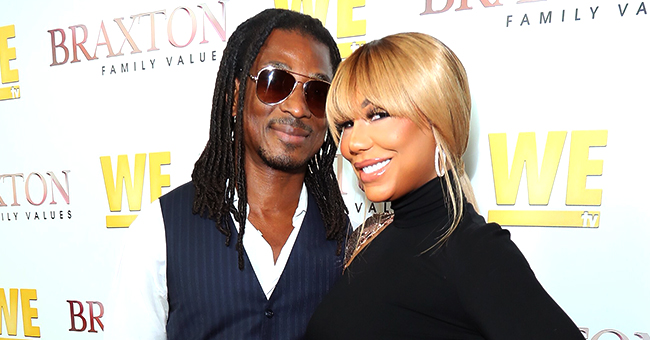 Getty images
Watch Tamar Braxton's Son Pull Her Close to Boyfriend David as They Dance Together
Tamar Braxton's son Logan melts hearts with sweet gesture in Lagos.
And of course, she took her six-year-old son Logan along, who went out of his way to show he approves of mom's beau.
"Having a blast on our recent trip to Lagos with my @tamarbraxton??❤️❤️ and other close family members. My Tamar was being shy and Logan was like..."mom u need to go dance"??????!!" David Adefeso
A SPECIAL VISIT FOR TAMAR AND LOGAN
For Tamar, it was a special moment, joining the celebration of David's mother's birthday, and she was naturally a little shy.
David delighted fans by sharing an adorable video clip that shows little Logan dragging his shy mom from the sidelines to come dance with her boyfriend.
David has become a friend to her son Logan, and fans are hoping that there will soon be news of an engagement
TAMAR BRAXTON GETS INTO THE GROOVE
Encouraged by her son and David, Tamar joined the dance and showed that she has some cool moves as she and her beau engaged in a traditional Nigerian dance battle.
FANS ARE MOVED BY LOGAN'S CARING GESTURE
Tamar's fans were deeply moved by Logan's gesture, which shows how much he trusts and likes David, literally leading his mom into his arms, and commented:
"When your son wants you to be happy ?"
"@tamarbraxton look how Logan pulled you up to him ( David) so you could get closer to dance awwwwh, I love the new care free Tamar this is beautiful."
TAMAR BRAXTON FINDS HAPPINESS AT LAST
Tamar and David have been together for over a year now, and the Nigerian businessman has showered the singer with love and attention, helping her to get through the heartbreak of her recent divorce.
David has become a friend to her son Logan, and fans are hoping that there will soon be news of an engagement, now that Tamar has met the Adefeso family-
The Braxtons clearly adore David, who has turned Tamar's life around.
DAVID ADEFESO SPEAKS ABOUT LOVE
Harvard Business School graduate and wealth strategist David Adefeso opened up recently in an Instagram post about the challenges of being in love with a woman like Tamar Braxton, who has been abused and mistreated in the past.
David advised black men to commit to love their no matter what. He believes that despite differences in wealth and social status, most women have endured the same abuse that Tamar has lived through.
Like Tamar, David said, most black women have known nothing but pain and disrespect from the men in their lives. It's time to man up and make a change. Treat your woman right.
Please fill in your e-mail so we can share with you our top stories!