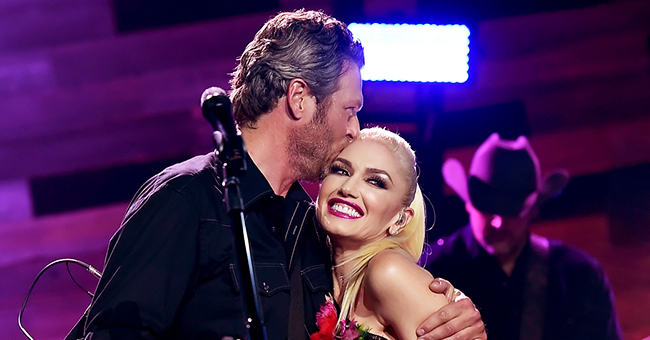 Getty Images
25 Facts about Blake Shelton: From His Pet Turkey to Unconventional Wedding Gifts

Country music superstar, Blake Shelton has captured the hearts of fans with his smooth lyrics and brilliant melodies. He also made a name for himself in television with his judging position on "The Voice."
Dating pop star Gwen Stefani and appearing on "The Voice," Blake Shelton is fast becoming a household name. He also has a thriving country music career of his own.
The country star has bagged many awards and had many sold-out performances. He has had his fair share of platinum albums as well.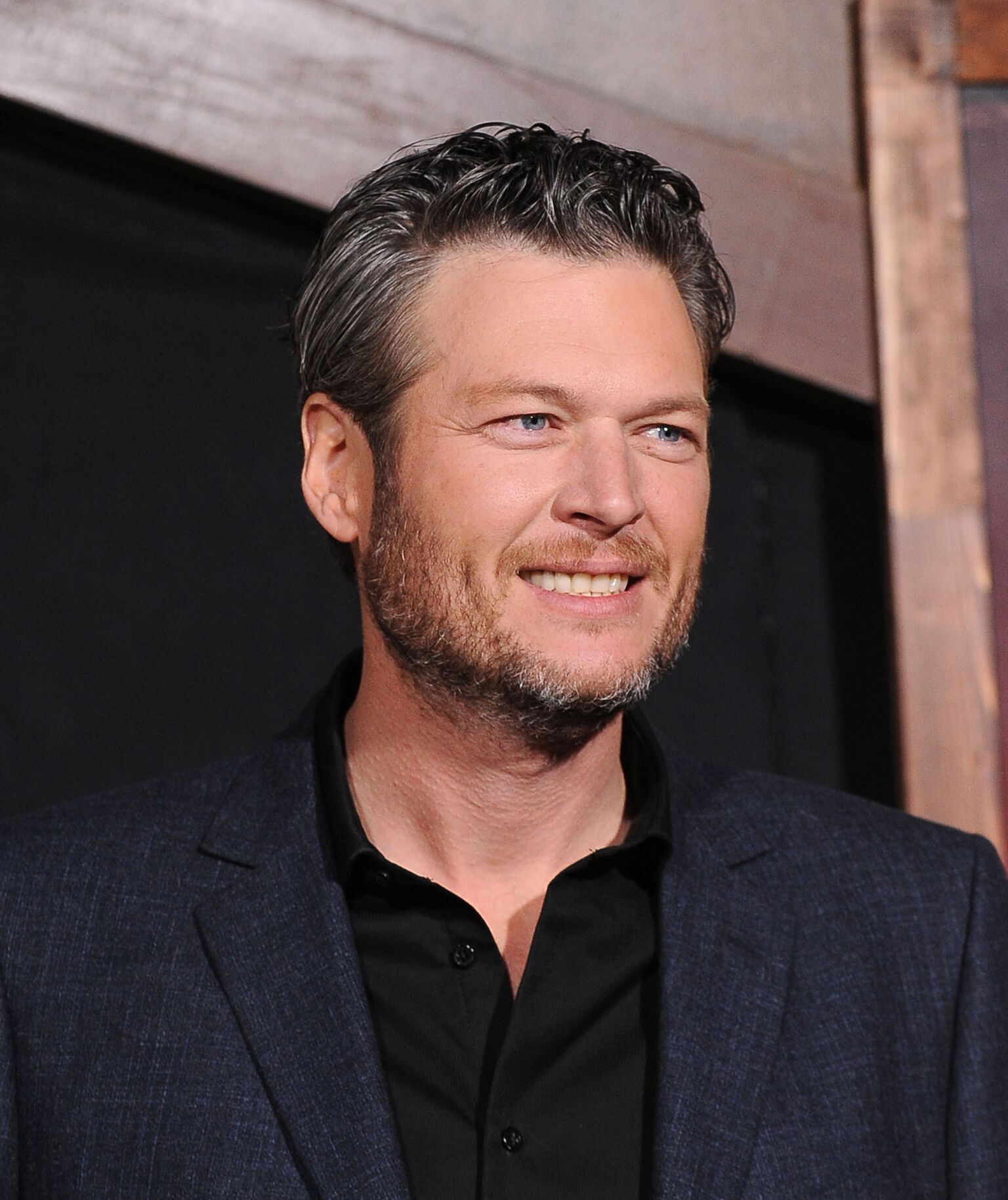 Portrait of Blake Shelton | Getty Images
1. Biggest Pet Peeves
Shelton has not one but two pet peeves that irritate him. The first is people who are under-dressed and the second is bare feet. He hates "stinkin', nasty feet" in music videos and flip-flops. He said,
"Somebody standing on the stage of the Grand Ole Opry or some formal place and they're wearing a T-shirt and baseball cap."
2. Penning his own tattoo
One of his own tattoos was designed by himself. The image shows deer tracks to represent his love of hunting. He later had the tattoo redone with barbed wire around the tracks but still thinks it is a pretty bad tattoo.
3. His Parents
In true country fashion, Shelton was born to a used car salesman, Richard, and a beauty salon worker named Dorothy.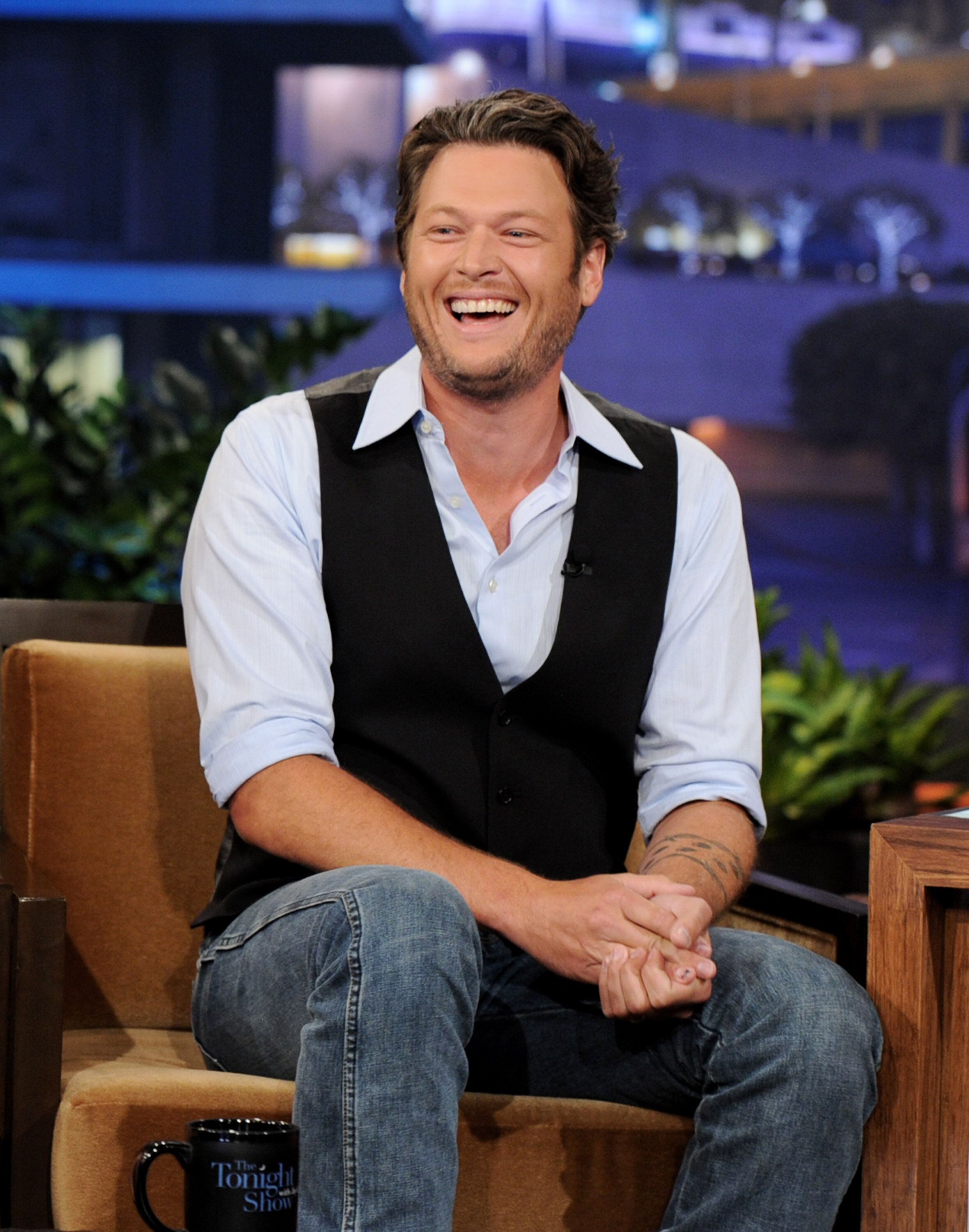 Blake Shelton appears on the Tonight Show with Jay Leno | Getty Images
4. He Performed in Pageants
As a child, Shelton's mom entered him into two or three pageants in a row. He did not enjoy the experience but did get to sing songs like Ted Nugent's "Cat Scratch Fever" and Bob Seger's "Old Time Rock 'n' Roll" for the talent portion of the contests.
5. Early Start in the Music Industry
From an early age, Shelton was singing and by the time he was 12-years-old, he was playing the guitar. At 15, Shelton wrote his first song. When he was 16, he bagged a Denbo Diamond Award.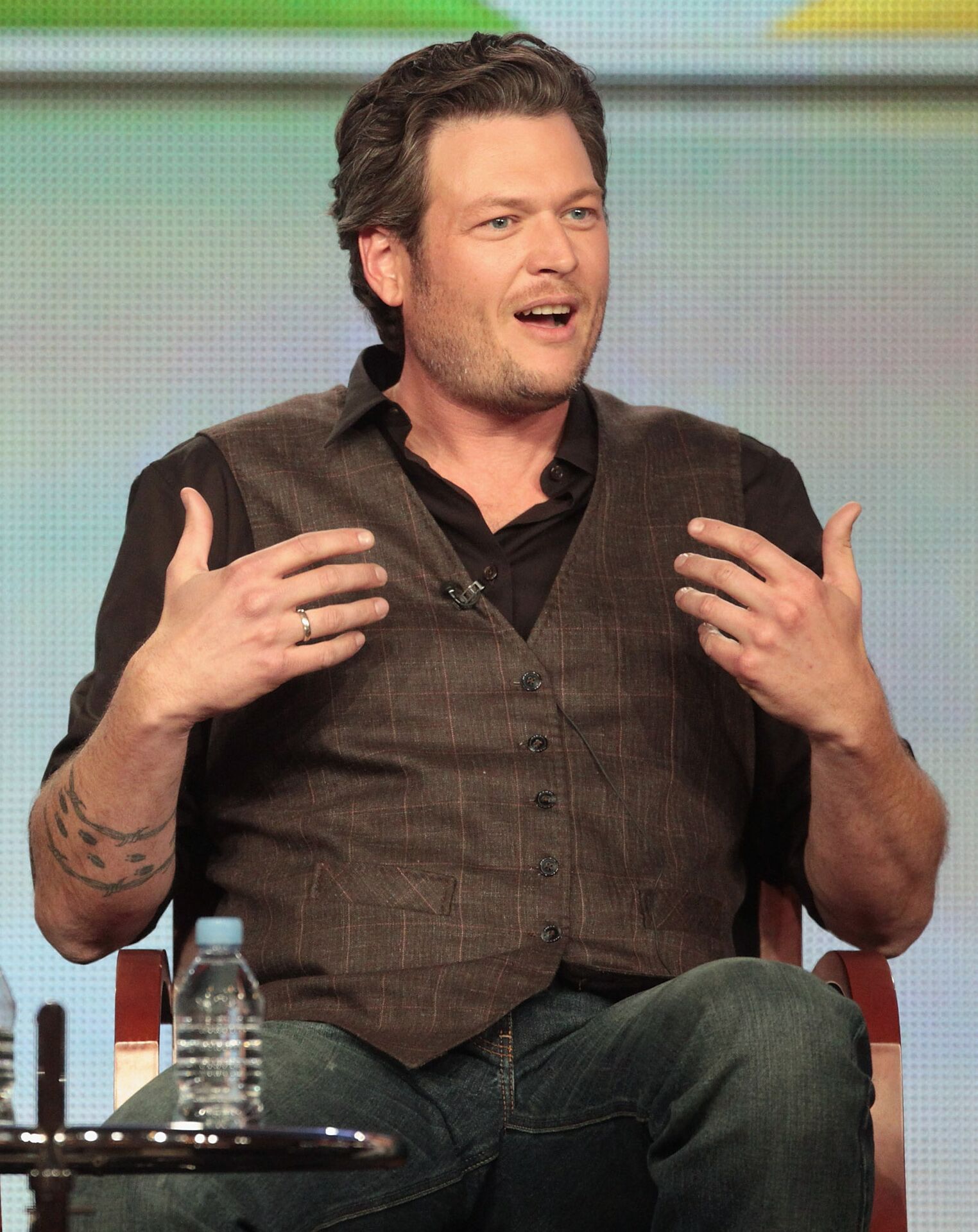 Coach Blake Shelton and Coach Adam Levine speak onstage during the "The Voice" panel | Getty Images
6. Leaving Oklahoma
Immediately after he graduated high school, Shelton left Oklahoma. He moved to the country music haven Nashville, Tennessee to pursue his dreams.
7. Hair Care
Shelton claimed he has a unique hair care treatment to keep his tresses shiny. He says that he uses a combination of eggs and ketchup.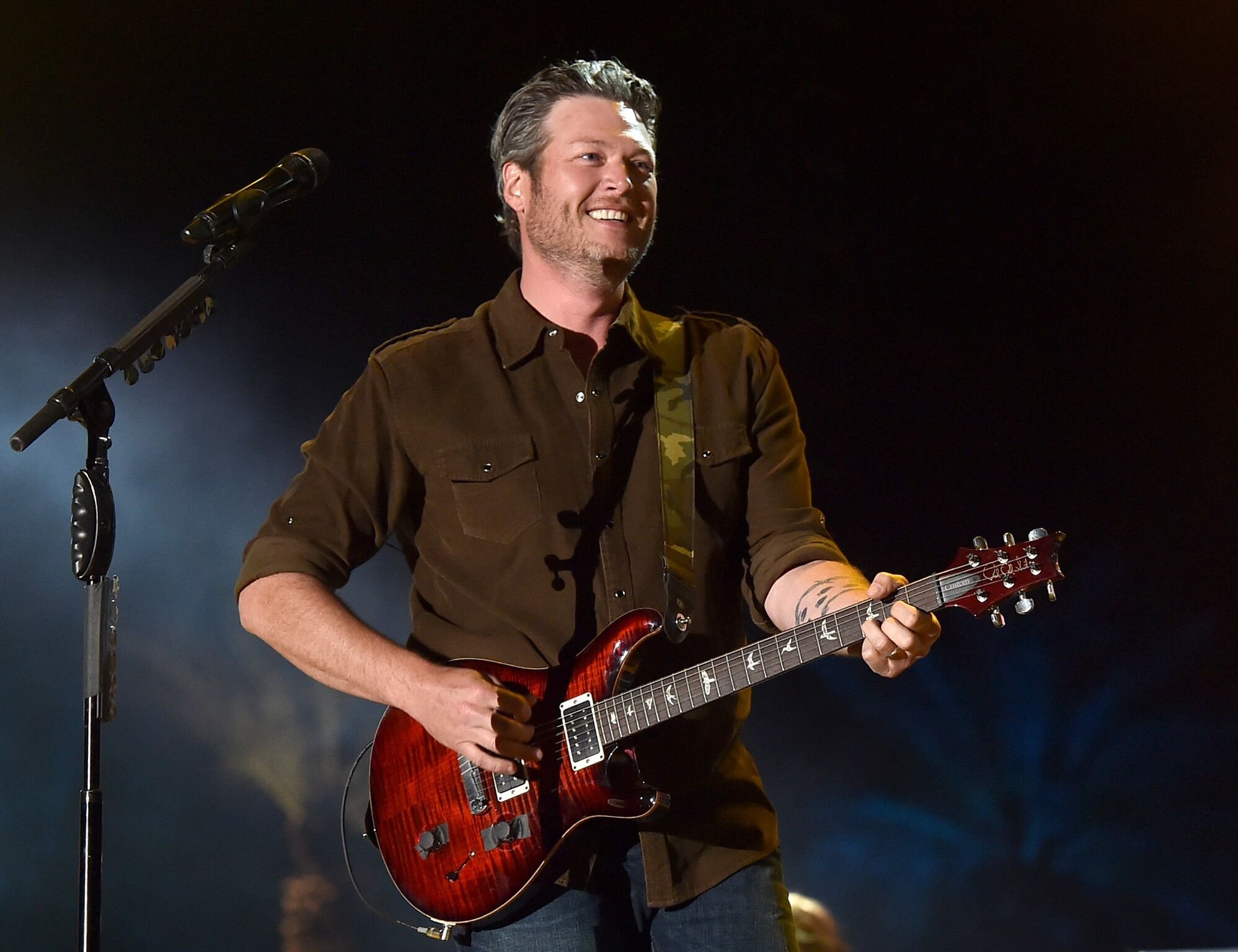 Blake Shelton performs onstage during day three of 2015 Stagecoach, California's Country Music Festival | Getty Images
8. Singing with his Mother
Shelton's mother not only helped him find his passion but has also recorded a song with him. Dorothy sings with her son on his Christmas song "Time For Me to Come Home."
9. His Mother Wrote a Novel
Shelton's mother was inspired by their collaboration and went on to write a holiday-themed novel with Travis Thrasher named after the song they made together. The book is based on real holiday memories.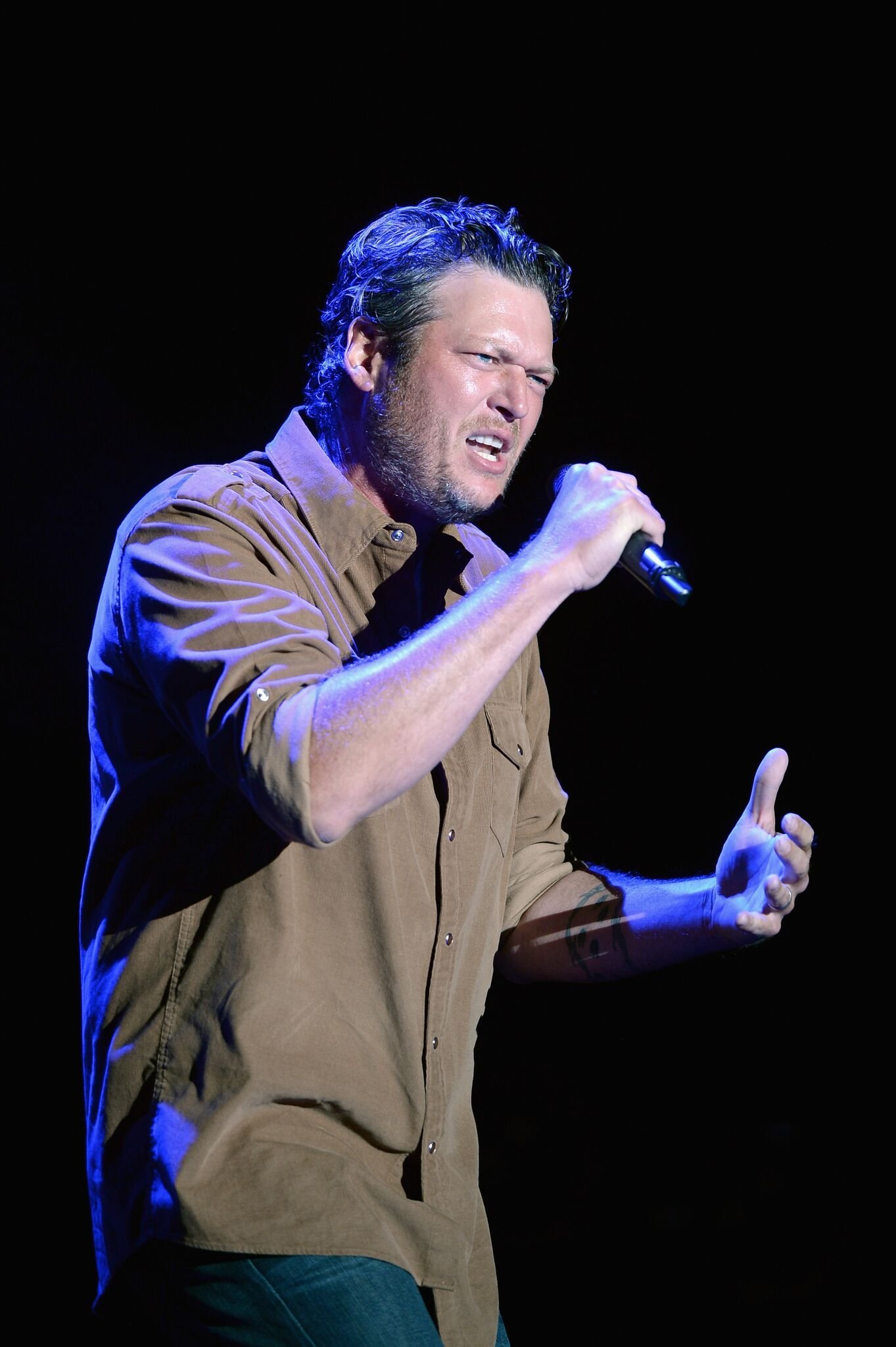 Blake Shelton performs onstage during day 1 of the Big Barrel Country Music Festival | Getty Images
10. He Had a Pet Turkey
In 2003, Shelton revealed that he once owned a pet turkey. He claimed that he had wanted to bring him with to an awards show.
Shelton revealed his turkey was named Turkey and that he was fed turkey scraps once by accident. Turkey, unfortunately, died later that year from heatstroke.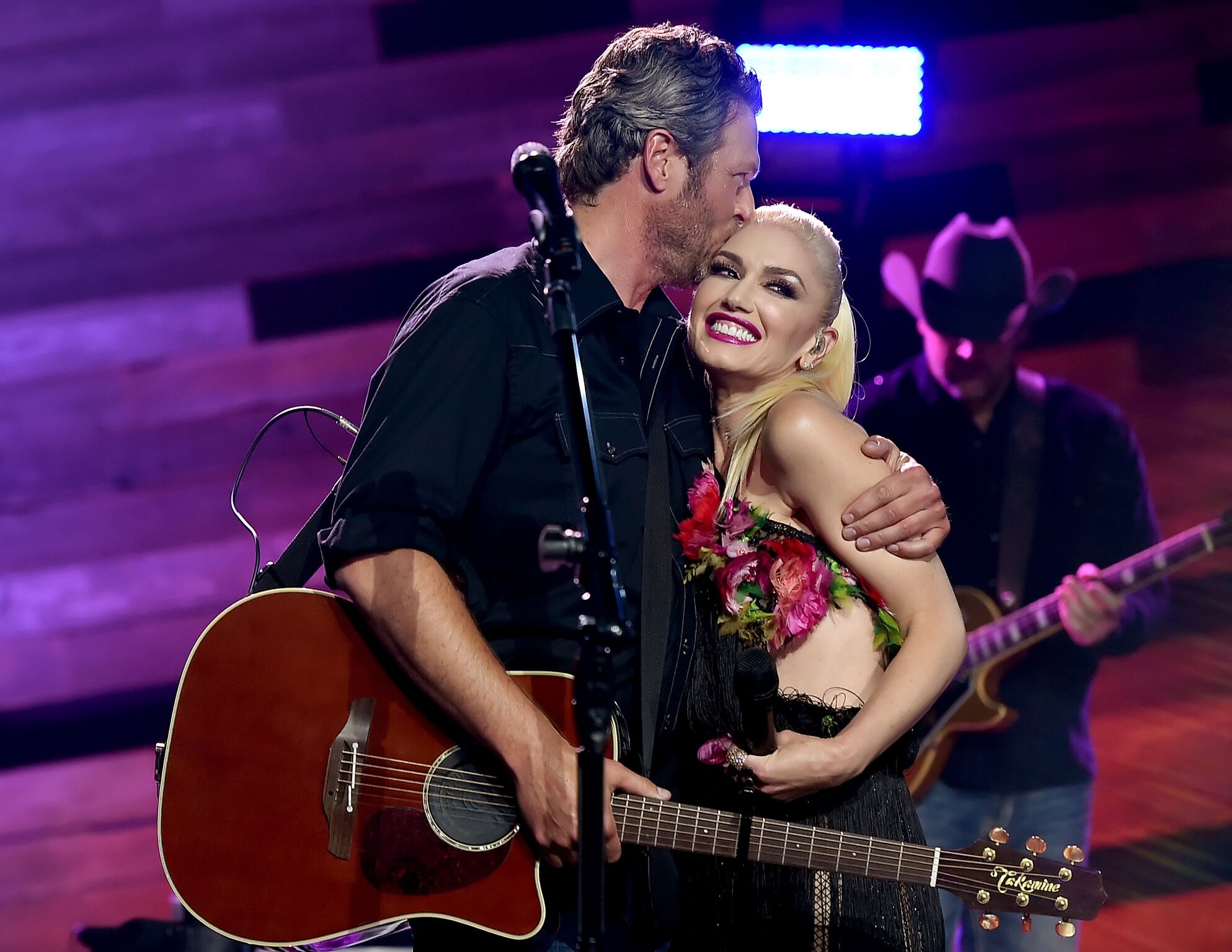 Blake Shelton and Gwen Stefani perform on the Honda Stage at the iHeartRadio Theater | Getty Images
11. Meeting Miranda Lambert
Before he married and divorced Kaynette Gern in 2006, Shelton met country music singer Miranda Lambert. They met at the CMT's 100 Greatest Duets Concert.
12. Love Story
A few years later, they were madly in love. Shelton asked her father for her hand then proposed to Lambert and they tied the knot in 2011 in Texas.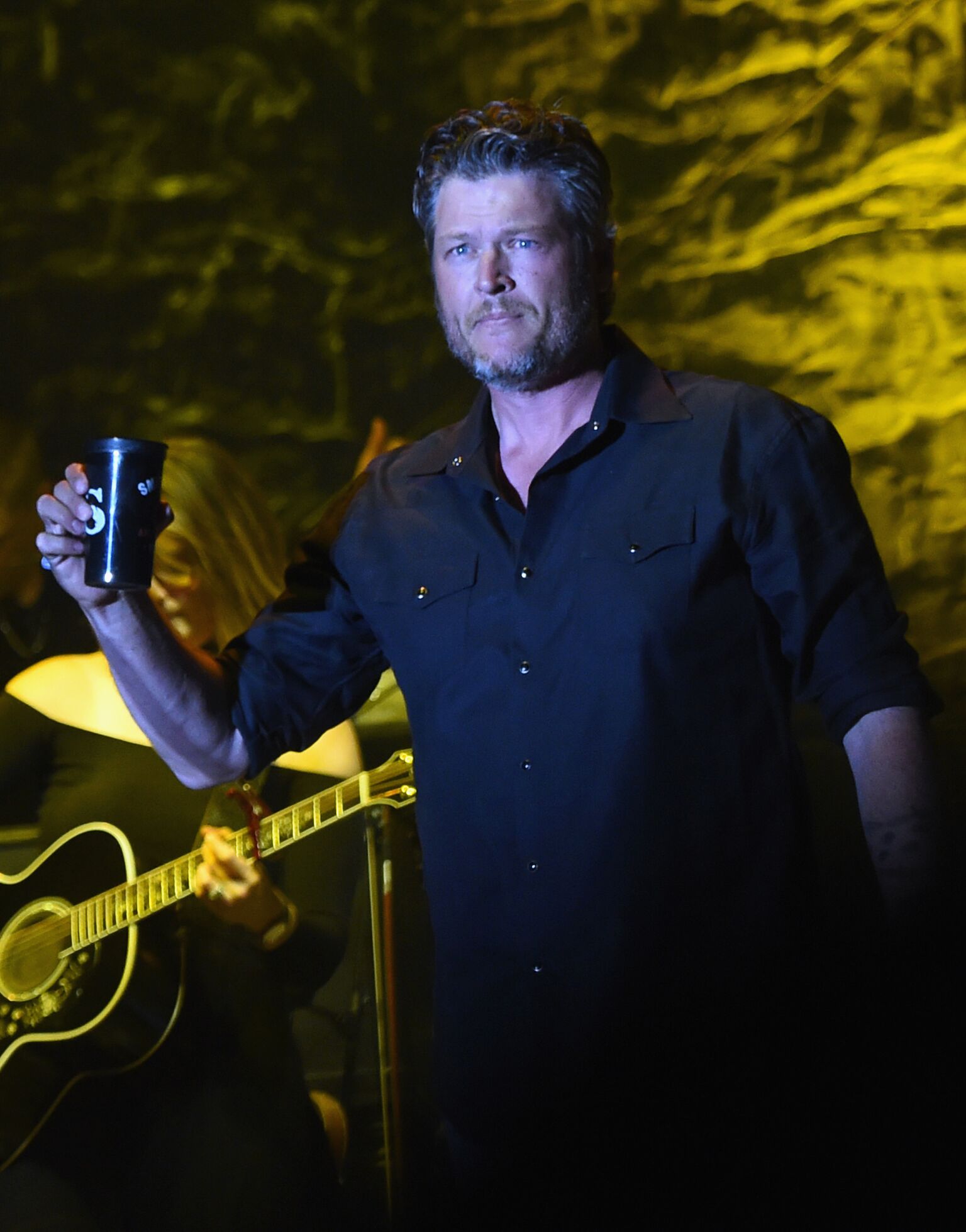 Blake Shelton performs on Day 4 - Country Thunder Music Festival Arizona | Getty Images
13. Bromances
Shelton has professed to have several public bromances. From Carson Daly to Adam Levine and Usher, Shelton is very affectionate towards his friends.
14. Unique Engagement Gifts
When Shelton and Lambert got engaged, they were given His and Hers flasks and shotguns. The pair gave their gifts a try shortly after receiving them.
15. Song for his Current Girlfriend
Shelton helped his current girlfriend write a song once. He wrote the song, "Go Ahead and Break My Heart," then sent her the demo and she finished the song from her viewpoint.
Shelton later said, "We could not be on paper, any more different. I mean, I'm a country singer and she's a ska, rock, pop, whatever it is… and it's just an odd idea. But man, It's a lot of fun."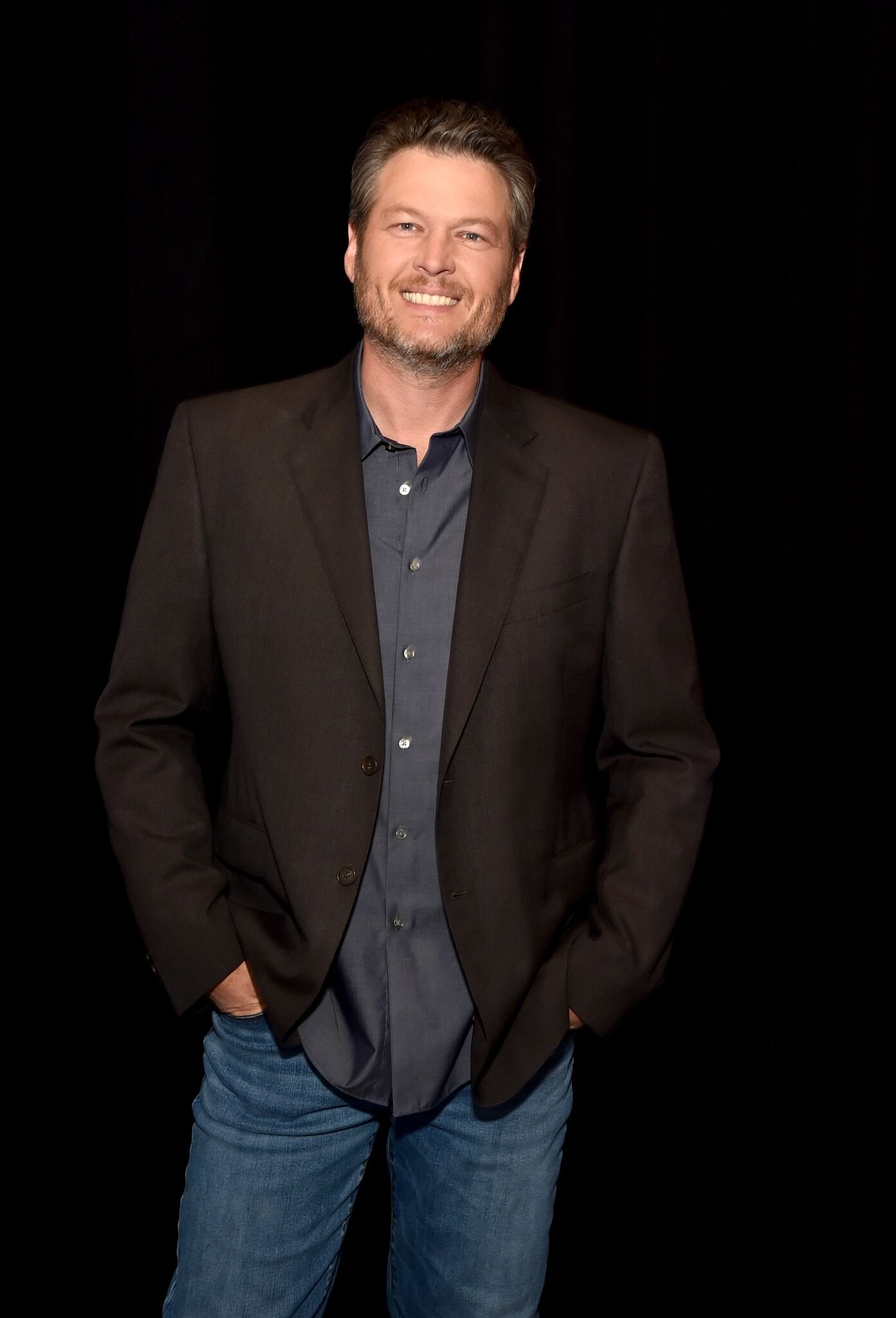 Blake Shelton poses for a photo during NBC's "The Voice" | Getty Images
16. Jimmy Fallon Made Him Try Sushi
When Shelton confessed to his friend Jimmy Fallon that he never tried sushi before, Fallon took him out to New York's Nobu on his show. Unfortunately, Shelton did not enjoy the dishes. He even went as far as saying the pickled ginger looked like "pre-chewed gum," and the tuna looked like "human tongue."
17. Where Does He Live
While most country stars live in Nashville, Shelton decided to be different. He lives in Tishomingo, Oklahoma near his first Ole Red restaurant, bar and entertainment venue.
18. Untypical Gift
In 2008, Shelton revealed that a fan left him terrified after they gifted him an iguana. He told Boot magazine:
"We were playing a fair, and a few people were handing me stuffed animals and flowers, but one person handed me a paper sack. So I took all the stuff back to the bus. I put the sack in my lap and opened it, and a live iguana jumped out of the sack and onto my shirt. I screamed like a little girl! I think it took a year off my life -- it scared the crap out of me."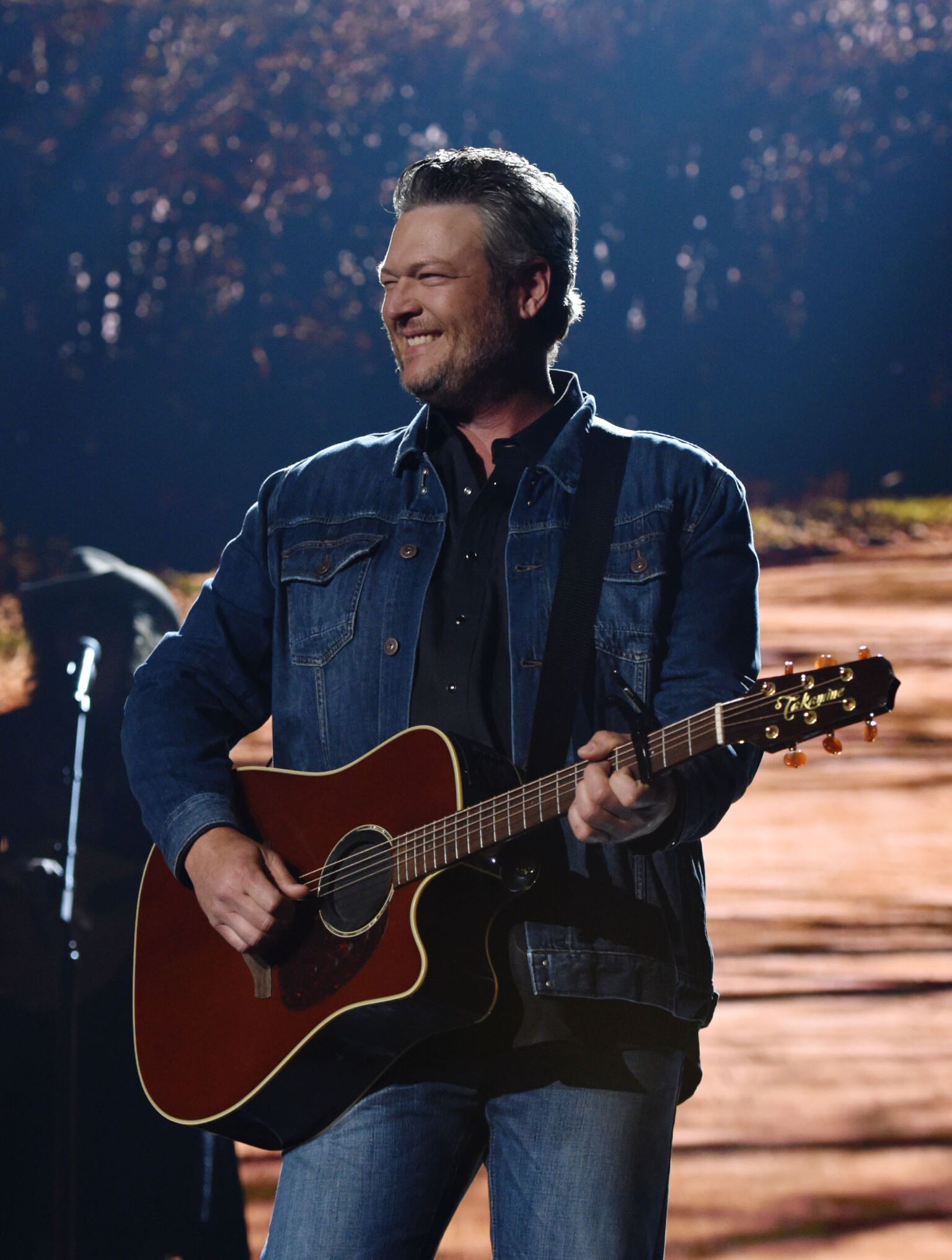 Blake Shelton performs onstage during the 54th Academy Of Country Music Awards | Getty Images
19. He Loved His Mullet
Back in the '90s, Shelton used to sport a mullet. He still defends the hairdo saying he doesn't think anyone else "thinks it was as awesome as I still think it was." He had refused to cut it, despite people telling him it made him look terrible.
"Basically, it has gotten to the point where it is just a matter of pride. And I know it looks like crap, but it is just more fun to me to irritate people than cut my hair to satisfy them," he recalls of his days with long locks.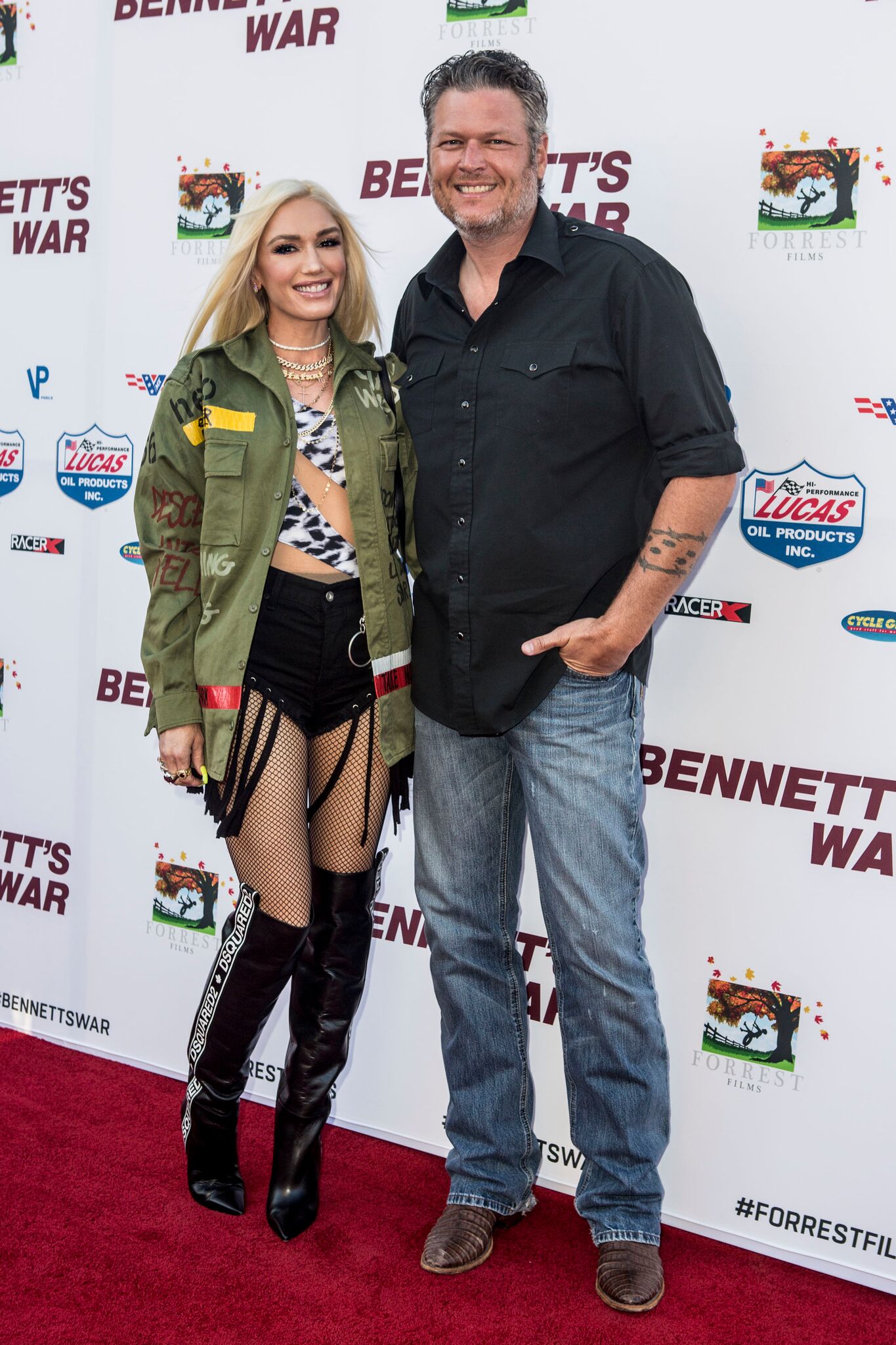 Blake Shelton performs onstage during the 54th Academy Of Country Music Awards | Getty Images
20. His MotherCareer
His mom Dorothy owned a beauty salon in his small hometown of Ada, Oklahoma.
21. Reactions to Being Names Sexiest Man
When he was named one of the sexiest men alive, Shelton revealed that his mom was more excited than he was. He added that his mother would "cut that page out of the magazine and tape it to her mirror and point it out to everybody who comes to the shop."
22. Used to Hate Reality-TV
'The Voice' coach used to hate reality television shows. He once said:
"I hate reality shows. But if I had to be on one, I'd have to say Realtree Road Trips on the Outdoor Channel." Well, we're sure his opinion on reality TV has changed slightly since, considering he is a coach on The Voice -- definitely a far cry from Realtree Road Trips.
23. Caught an Intruder
In 2007, the singer apprehended an intruder while at his uncle's house. He detained the drunken man until police arrived and the man was charged with first-degree burglary and public intoxication.
24. Looks Like Joe Nichols
He gets mistaken for Joe Nichols ... a lot. Cutting Nichols' "Who Are You When I'm Not Looking" wasn't even the start of it. "The last tweet I got that annoyed me was from somebody at a show who was mad at me for not singing "Brokenheartsville" ... by Joe Nichols," Shelton once told The Boot. "I still get that to this day."
25. Covering Michael Buble
While still dating, Miranda Lambert she sneakily put Michael Buble's "Home" on Shelton's iPod. Her decision eventually led to Shelton's cover of the song which was wildly popular.
"If you look at my iPod now, there's other things on it, like Coldplay, the Gorillaz and other crap that I've never heard of," Shelton later said. "That shows you the power of "Home," because most of that stuff, I won't even give it a chance."
Please fill in your e-mail so we can share with you our top stories!