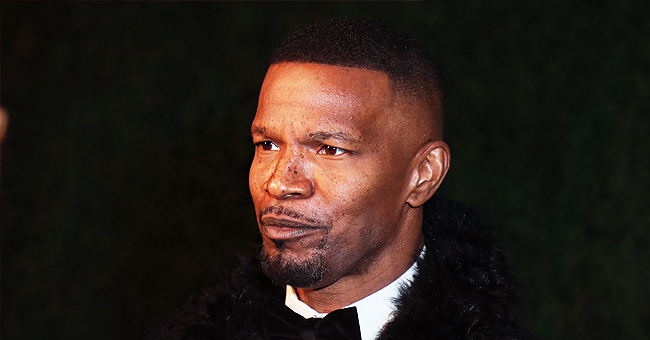 Getty images
Jamie Foxx Goes on IG Live to Talk Sela Vave Dating Rumors Amid Katie Holmes Split News

Jamie Foxx denies romantic involvement with Sela Veva after his breakup with Katie Holmes.
Jamie Foxx posted a video on Instagram to refute all rumors of his reputed romantic involvement with singer Sela Veva after his breakup with actress Katie Holmes.
The rumors started after Foxx and Vave were seen holding hands as they left a party at Bootsy Bellows nightclub and headed for his Lamborghini SUV.
JAMIE FOXX DENIES INVOLVEMENT WITH SELA VEVA
Foxx posted several videos on his Instagram explaining that his relationship with Veva is similar to that which he has with Ed Sheeran and Nick Cannon who started their careers by crashing at his house and under his mentorship.
Foxx revealed that he is mentoring Veva, and helping to launch her career because he believes in her enormous talent. And that is all it is.
"I'm escorting her to my car, to put her in the car — my artist, who hangs out with my kids and is as young as my daughter,"he said.
SELA VAVE IS AS YOUNG AS JAMIE FOXX'S DAUGHTER
Foxx revealed that he had a conversation with Vave's mother who has put her trust in him to protect her 19-year-old daughter. As Foxx pointed out she is younger than his oldest daughter Corinne who is 25 and plays with his youngest, Anelise, 10.
JAMIE FOXX WAS INTRODUCED TO SELA VAVE BY ANOTHER ARTIST
Foxx was introduced to Vave by another artist and was immediately floored by her incredible talent, and vowed to help her further her career,
"She's singing broken down Beyoncé, playing the guitar, and I said, 'How the fuck did this happen? So, we took her under our wing," he explained.
BREAKUP WITH KATIE HOLMES FUELED RUMORS
For Foxx, what set the grapevine buzzing was his recent breakup with Katie Holmes, after a six-year relationship.
But Veva has nothing to do with that, he reiterated, and there is no romance between them.
"I know you guys are reading between the lines, but I embrace all the artists who come here. What happened in the press with our girl Sela – that's our family. We don't ever cross the lines like that personally. That's our artist, that's our family, that's our love. She's been brought into the family, she works hard, she's a beautiful singer. I can't wait for you to hear her," he said.
If Sela Veva is as big a talent as Jamie Foxx believes - and the man has great taste - then we are in for a treat.
"SECRET" ROMANCE BETWEEN KATIE HOLMES AND JAMIE FOXX ENDS
Just weeks after they first "came out" as a couple at the Met Gala red carpet, Katie Holmes and long-time secret love Jamie Foxx ended their relationship.
The two had been romantically linked since 2013, though the couple kept their relationship ultradiscreet, not to say secretive.
Rumor has it that the secrecy was to comply with a clause in her divorce agreement with ex-husband Tom Cruise.
Recent gossip linked Foxx to protegé Sela Veva, and it has been rumored that Holmes was seen flirting with a handsome Hollywood leading man...
We hope they both find the happiness they deserve.
Please fill in your e-mail so we can share with you our top stories!