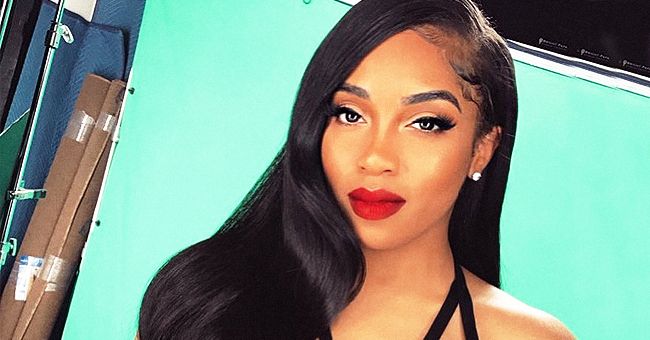 Instagram/4everbrooke
LHHH's Brooke Valentine Shares Videos of Special Needs Son & Daughter Who Was Born in Secret

The "Love & Hip-Hop Hollywood" star took to Instagram to show off her children in two different clips. Undoubtedly, the little ones were adorable, and internet users couldn't keep mute!
The first three episodes of "Love & Hip Hop Hollywood," Season 6, have had Brooke and husband, Marcus Black absent. This left admirers wondering what was going on and prompted the 34-year-old to explain her absence on the TV show.
As previously reported by Madamnoire, Brooke said in a live Instagram video:
"My induction was scheduled because I was high risk. It was scheduled too close to filming, and it was just too stressful. I spent about six weeks postpartum in an out of hospital."
The video also revealed that Brooke wasn't in a hurry to jump to work as she apparently wanted to cherish every moment with her newborn, and now we know why.
Three days ago, Brooke shared clips of her two kids on her Instagram page, and while it showed her special needs son, a more 'unexpected' feature was her gorgeous newborn daughter.
The mother of two shared the clips alongside a caption which read: "…feels," followed by a flag emoji.
As expected, thousands of lovely comments from excited fans serenaded the post.
A commenter wrote:
"OMG!! She is beautiful,"
while referring to Brooke's baby daughter.
Another commented:
"Brook she is just perfect and so is he [Brooke's son] what a blessing."
A particularly hilarious statement from a user read:
"Ok, so Brooke just here having beautiful babies – "
The comments were followed by several other adorning ones, and this isn't so surprising considering the adoring gaze the kids gave in the shared clips.
Those beautiful faces would melt any heart!
PARENTING A SPECIAL NEEDS KID
While speaking to Essence Magazine, Brooke explained that she found out about her son's diagnosis during his delivery.
When was barely a day old, he had over five seizures in 30 minutes and that was when she knew something was wrong. He was diagnosed with cerebral palsy and hemiplegia.
While it broke her heart, the LHHH's star resolved to be there for her son, and as a result, had to take a break from the screens.
However, the journey hasn't been an easy one as it took a while before she could truly understand what cerebral palsy meant.
It was even more challenging for her as she couldn't find parents open enough to discuss their journey. Nevertheless, Brooke is having a swell time with her son.
On days when it gets tough, she reveals that his smile keeps her going!
BROOKE'S NEW BABY WITH MARCUS WAS HIDDEN FROM FANS
Surprisingly, several of the couple's fans were unaware of the whole pregnancy until Marcus let the cat out of the bag through a social media post back in May.
VH1 reported Marcus to have shared a post which showed Brooke with what appeared to be a 'baby stroller' alongside a lovely caption which wished her 'a happy mother's day.'
It was here that speculations of a new baby began to roll in and was subsequently confirmed.
The caption of the post revealed that the pregnancy journey was not an easy one for the "Love & Hip Hop Hollywood" co-stars.
However, with their newborn finally around, that's enough compensation.
Please fill in your e-mail so we can share with you our top stories!