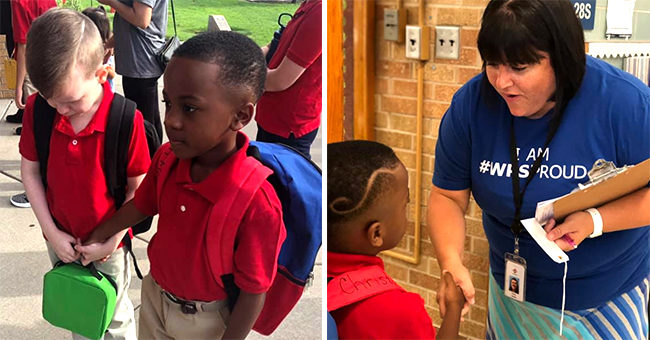 Facebook/courtney.millermoore
Kansas Boy Goes Viral after Holding Hand of Crying Classmate with Autism on First Day of School
A young boy's kind heart made headlines after a photo of him holding the hand of his crying classmate on the first day of school warmed the hearts of many.
Christian Moore is an 8-year-old student of Minneha Core Knowledge Elementary School in Wichita, Kansas whose sensitivity touched the hearts of the public recently.
Arriving on the first day of school, Christian noticed his classmate, Connor Crites crying in the corner.
Connor's mother, April Crites told CNN that her son arrived early for school that day and was overwhelmed with all the noise while waiting outside for the doors of the school to open. Connor has autism and a speech problem and April said, "He gets overwhelmed easily." She added, "And he's very emotional. Tears come when he's sad. Tears come when he's happy."
April wasn't there to witness the incident because she revealed her son opted to take the school bus. But when she heard about what Christian did for her son, it relieved her.
When Christian saw Connor crying in the corner, the second-grader went up to the crying boy to console him and held his hand. Christian's mother, Courtney Moore captured the moment and shared it on her Facebook page, proud of her son's kindness.
"I'm so proud of my son, he seen a kid balled up into a corner crying, so he went to console him, grabbed his hand and walked him inside of the school!" she wrote. "It is an honor to raise such a loving, compassionate child! He's a kid with a Big heart, the first day of school started off right."
"This made me sad, but also absolutely warmed my heart," April wrote in her own Facebook post about the incident. "I'm so happy a caring little boy was so kind to my baby."
April later told Today that she cried when she saw the photo and the gesture Christian did for her son.
"The fact that Christian was able to be there and comfort Conner with a simple gesture, was just awesome. I'm not even able to do that!"
She revealed fearing for her son whose habits and difficulties due to his condition may subject him to bullying.
"But knowing Conner has Christian now makes me feel so much better. It alleviates some of the anxiety," she said.
"Christian is Conner's first real friend. I'm so excited we have someone to invite for a birthday party."
Courtney is likewise happy that her son made a new friend in school. "They have an inseparable bond," she said.
Meanwhile, Conner recounted the incident to KAKE with happiness.
"He found me and held my hand and I got happy tears. He was kind to me. I was in the first day of school and I started crying then he helped me and I was happy."
Many mothers of autistic children fear for their child's security and the treatment they may get from society. One such mother, Ley Merryday Porch laid out her truth about raising a child with autism for many who may not understand. She pointed out that even if her child doesn't make headlines for doing great things, it doesn't make him a failure. At the end of the day, all she expects is for her child to be treated with the same respect as any human being.
Autism is a widespread disorder that, according to the Centers for Disease Control and Prevention, is diagnosed in 1 out of 59 children. It is also four times more common among boys than girls. With the great number of children around the world diagnosed with the disorder, it is a blessing that there are children like Christian and hopefully many more like him who show compassion to them.
Please fill in your e-mail so we can share with you our top stories!