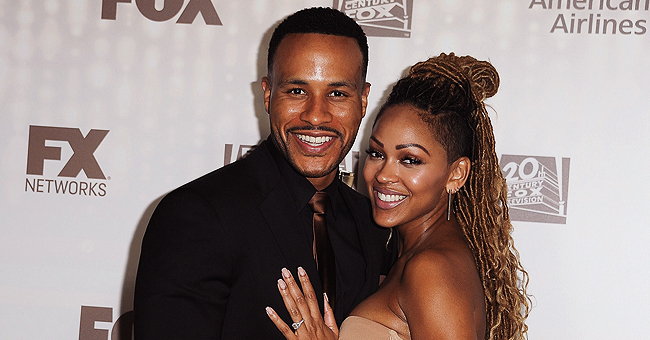 Getty Images
Meagan Good Responds after Being Called out for Wearing Two-Piece Swimsuit as Minister's Wife

African American actress and wife of preacher, DeVon Franklin, Meagan Good gets criticized for revealing her body in her recent post.
Being married to a preacher comes with a sheer sense of responsibility to act "right," because everyone's watching, and critics are on standby waiting to unleash their tumultuous words.
So it came as no surprise when Meagan got reprimanded for wearing a bikini in a throwback post she shared on her Instagram.
The vibrant image that stirred the controversy online flaunted the actress's curves. Her matching bikinis complemented her gold pixie hair cut. The topping on the cake was the summer-like makeup and the great smile she had on.
It appeared the onscreen star was enjoying the beach outing, as her sandy arm showed how incredibly exciting her day must have been.
The caption that accompanied the post signified that it was a shoot for a famous magazine. That was not all, she stated that her weight journey was in progress, and she had ten more days to go.
The post read:
"@Essence photoshoot #lostfiles…from the ingenious lens of @WarwickSaint #MG30DAYCHALLENGE #Day20Letsgo!! "
Some of her followers were inspired by the new body and thought to join her on the journey.
A large percentage thought that her appearance was as hot as the sun that shone on her skin — however, few comments were based on the fact that her clothing was inappropriate for a preacher's wife. Comments like:
"Aren't you married to a pastor this is cute but not appropriate,"
"I can't LIKE this picture, but I can love my sister, and @devonfranklin you already know what it is bro," "Gorgeous," filled her page.
The film maker's wife seemed ready for anyone who felt opposed to her post. She addressed the comment that suggested she didn't dress right.
Meagan first corrected that her husband is not a pastor but a minister. Then she pointed out that being a pastor's wife doesn't enforce a covered-up dress sense.
"Lol no, I'm not married to a pastor. I'm married to a film producer who is also a minister/motivational speaker as well…I don't think pastors wives are expected to go swimming in trash bags or turtle necks. Lol. God bless you, sis."
This is not the first time she would be going up against someone who disagrees with her choice of outfit. In 2013, she donned a revealing dress to the BET Awards. While some of her fans admired the look, others questioned the credibility of her beliefs.
The 37-year-old was quick to defend herself and further explained that her relationship with God was advancing.
A few months ago, Meagan shared her thoughts on critics in an interview. She stressed how a good Christian should make well meaning corrections. The actress said that rather than do it to hurt a person's ego, critics should imbibe "love" when making an observation.
Whether or not critics agree with her style, Devon's beau refuses to get frustrated or feel attacked by their hurtful words.
Please fill in your e-mail so we can share with you our top stories!