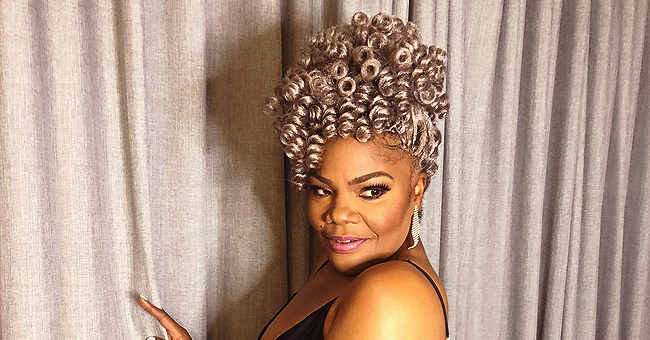 Instagram/therealmoworldwide
Mo'Nique Busts a Move in Off-Shoulder Dress, Heels after 'the View's Whoopi Goldberg Pay Comments
Mo'Nique is looking good and showing some moves in a new vid she posted on Instagram.
Academy Award winner Mo'Nique has been hitting the headlines with her elegance and her comments on pay inequalities in the entertainment business.
She posted a new vid on social media that has inspired her fans to get up and busting some moves of their own.
"SISTERS NEVER LET THAT LITTLE GIRL INSIDE GO AWAY. @correyb THANKS FOR LETTING YOUR LITTLE GIRL PLAY WITH MY LITTLE GIRL. WE LOVE YALL 2 LIFE" Mo'Nique
THE LITTLE GIRL INSIDE MO'NIQUE CAME OUT TO PLAY
In the caption, Mo'Nique encourages everyone to let their inner child out "to play," as she danced uninhibitedly at a friend's challenge.
The actress was wearing a stunning blue off-the-shoulder dress with dramatic sleeves and her hair was swept up in an elegant top-knot.
MO'NIQUE'S COMMENTS OVER WHOOPI GOLDBERG' SALARY
This latest post comes shortly after Mo'Nique was in tears after commenting that Whoopi Goldberg earns $5 million yearly on "The View," a pittance compared to what comedians like Amy Schumer ($11 million), and Chris Rock ($20 million) get paid for a single show.
Mo'Nique opened up about her experience in the hope that she can help other women and young girls
MO'NIQUE IS FOCUSED ON HERSELF AND HER GOALS
But for the past few years, Mo'Nique has admitted that her main focus has been taking control of her weight and improving her health. The comedian, who admitted to weighing 300 pounds in 2009 movie, has lost a considerable amount of weight.
MO'NIQUE HITS INCREDIBLE MILESTONE
Mo'Nique revealed that for the first time since she started training, she has managed to run twice around the track the had once struggled to walk around just once.
"Since I was 17 years old, I've been over 200 pounds. Today was the first time in my adult life that I've been under 200 pounds, so I wanted to let you all know it's possible and you can do it and we can get there," she said.
Mo'Nique has kept her fans updated on a daily basis on her progress and has encouraged many other women to follow her example into a healthier lifestyle.
MO'NIQUE SHARES ABUSE EXPERIENCE TO HELP OTHER WOMEN
When Mo'Nique was just 7 she suffered abuse at the hands of her older brother Gerald, and it continued until she was 11.
The young Mo'Nique was too afraid to speak up or ask for help, and it took her years to come to terms with what happened to her.
Mo'Nique opened up about her experience in the hope that she can help other women and young girls to ask for help and out their abusers.
Thank you for your courage, Mo'Nique.
Please fill in your e-mail so we can share with you our top stories!