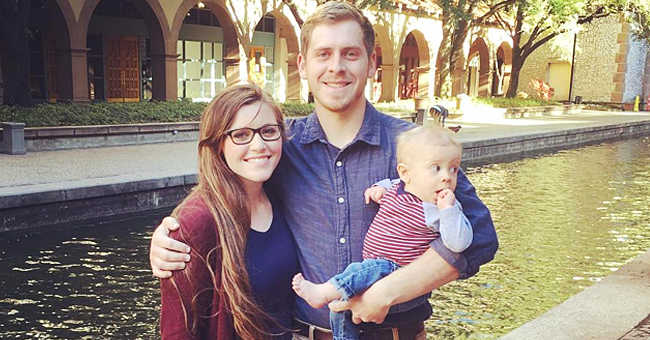 instagram.com/austinandjoyforsyth
'Counting on's Joy-Anna Duggar Shares Pics of Camper Life, Talks Husband Austin Forsyth's Support

Joy-Anna Duggar has taken to social media to share cherished moments with her little family. Also, she took fans on a tour of their current living space, and it has many shaken for all the right reasons.
Joy, who is best known as an integral member of the Duggar family, revels in sharing touching moments with her little family online. One such was this adorable snap of her son, Gideon sharing food with his handsome daddy, Austin.
The picture is rather heart-melting as it features little Gideon wrapped in an oversized towel while seated in front of Austin. Gideon's face sported a coy smile while his father looked on laughing.
Humorously, Joy captioned the snap writing:
"When Papa shares his breakfast with you…#heloveshisfood #breakfastwithPapa #GideonMartynForsyth."
Another features Gideon helping Anna with chores, and the young mother couldn't be happier. She captioned the snap explaining that the little boy loves to help her with the laundry and that he especially takes pride in doing it.
The reality star also shared that since they live in a camper, doing laundry has become a weekly chore. If you didn't already know, the Forsyths live in a 32-foot long camper. Late August, Joy gave fans a thrilling tour of her family home.
The video quickly gained attention as the "Counting On" star explained that the trailer had been their home for the past year as they build houses to sell. The tour left fans startled as the interior, despite being small, turned out to be a masterpiece.
"I think it's pretty cool. It's a 32-foot long camper. It has three slide-outs. It fits our family great. We've been living in it for nine months to a year, and I love it. It's hard sometimes because you don't have the bigger kitchen or space, but it works great. Perfect space for us," Joy excitedly said.
Austin and Joy have a lovely family, but it hasn't been all fun and rosy for the couple. They left the internet shaken after the announcement that they had lost their child, Annabell Elise when she was just 20 weeks old. For Joy, Austin has been the perfect partner and even more, especially during such rocky times.
Joy, who is 21 years old, affectionately shared a closeup photo of her hands in Austin's and captioned it with words from a romantic song and a few hashtags:
"The spaces between my fingers are right where your's fit perfectly #manlyhands #justholdmyhand #mybestfriend #AustinMartynForsyth."
The couple, who have only been married for two years, have an excellent relationship going by how they seem to have come out stronger following Annabell's tragic loss.
May Annabell's soul rest in peace.
Please fill in your e-mail so we can share with you our top stories!