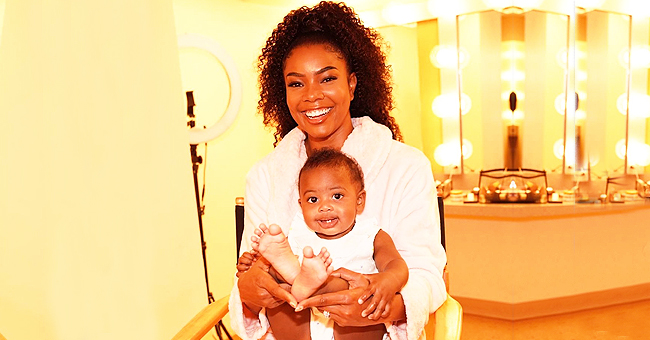 Instagram/gabunion
Gabrielle Union & Dwyane Wade's 'Shady Baby' Kaavia's Cot Dance Is How You Wake up on Vacation
Another video of the antics of "shady baby" Kaavia James Union Wade wows the fans.
Gabrielle Union has shared yet another video of her adorable "Shady Baby" Kaavia James Union Wade and social media fans have just gone wild over the sweet baby.
Social media has fallen in love with Gaby's baby girl at first sight and can we blame them?
"How I woke up thinking I had to go to work but remembering I'm outta the country on vacation. Cc: @unclelukereal1 ?????" Gabrielle Union
GOODMORNING FROM "SHADY BABY"
The new video captured Kaavia's first morning moments and shows the little one rubbing her eyes a looking definetly surly.
And then a sudden change comes over "Shady Baby" who suddenly breaks into a huge grin and starts bouncing happily in her crib.
Kaavia is growing super fast! She has teeth, she crawls, and now she speaks!
"SHADY BABY" FLASHES HER PEARLY WHITES
Kaavia, who is best known for her epic frowns and shady looks, has been doing some smiling and giggling to show off her brand new set of pearly whites.
KAAVIA GETS HER BITE
Gabrielle shared a clip that shows Kaavia flashing that she now has a respectable set of teeth: four on top, two on the bottom.
"More Teeth, More Smiles. This kid man. @kaaviajames. The look around 1st takes me OUT," Gabrielle said.
"SHADY BABY" SPEAKS HER FIRST WORDS
Kaavia is growing super fast! She has teeth, she crawls, and now she speaks!
Gabrielle Union has posted a video that shows little Kaavia saying her first words.
Gaby asked Kaavia: "Can you say Bye Bye?" and the sweet baby answers her right back: "Bye Bye!" loud and clear. Plus, you can see two little teeth forming at the bottom of her mouth.
"@kaaviajames speaks!!!! Get ready world. Next stop, #agt judges table! Bye bye," wrote Gabrielle.
We just can't wait for more news from Gabrielle and our favorite "Shady Baby."
Please fill in your e-mail so we can share with you our top stories!