'Today' Co-Host Jenna Bush Hager Shares Photo of Baby Hal Sleeping on Cozy Blanket
It's been a month since former first daughter Jenna Bush welcomes her third child, and the new mom-of-three is having the best time with her bundle of joy!
While three is usually a crowd, the same cannot be said for "TODAY" host Jenna Bush Hager who welcomed her third child, Hal, into the world, about a month ago. 
The past month with her first son has been thrilling, and Jenna hasn't hesitated to share every sweet moment with her fans.
Yesterday, the co-host of "Today with Hoda & Jenna" took to her Instagram story to share an adorable photo of baby Hal sleeping on his cat blanket.
The newest addition looked all shades of adorable as he clothes in a Snow White snuggly onesie.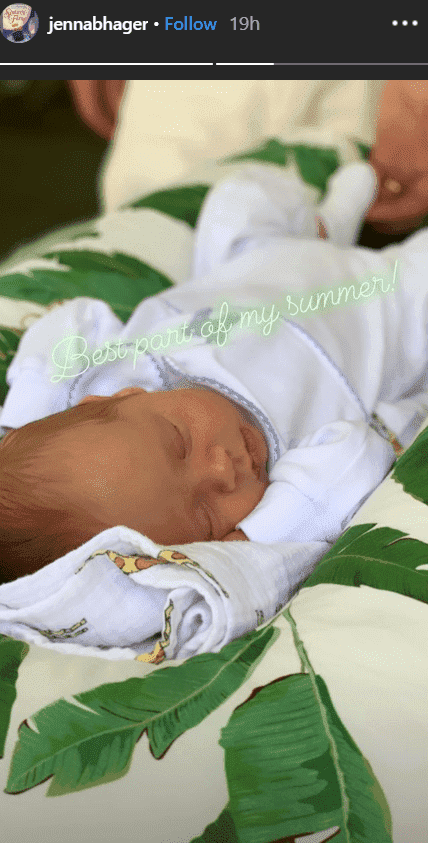 The proud mother captioned the post:
"Best part of my summer!"
Just ten days after Hal was born, his mother confessed in an Instagram post that life with him was sweet.
She shared a photo of the gang enjoying an afternoon stroll and captioned the post:
"We left the house!!!! Life is wilder, and we are perpetually late and walk slower. But life with Hal is so, so sweet."
Jenna and her husband, Henry Hager, welcomed their third child and first son on August 2. 
The grandchild of former first couple George W. Bush and Laura Bush was born via cesarean operation and weighed 7lbs., 5oz, according to PEOPLE.
Three days after his birth, he made his first debut on his mother's Instagram. 
Jenna shared an intimate photo of herself and Henry bonding with their son alongside a picture of the extended family with the little one. 
In the caption of the post, Jenna revealed that her little one would bear Henry Harold 'Hal' Hager.
THE ORIGIN OF THE MONIKER HAL AND HOW IT CAME ABOUT
Jenna and her husband are no strangers to giving their kids adorable nicknames, but their son's catchy name has garnered curiosity from many.
The 37-year-old gave details on the catchy name Hal when she called in on "TODAY" to share the big news. 
She said:
"We weren't exactly sure about the name. Then his big sisters called him 'Hal pal,' and we thought, 'This is just perfect.'"
However, not everyone loved Hal's names as she confessed that her father, George W. Bush wished he was named after him.
"My dad was a little mad that the name wasn't George but [was] just kidding. He said [Henry] was a cool name, she revealed."
There is no doubt that little Hal is bringing so much joy into the family!