LHHATL Alum Joseline H.'s Sunday Outfit Slammed in Pics with Bonnie Bella, Boyfriend DJ Ballistic
Joseline Hernandez under fire from fans and critics for "strange" church outfit.
Joseline Hernandez went to church with her daughter Bonnie Bella and boyfriend DJ Ballistic, and her fashion choices led a lot of fans to make some hilarious remarks.
While Bonnie Bella wore a sweet pink frock and a big bow in her hair, mom's choice of an outfit was strange, to say the least.
IS THAT REALLY JOSELINE?
Joseline has never been shy about showing off her voluptuous curves and the assets that made her a reality star. She is well known for revealing outfits and short skirts.
Then Joseline, who is embroiled in a custody suit with ex Stevie J, posted several photos of herself in her Sunday best, and fans were stunned speechless at her prim and proper outfit. 
Not long ago she was berated for dressing inappropriately when she took her child to school.
JOSELINE'S SURPRISING OUTFIT
Joseline's snaps show her sitting primly, knees together on a bench in front of the church wearing a pale yellow blouse with long sleeves, and buttoned up to the throat. She matched it with a long pale blue skirt with an asymmetrical hem and what looked like army boots.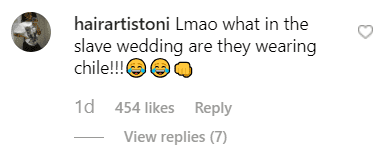 A REACTION TO THE CUSTODY RULING?
Many of Joseline's fans commented that her outfit looked straight out of an old slave movie, but it may be that the reality star is trying to project a more proper and low-key image since she lost primary custody of her daughter Bonnie Bella and must now share with Stevie J.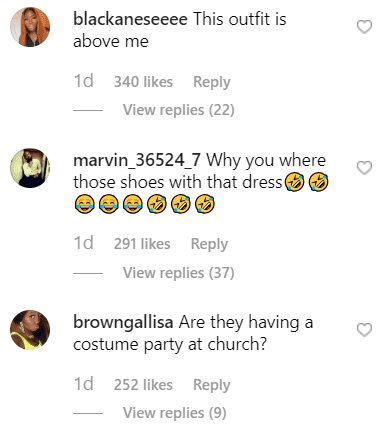 PIOUS AND PRIM DOESN'T SUIT JOSELINE
The consensus among her fans seems to be that the pious and prim and proper look does not suit the sultry Puerto Rican Princess in the least, and was more appropriate to a maid.
FIGHTING "BAD MOM" ACCUSATIONS
Joseline, who was accused of interfering with Stevie J's visitation rights, faced the possibility of an arrest, but luckily for her, the judge decided otherwise.
He awarded temporary custody to Stevie J who got to spend some quality time with his little girl-
The judge ordered Joseline and Stevie J to go to parenting classes. The rapper will no longer pay child support for Bonnie Bella, and the parents will share custody and expenses.
The issue is expected to be finally resolved within the next few months.
THE FLIP SIDE OF THE COIN
Now Joseline is being accused of being too prim and proper, but not long ago she was berated for dressing inappropriately when she took her child to school.
Joseline posted a snap on Instagram in which she could be seen at Bonnie Bella's school in a skin-tight dress with a plunging neckline and cutouts.
"Put on some clothes!" a shocked fan told Joseline Hernandez.
Joseline seems to be a woman given to extremes, but perhaps a little common sense might balance out her fashion choices.