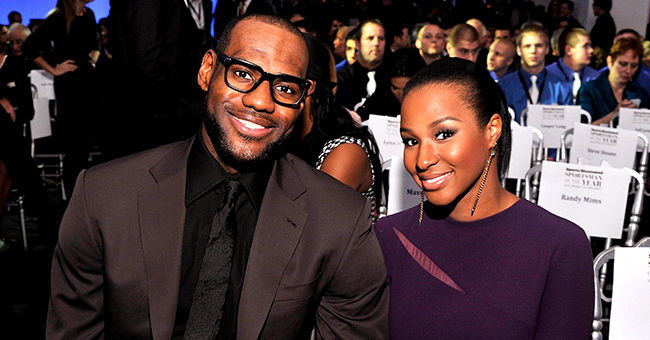 Getty Images
LA Lakers Player Lebron James' Daughter Zhuri Helps Mom Savannah Pick a Date Night Outfit

Lebron James' 4-year-old daughter, Zhuri is a stylist in the making. Her mother, Savannah shares a clip of the little girl picking out an outfit for her to wear for date night and it rocks!
Lebron James' daughter, Zhuri is the cutest stylist. In a clip her mother, Savannah Brinson shared, the four-year-old revealed her unique sense of fashion and preference for a particular color.
"THE BLACK EXPLOSION"
Savannah explains that her stylist came in late so Zhuri helped pick out her outfit for her "hot date."
"What did you put together for me because I've got to go?" Lebron's wife, who's manning the camera is heard asking her daughter from the background.
She pans to the floor where Zhuri points out what she laid out for her to wear. The sea of black tells us the little girl knew what a "hot date" meant.
She narrates that she chose black pants with a black long-sleeved top matched with a pair of thigh-high black leather boots. She even picked out a black purse and black sunglasses to complete the look.
Asked what she called the ensemble, the witty little girl replied, "We call this the black explosion."
Mommy Savannah exclaimed, "I love it" before expressing her thanks and telling her she was late for her "hot date." She zooms in on her daughter who nonchalantly says "Okay" while staring at the camera.
THE APPLE OF HER PARENTS' EYES
Zhuri is her parents' only daughter and their youngest child so all eyes are on her. In May, the protective Lebron dared others "to try me when it comes to Daddy's Lil Princess Z" and adds, "it won't end well for you."
The photos he shared proved what a savvy fashionista Zhuri was wearing a pair of ripped jeans, a white shirt, and a red cardigan with a pair of shiny silver sneakers.
She glammed up her look by pulling back her hair with a ribbon on one side while the rest of the other side fell loosely over her face. She expertly struck model poses.
Meanwhile, Savannah is just as doting as her husband. Early last month, she shared a photo of Zhuri wearing a princess dress and captioned it, "My little brown skin girl."
PROUD OF THEIR TWO SONS TOO
The couple who met in high school also shares two sons together, Bronny,14 and Bryce, 11. Both are basketball enthusiasts like their father who's proud of how passionate they are towards the sport.
In fact, Lebron opened up about shedding tears when he witnessed his sons shooting hoops in the early morning.
"Man seeing my boys outside hooping at 5 am literally made me cry in the car riding to my workout," he said. "OD proud dad moment that you wouldn't understand from my perspective unless you never had a dad around your whole life, or have kids of your own that you trying to instill the word " Work Ethic" to them cause they'll never have to go through what you had to."
Lebron and Savannah can truly be an inspiration to many parents with the love and pride they have for their children. We look forward to more posts from these two, revealing the pleasantries of raising children in this generation.
Please fill in your e-mail so we can share with you our top stories!